It wasn't choreographer D. Patton White's idea to make this dance. He was just central to the idea.
Jeffrey Clark, Patton's college friend, first had the idea and took it to Core Dance's Co-Founder and Artistic Director Sue Schroeder. Clark had been watching Patton grieve the sudden death of his younger brother, Claiborne, and it reminded Clark of his own grief when he lost his partner to HIV-related illness more than a decade earlier. Though Clark is not a dancer himself, he took the idea and a piece of music to Schroeder. Clark saw possibilities for a dance performance developed from the experience of loss.
Schroeder in turn took the idea to Patton, offered it to him as a choreographic project of his own. Patton agreed to do it.
That's the brief version of how As the Shadows Grow Longer, the program from Core Dance (MATCH – Midtown Arts and Theater Center Houston, March 14-16) came to be, but of course, there's more.
Patton and Claiborne grew up as close playmates in a small town in Colorado. Patton was three years older but the age difference made little difference in their games of make-believe. Patton sees the seeds of his artistic career in those flights of fancy. The play created a strong bond between the brothers.
As they grew, Patton was perceived as "different" in a town lacking almost any diversity. He was bullied in high school and Claiborne eventually was teased for being Patton's brother.
When Patton left home for college in Atlanta, Claiborne was left alone with his parents as their marriage was ending. While Patton had moved to a place where he could come out as gay and began building his career and community around dance, Claiborne moved in with relatives in Texas to get away from conflict with his parents. Claiborne became the companion and caregiver for his grandmother until she died. He became anchorless. His father had a condo in Colorado and offered it to Claiborne in hopes it would help his son get re-grounded. There, however, Claiborne began wrestling with depression and alcoholism. His father once again intervened, this time checking Claiborne into the Betty Ford Clinic.
After he got sober, Claiborne returned to Texas, where he went into counseling and where he finally admitted what he'd pushed away for so many years: he, like his big brother, was also gay.
Eventually, Claiborne joined Patton in Atlanta, where Claiborne found a partner. His partner had custody of his sister's children and so Claiborne had an instant family. He found purpose again, this time in being a parent. He enjoyed a few years of sobriety until the children grew up and started drifting away.
Then Claiborne began drinking again, secretly. He hid it so well that no one near him noticed it. It was a surprise to everyone when his liver suddenly failed. One night, about 10 p.m., Claiborne called an ambulance in distress. By 5:00 p.m. the next day, he was gone.
This is the story behind the story of As the Shadows Grow Longer, but it doesn't tell you about the dance. Patton approached its creation with the intention of not "wallowing" (his word) in the grief in the story, but as an exploration of the relationship central to it. As the project grew, he started encompassing relationships of the company of dancers and, by extension, all the relationships that make up our lives.
Patton took the music Clark had brought to Schroeder—the third movement of Ralph Vaughan Williams' Symphony in D Major—and started working with Core's company of dance artists. He asked them questions about key relationships in their lives. He asked them to write and draw pictures to both the music and their memories. The drawings eventually became another layer to the production, and will appear on the stage as projections.
As for movement, Patton asked the dancers to develop phrases or sequences of movement, focusing on a particular idea from all the drawing and storytelling they had done. Styles varying between pedestrian movement and highly choreographed, technical duets started to emerge. In a sense, Patton then became a curator of the movement. He started trying out sections in different sequences, reorganizing the dancing until the final choreography was set. The performances will even have brief bookend sections during which audience members are invited (though not compelled) to come onstage and become immersed in the experience.
Patton is asking the audience to look closely and pay attention. The relationships we have are the stuff of our lives. All the relationships on the stage and in our lives will one day end. Appreciation of the ephemeral is a practice, he seems to be telling us. The shadows are growing, but see how bright is the light that casts them.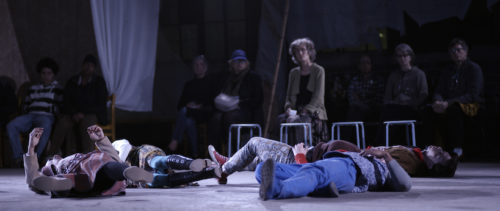 As the Shadows Grow Longer, presented by Core Dance
March 14-16, 8:00 p.m. at the MATCH – Midtown Arts & Theater Complex Houston
Visit matchouston.org for tickets.