March 11th, 2021 
1302 Houston Ave, #300 
Houston, TX 77007 
(713) 804-6646 
houstoncontemporary.org
FOR IMMEDIATE RELEASE
Contact: Marlana Doyle, (713) 804-6646 ext 3, marlana@houstoncontemporary.org 
HOUSTON CONTEMPORARY DANCE COMPANY
Presents
"PARALLEL PLAY"

APRIL 16TH AND 17TH
8PM PERFORMANCE FOR EACH DATE LISTED
LIMITED IN PERSON AUDIENCE AT A DISTANCE
8 FT PODS: $100

DISCOVERY GREEN
1500 MCKINNEY ST HOUSTON, TX 77010
(713) 804-6646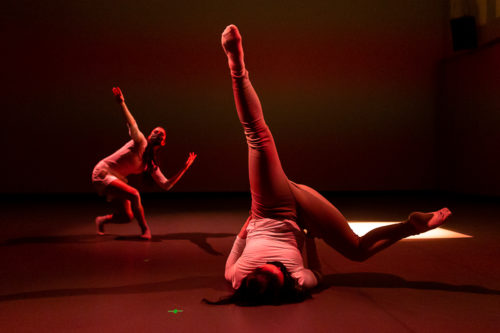 Houston, TX – Houston Contemporary Dance Company, Kinetic Ensemble and our second company, Houston Contemporary 2 will come together for two exciting evenings of dance and music during Parallel Play at Discovery Green on April 16th and 17th, 2021. Parallel Play references an early social developmental stage in children and seems relevant given our current collective circumstances of moving through the day in our own respective spheres and bubbles. We will present a world premiere from Thai American Guest Choreographer Keerati Jinakunwiphat with music by composers Benjamin Britten, Philip Glass, Osvaldo Golijov, played live by Kinetic Ensemble as well as a new work from Artistic Director, Marlana Doyle. We will also be featuring works from the company's repertoire and two premiers from choreographers Kelsey Walsh and Donald Shorter on Houston Contemporary 2. The evening will also include an appearance by HCDC's resident behavioral consultant and licensed clinical psychologist Dr. Rachel Tova Winer who will address the audience with topics of mental health and provide resources including a network of therapists, psychiatrists, and physicians available to the Houston populace. Houston Contemporary Dance Company's primary focus is to provide Houstonians with opportunities to view world class contemporary concert dance and engage with the artists involved, including dancers, choreographers and designers.
Purchase your $100 pod that is 8ft around and 6ft from another pod. (*2-8 people can fit comfortably in each pod and space is limited.)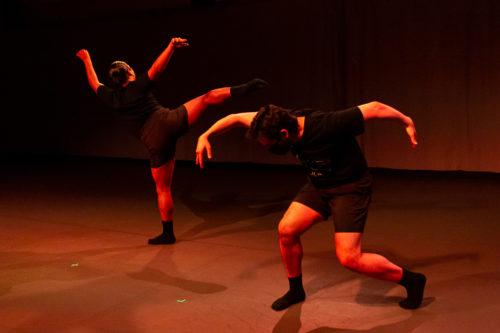 Parallel Play is a sponsored project of Fresh Arts, a non-profit arts service organization and is funded in part by the City of Houston through the Houston Arts Alliance, Dance Source Houston Groundworks Grant and the Arts Respond Grant from the Texas Commission on the Arts. We would also like to thank Shirley and Brian Colona for their support of this performance.
Thai American Guest Choreographer, Keerati Jinakunwiphat, states that in collaborating with Kinetic Ensemble, "my initial instinct was to focus on sense memory in relation to music. Using this as a catalyst, I then, with the help of Bree Ahern, discovered and compiled different tracks that represent each of the four seasons. For many, music can boost memory, mood, and connect people through time and space. Each season can come with its own joy, nostalgia, trauma, and emotional ties. Changes in weather or daylight can greatly affect our psyche and behaviors and this new work will embody the different mental states that each season can potentially ignite. In the process with the dancers, I am interested in discovering and understanding how each others' sensations and memories can vary even within the same season. We make room for different stories and perspectives and also discover what can remain consistent throughout all four seasons. The work will narrate and progress as the dancers process through each season and their individual, emotional journey together."
ABOUT THE ARTISTS:
Keerati Jinakunwiphat, originally from Chicago, IL., is a Thai American dancer and choreographer. She received her BFA from the Conservatory of Dance at SUNY Purchase and was a recipient of the Adopt-A Dancer Scholarship. She has additionally studied at the Western Australian Academy of Performing Arts, San Francisco Conservatory of Dance, and Springboard Danse Montreal. She has worked with and performed works of artists such as Kyle Abraham, Nicole von Arx, Trisha Brown, Jasmine Ellis, Shannon Gillen, Andrea Miller, Kevin Wynn, and Doug Varone. Keerati began working with Abraham.In.Motion in 2016. She has additionally assisted Kyle Abraham in new commissioned work for New York City Ballet and Paul Taylor Dance Company. As a freelance choreographer, Keerati has presented her own choreographic works at the American Dance Guild Festival, Triskellion Arts, Dixon Place, Dance Gallery Festival, and the Joyce Theater. She has been commissioned to set and create works on the Evanston Dance Ensemble, the Martha Graham School, SUNY Purchase College Conservatory of Dance, and Kyle Abraham/A.I.M.
Founded in 2015, Kinetic Ensemble is a Houston-based ensemble gaining increasing recognition for its dynamic, collaboratively driven performances and masterfully curated musical programs. An artist-led ensemble of young professional string players, Kinetic is committed to showcasing diverse, under represented, and newly composed classical music to communities in and beyond Houston through flexible chamber and orchestral ensemble formats. The ensemble has collaborated with numerous artistic organizations and institutions, including Musiqa, NobleMotion Dance, Houston Contemporary Dance, Archway Gallery, Flatland Gallery, Hoppa Project, Sam Houston State University, Houston Methodist Hospital, Houston Center for Contemporary Craft, High School for the Performing and Visual Arts Houston (HSPVA), Memorial High School — and more. A champion of new music by composers of our time, to date Kinetic has premiered over ten new works for string ensemble. www.kineticensemble.org
The Houston Contemporary Second Company (HC2) is a concert based, non competitive, pre-professional dance company focused on training and performance. Dancers will be exposed to multiple styles of dance education in preparation for a future career in dance. The teaching staff and outside choreographers have many years of experience with pre-professional youth ensuring their well-rounded contemporary dance education and assisting students with college admissions and/or other professional dance opportunities. The youth company has the opportunity to perform throughout Houston during their season, including under the umbrella of the professional Houston Contemporary Dance Company, a 501(c)(3) sister organization to The Institute of Contemporary Dance.
ABOUT HOUSTON CONTEMPORARY
Houston Contemporary aims to lead and innovate performing arts in Houston by drawing upon the director's long tradition of inclusiveness and diversity within all facets of the organization. HCDC sets itself apart by employing high caliber performing and choreographic artists from across the country. In setting high technical and artistic standards, HCDC is currently the only contemporary repertory company to provide Houston audiences with opportunities to view works created by some of America's most exciting dancemakers that speak to and are representative of the full spectrum of Houston's diverse populace, while supporting talented Texas based artists as well.
Marlana Doyle, Artistic and Executive Director, is originally from Massachusetts and graduated from Point Park University in 2001 with a BA in Dance. Marlana is the former Artistic Director of Met Dance, where she held various positions for seventeen years. Under her direction, Marlana's vision and leadership catapulted the company to new levels of excellence and growth while holding tightly to the company's long tradition of diversity and versatility in its dancers, choreographers, collaborators, and content. Marlana is the President & CEO of the Institute of Contemporary Dance Houston which houses Houston Contemporary professional concert dance company and HC2, a youth training company. Marlana is a member of Dance Source Houston, Association of Performing Arts Presenters (APAP) and Dance USA, spending 2009-2012 as an emerging leader at both APAP and Dance USA. She was awarded the Dance USA Leadership Mentee Fellowship for the institute of training in 2012 and was a mentor for the same program in 2019. She also recently completed her three-year tenure as a Dance USA Board of Trustee member and Artistic Director Council Chair. Marlana has also served in collaboration with the Houston Arts Alliance, Fresh Arts, Dance Source Houston and is also a part of the SPA's Educational Committee. As a performer, Marlana has danced and generated roles in a range of works by renowned choreographers and artists. Marlana is also a guest teacher and an award-winning choreographer for her students in Houston and throughout the United States. She has choreographed for the City of Houston, Levi's and Walmart, Mercury Ensemble, Apollo Chamber Players, Houston Chamber Choir, Houston Symphony, TUTS, University of Houston, Sam Houston State University and Lamar University.
For more information about Coalesce and how to purchase tickets, please visit:
Houston Chronicle Article:
https://www.houstonchronicle.com/entertainment/arts-theater/article/Former-METdance-artistic-director-la unches-14902641.php?utm_campaign=CMS+Sharing+Tools+%28Premium%29&utm_source=facebook.com&utm_medium=referral&fbclid=IwAR3I_QFA3PpJ0qixiuPx5e7fasYPObJ9F_E6uom_zhM6lq79GPPbL HGC5Qs
Houstonia Article:
https://www.houstoniamag.com/articles/2019/10/25/marlana-doyle-metdance-houston-contemporary-dance-company 
Houston Contemporary YouTube Channel:
###