September 15th, 2023
1302 Houston Ave, #300
Houston, TX 77007
(713) 804-6646
houstoncontemporary.org
FOR IMMEDIATE RELEASE
Contact: Marlana Doyle, (713) 804-6646 ext 3, marlana@houstoncontemporary.org
HOUSTON CONTEMPORARY DANCE COMPANY
Presents
SILVER CELEBRATION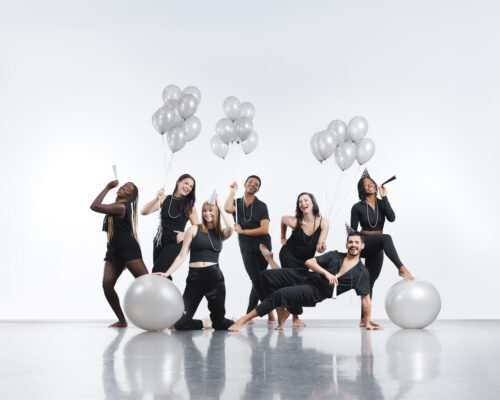 OCTOBER 14TH, 2023
7:30PM PERFORMANCE
RESERVED TICKETS: $25-$50
HOBBY CENTER FOR THE PERFORMING ARTS
800 BAGBY STREET
HOUSTON, TX 77008
(713)-804-6646
Houston, TX – Houston Contemporary Dance Company will present Silver Celebration on October 14th, 2023 at 7:30PM at the Hobby Center for the Performing Arts to start our 5th Season. This concert will present a world premiere on Houston Contemporary by Princess Grace award winner, Norbert De La Cruz III. We will also be showing Sock Hop Sonata by Dallas based artist McKinley Willis, American Land by Japanese American artist, Yoshito Sakaraba and the first work to be set on Houston Contemporary Dance Company in 2019, Porcelain by Joshua Manuculich. Sean Carmon will present a solo as a Guest Artist and Manchulich will also present his new dance company, Whirlwind from Columbus, Ohio for their Hobby Center premiere.
Silver Celebration is funded in part by the Houston Arts Alliance through the City of Houston, Texas Commission on the Arts, Mid America Arts Alliance and Dance Source Houston. We would also like to Thank Bob Boblitt, Bobbie Nau, Shirley and Brian Colona, Remington and Sarah Tonar, Bank of Texas, Amegy Bank, USI and Jackson Walker for their support this Season. This event is being performed at the Hobby Center for the Performing Arts, sponsored by Houston Area Lexus Dealers and United Airlines.
Read more about the Guest Choreographers and Guest Artists below:
Born in Bayombong Nueva Vizcaya, Philippines and raised in Los Angeles, CA Norbert De La Cruz III is recognized for his versatility in performance and choreography. He is a collaborative artist with roots in classical and contemporary dance. After moving to New York in 2006, he received a BFA in Dance from the Juilliard School followed by an MFA in Dance from Hollins University. He is a New York and Los Angeles based freelance dance artist. Norbert's movement practice has brought nationwide attention to dance companies and educational programs. His physicality is shaped by his training experiences from the Gabriella Foundation, LA County High School for the Arts, Marat Daukayev School of Ballet, The Juilliard School, and through his performance career as a professional dancer. He started training in classical dance at age 11 (Cecchetti and Vaganova) with ballet masters Vera Ninkovic and Marat Daukayev. Professionally, Norbert has performed as a soloist with the Metropolitan Opera's production of Aida, Aszure Barton & Artists in Germany & Austria (Blue Soup & Busk), Balletto Teatro di Torino (Italy), Joe Goode Performance Group, Sydney Skybetter & Associates, Aspen Santa Fe Ballet, and Complexions Contemporary Ballet. As a pre-professional, he was honored the Music Center's 17th annual Spotlight Award, the Emerging Young Artist Award, Youth America Grand Prix 2nd place in non-classical, and represented the Juilliard School at Kodak Theatre's first annual Dizzy Feet Foundation Gala in Hollywood, CA. Norbert recently been casted in Warner Brothers Pictures film adaptation of Tony-winning musical In The Heights. Additionally, Norbert has performed works by choreographers José Limón, David Parker, Adam Hougland, Johannes Wieland, Ohad Naharin, Aszure Barton, Jerome Robbins, Larry Keigwin, Jiri Pikorny, Hernando Fernando Magedan, Spenser Theberge, Jeremy McQueen, Camille A. Browne, Dwight Rhoden, Desmond Richardson, Lightfoot & Leon, Crystal Pite, Alonzo King, Zachary Tang, Gregory Dawson, and Jirí Kylián. Norbert's choreographic career was further mentored by Aspen Santa Fe Ballet (ASFB) Directors, Tom Mossbrucker and Jean-Philippe Malaty. His early career was recognized through the support of the Jerome Robbins Foundation's NEW Essential Works Grant (2012), commissioning his first large-scale ballet, "Square None" (2012) with ASFB. He was then a finalist of Hubbard Street's National Choreographic Competition (2013), a Princess Grace Foundation-USA Award under the choreography fellowship (2012), Alvin Ailey New Directions Choreography Lab (2013), finalist for the Joffrey Academy of Dance's 2014 Winning Works and a recipient for the 2015 National Choreographic Initiative in Irvine, CA. He was selected for the 2017 and 2018 Spring Sessions at the New York Choreographic Institute, an affiliate of New York City Ballet, where he created his "Lunar" and "Traces" ballet alongside Juilliard composer and esteemed collaborator, Nathan Prillaman. While navigating a freelance career as a choreographer, performer, and educator, Norbert operates a bi-coastal freelance dance career between NYC and LA. He is in constant search of inspiration; seeking for more valuable collaborations and human connections.
Sean Aaron Carmon began his training under the late Bonnie Cokinos at her School of Dance. Thanks to two dedicated mentors — Eva Leblanc and Lucia Booth — and a host of support from other faculty members, Sean was awarded the Bill and Melinda Gates Scholarship, affording him the opportunity to attend New York University's Tisch School of the Arts on full scholarship. After moving to New York, he began taking supplemental classes at the Ailey School which led to an inevitable transfer to, and later graduation from, the Ailey/Fordham B.F.A. Program in Dance. He was a member of Elisa Monte Dance before originating the role of "Phaedra" in the 2010 Tony Award–winning revival of La Cage Aux Folles and performed on the 2010 Tony Awards broadcast, Good Morning America and Live! with Regis and Kelly. Mr. Carmon also performed in the Broadway production of The Phantom of the Opera and has appeared as a guest artist with Joshua Beamish's MOVETHECOMPANY, the International Dance Association in Italy, Vitacca Ballet in Houston and with the Cape Dance Company in South Africa. Mr. Carmon danced with the Alvin Ailey American Dance Theater for seven seasons and performed major solo roles including Mikhail Baryshnikov's original role in Alvin Ailey's Pas de Duke and featured roles in ballets by other notable choreographers such as Wayne McGregor, Robert Battle, Aszure Barton, Jiri Kylian, Johan Inger, Ulysses Dove, Matthew Rushing, Hope Boykin and Christopher L. Huggins. In addition, he was featured on Conan, the national TBS television talk show, Lincoln Center at the Movies, broadcast nationally on PBS and profiled in the Huffington Post for his work as an AGMA union representative for the Ailey dancers. After seven seasons with Ailey, Sean toured all over North America as a featured dancer with Disney's The Lion King and has performed in Kinky Boots and Ragtime, where he also served as Dance Captain, with Broadway Sacramento! His own choreographies have been performed all across the country and internationally and have been lauded as "everything and then some…" and "powerful" and "seriously flawless" by major national print and online publications such as The New York Times, Newsweek, JET Magazine, BroadwayBlack, DanceSpirit and Dance Magazine. He was awarded The Joffrey Ballet's 2017
Winning Works choreographic award and was selected as one of four choreographers for the National Choreographic Initiative in 2021. His work longstoryshort was commissioned by the Dance Gallery Festival NYC and was selected as the Audience Choice Award Winner out of 30 pieces created for the festival. He has created works on the AAADT for multiple Ailey Dancers' Resource Fund benefit performances, Houston Contemporary Dance Company, Sacramento Ballet, Vitacca Ballet, Mareck Dance and more. Sean is currently on faculty at Vitacca Ballet School (where he also serves as Studio Company Director), the Austin Dance Conservatory and Kinder High School for the Performing & Visual Arts; he teaches master classes and choreographs award-winning works for studios, dance conventions, high schools, colleges and universities across America and internationally.
Joshua Manculich was born in Windber, PA- started his formal dance training at the age of fourteen. He had the pleasure of performing with Thodos Dance Chicago, Chicago Repertory Ballet, Pursuit Productions, Jaxon Movement Arts, Jessica Miller Tomlinson, and The Pillow Project. Brought up in a small-town, he is thankful for the numerous inspiring mentors and creative artists that guided his pursuits as a dancer, choreographer, and person. Josh's choreographic work exists in conceptual frameworks, and his choreography has been toured internationally and presented nationally by emerging contemporary dance companies, ballet companies, and universities. Josh was nominated for a Princess Grace Choreography Fellowship by The Big Muddy Dance Company for which he eventually created "Lyra" through support of the Princess Grace Foundation. Some of his choreographic adventures include a longstanding relationship and building of community with organizations like: Ballet Austin II, The Big Muddy Dance Company, Collage Dance Collective, DanceWorks Chicago, Eisenhower Dance, Houston Contemporary, and Santa Barbara Dance Theater. Most recently, Josh founded a new platform for contemporary dance, WhirlWind Dance. He is based out of Columbus, Ohio and hopes to inspire movers of all ages to live and dream boldly.
Yoshito Sakuraba is the founding artistic director of Abarukas and an award-winning choreographer. Originally from Japan, Yoshito began his career in New York City and has expanded to presenting work in Germany, Poland, Italy, Spain, Israel, Mexico, and nationally across the U.S. including Joyce Theater, BAM
Fisher, Jazz at Lincoln Center, Jacob's Pillow, Kaatsbaan, and McCallum Theater (Palm Desert Choreography Festival). He has received the Best Choreography Award at FINI Dance Festival in Italy, the Audience Award at Masdanza International Contemporary Dance Festival in Spain, and he's a winner of NW Dance Project's Pretty Creatives and Whim W'Him's Shindig. In addition to his company repertory, he's been commissioned by numerous companies including Bayerisches Staatsballett (Munich), DAF (Rome), Lamondance (Vancouver), Louisville Ballet, Ballet Arkansas, Ballet Des Moines II, Litvak Dance, Levy Dance, Pony Box Dance Theater, Modas Dance, Kit Modus, Nimbus Dance, Peridance Contemporary Dance Company, and Graham II. He seeks to inspire young artists in their artistic expression and has been invited to create works and teach at institutions such as Joffrey Ballet School, Alvin Ailey/Fordham University, University of North Carolina School of the Arts, Peabody at Johns Hopkins University, Marymount Manhattan College, Barnard College, DLNY, MOVE l NYC and Steps on Broadway Conservatory. Most recently he was commissioned by the Rozsa Center for the Performing Arts in Michigan.
A native of Dallas, Texas, McKinley Willis is a graduate of Booker T. Washington High School for the Performing and Visual Arts. She received her Bachelor of Fine Arts in Modern Dance Performance with a minor in Health and Exercise Science from The University of Oklahoma. During her time at OU, her choreography was featured in the Young Choreographer's Showcase, paving her journey to creative discovery. As a senior, McKinley collaborated with composer Leah Kennedy for the production of "Not Buying It", a show reflecting the dark reality of the human trafficking system in America. McKinley's Capstone Project, The Experience: Love, Life, Light, was a 45 minute, one-act show created in collaboration with various artists – it was this production that sparked her fiercest desire to collaborate, in turn leading to the development of her arts organization The Artist Kinnection. McKinley's professional dance career includes performances with 6 O'clock Dance, Bruce Wood Dance Project, and she is currently in her 8th season with Dallas Black Dance Theatre. She's had several choreographed works featured in DBDT's annual Black on Black series, premiering works such as "Black Angels", "Gus" and "A Suite Christmas". McKinley has also been commissioned to choreograph for several special events including weddings, birthdays, and various corporate events throughout the DFW metroplex. In 2019 she choreographed Arts Visions' production of "Hair Spray Jr." under the Direction of Fran Anderson and in the midst of the pandemic in 2020, she choreographed and organized Arts Visions' virtual edition of "The Wiz Jr.," recognized for its creativity and ingenuity. McKinley recently choreographed and premiered the duet "Frayed Ends" for the Agora Artists' workshop.McKinley's invigorating take on movement defines dance by way of the human experience and encourages connections to happen – creating space for vulnerability, exploration and authenticity. Her goal is to cultivate spaces that encourage the dancers to put themselves in it.
WhirlWind Dance was founded in 2021 by Joshua Manculich, a Princess Grace Award Winner and MFA alumnus of The Ohio State University. The WhirlWind was initially conceptualized as a performance platform for movement artists during the height of the COVID-19 pandemic, and has since progressed into a full-fledged non-profit and professional company with a dedicated brick-and-mortar space. As WhirlWind has grown and evolved, the company has held on tightly to its original goal; to advocate for movement artists through the provision of regular performance opportunities, professional development and world class repertoire. In 2023, WhirlWind Dance pioneered its very own youth company, The WyND Program, which features a talented group of teenage dancers who rehearse and perform alongside the professional company: whirlwinddance.com
ABOUT HOUSTON CONTEMPORARY DANCE COMPANY:
Houston Contemporary aims to lead and innovate performing arts in Houston by drawing upon the director's long tradition of inclusiveness and diversity within all facets of the organization. HCDC sets itself apart by employing high caliber performing and choreographic artists from across the country. In setting high technical and artistic standards, HCDC is currently the only contemporary repertory company to provide Houston audiences with opportunities to view works created by some of America's most exciting dancemakers that speak to and are representative of the full spectrum of Houston's diverse populace, while supporting talented Texas based artists as well.
Marlana Doyle, Founding Artistic and Executive Director, is originally from Massachusetts and graduated from Point Park University in 2001 with a BA in Dance. Marlana is the former Artistic Director of Met Dance, where she held various positions for seventeen years. Under her direction, Marlana's vision and leadership catapulted the company to new levels of excellence and growth while holding tightly to the company's long tradition of diversity and versatility in its dancers, choreographers, collaborators, and content.Marlana is the President & CEO of the Institute of Contemporary Dance which houses Houston Contemporary professional concert dance company and HC2, a youth training company. Marlana is a member of Dance Source Houston, International Association of Blacks in Dance, Texans in the Arts and Dance USA, spending 2009-2012 as an emerging leader at Dance USA. She was awarded the Dance USA Leadership Mentee Fellowship for the institute of training in 2012 and was a mentor for the same program in 2019. She served for three years as a Dance USA Board of Trustee member and served as the Artistic Director Council Chair. Marlana has also serving on the Performing Arts Houston's Educational Committee, San Jacinto College Dance Advisory Board and the Leadership Committee for Arts Connect. As a performer, Marlana has danced and generated roles in a range of works by renowned choreographers and artists. Marlana is also a guest teacher and an award-winning choreographer for her many students in Houston and throughout the United States. She has choreographed for the City of Houston, Levi's and Walmart, Mercury Ensemble, Apollo Chamber Players, Houston Chamber Choir, Houston Symphony, TUTS, Loop38, Kinetic Ensemble, ROCO, University of Houston, Sam Houston State University, Lamar University, RICE University and University of St. Thomas. She lives in Sugar Land, TX with her husband Ben and her two adorable daughters Olivia and Evie.
For more information about Houston Contemporary Dance Company and how to purchase tickets, please see below:
Houston Contemporary Promo Video
Houston Chronicle Article Houstonia Article
FOR CALENDAR LISTING:
Who: Houston Contemporary Dance Company
What: Silver Celebration
When: October 14th, 2023 at 7:30PM
Where: Hobby Center for the Performing Arts
*Tickets are on sale at: :https://my.thehobbycenter.org/6261/6262
Why: To be an innovative non-profit repertory dance company transforming how Houston experiences dance as an art form that moves, unites, and inspires.
Contact: Marlana Doyle (Founder & Artistic Director) marlana@houstoncontemporary.org