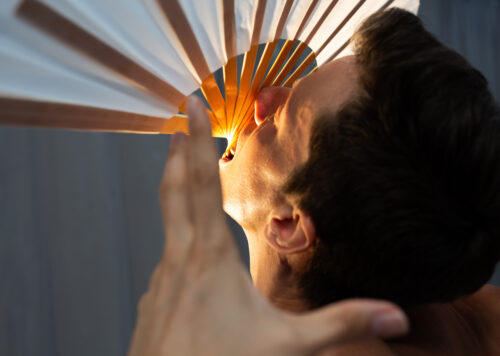 This weekend at Asia Society Texas Oct. 22-23, Houston Contemporary Dance Company (HCDC) and project-based dance company chuthis. merge to present Liminal Traces. The evening of dance will feature the work of chuthis. artistic director and choreographer Peter Chu, an artist who frequently occupies the interstitial spaces of contemporary dance.
In his career, Chu has achieved remarkable coalescence of the often mutually-exclusive arenas of commercial and concert dance. His performance and choreographic credits include Cirque du Soleil, Celine Dion's Vegas Spectacular, Azure Barton & Artists, Kidd Pivot, So You Think You Can Dance, Hubbard Street Dance, Giordano Dance Chicago and Paul Taylor Dance Company, to name only a few.
The biracial choreographer grew up sharing time between the households of his father and grandparents in the Bronx and Chinatown in New York and in Cocoa Beach, Florida, where he lived with his mother. Whether he's working with student dancers or developing artistic work, the Juilliard graduate consistently honors his practice of Tai Chi and Qigong and his background in American jazz dance.
"Both," Chu emphasizes as he describes their connection, "were built out of oppression for communities to heal themselves and to let go of tension and unnecessary negative energy. It's hopeful."
Over the last three years, Chu has paid respect to his movement lineage and the things that have made him who he is as a human and an artist through a project titled Rhythmic Identity. "Tracing Rhythms,"a 30-minute portion of that work, will be presented in the production Liminal Traces this weekend and will include both HCDC and chuthis., as well as Chu himself.
"We usually work with an artist and they leave," says HCDC's Artistic and Executive Director Marlana Doyle of the common experience of a repertory company. "With this collaboration, our dancers are getting to work with the actual artist that made the dance but then also seeing his process. They've been hungry for such an opportunity."
Doyle and Chu have a friendship that reaches back to their days as undergraduates at Point Park College (now University), in Pittsburgh, PA. Doyle shares that she and three other friends were responsible for convincing Chu to audition for Juilliard.
The pair have continued to support one another through the years. Doyle invited Chu to present work three times for MET Dance in her former role as Artistic Director of that company. Chu, whose early teaching career began in Kingwood, Texas, advocates for Houston as a hub for dance and for Doyle's Institute for Contemporary Dance as a space to grow young artists. Through his project Open Doors, which connects emerging young professionals with companies, Chu has helped find dancers for HCDC.
The idea to present at Asia Society Texas Center was Doyle's. They visited while Chu was in town for a residency and fell in love with the theater space.
"For me, [the decision] is about collaborating with different organizations in the city," Doyle explains as she affirms that such community engagement is part of her company's mission, "and it's an opportunity for Houston to see Peter's work."
Doyle also insisted that Chu title the evening of work they were to present, something the choreographer admits to resisting at first.
"'Liminal' for me personally, with its double entendre, was the best way to explain what the work is about," he offers. "'Trace' is tracing the history of this person physically and culturally."
Chu has known chuthis. dance artist, stager and rehearsal director Jenni Gordon since she was a child studying dance at Rowland School of Ballet in Kingwood. While pregnant during the pandemic, Gordon worked with Chu via Zoom to establish a solo they filmed in collaboration with videographer Lauren Berthelot. The film, "Piece Peace," will be presented during Liminal Traces and will develop into a live segment reimagined for Gordon a year-and-a-half postpartum.
"The piece is made from text I wrote about her life and experience. We took movement from when she was 9, 10 and 15 years old, using movements that were very special to us and updated what that means," Chu explains. "Whether it's receivable [by the audience] or not, it is intentional."
The third work on the program, "4yous," has grown from a duet made for New Dialect in 2015 to a quartet for Chu's own company in 2018, and is now being added to HCDC's repertory.
"In order for the dancers to be out of control when I need them to be out of control and go crazy physically, I need them to be mentally stable," says Chu. Honoring that process, Doyle engaged him to work with the dancers using ideas he's developed as a result of his Tai Chi and Qigong practice.
"What you want as a director is to challenge your dancers as artists and watch them grow," adds Doyle. "You don't want them to feel comfortable ever." She's seen the difference already in the dancers as they rehearse.
Chu shares that what he's enjoyed most about the collaboration is the diversity, not just of color, shape or identity of the movers, but their range as movers.
"Everyone in the community is very different and bringing them together makes this very special," he concludes.
Houston Contemporary Dance Company and chuthis. present Liminal Traces October 22-23 at Asia Society Texas. For tickets and more information visit houstoncontemporary.org.