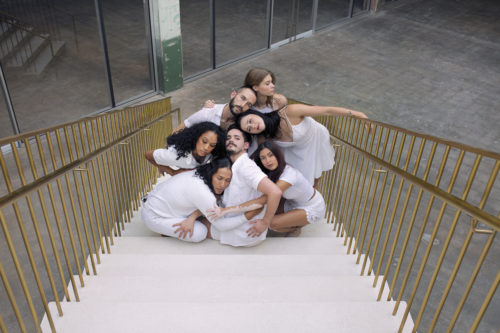 October 18th, 2021
1302 Houston Ave, #300 
Houston, TX 77007
(713) 804-6646
houstoncontemporary.org 
FOR IMMEDIATE RELEASE 
Contact: Marlana Doyle, (713) 804-6646 ext 3, marlana@houstoncontemporary.org
HOUSTON CONTEMPORARY DANCE COMPANY Presents 
"TERRA FIRMA"
NOVEMBER 20TH, 2021
7:30PM PERFORMANCE
LIMITED IN PERSON AUDIENCE
RESERVED TICKETS: $50/$30
HOBBY CENTER FOR THE PERFORMING ARTS
800 BAGBY HOUSTON, TX 77002
(713)-315-2525
Houston, TX – Houston Contemporary Dance Company will continue its third Season in an exciting evening of dance and music in Terra Firma at Hobby Center for the Performing Arts November 20th at 7:30PM. We will present a World Premiere from New York based choreographer Joe Celej, an ensemble work "Viola" by Thai American choreographer Keerati Jinakunwiphat with music by composers Benjamin Britten, Philip Glass, Osvaldo Golijov, played live by Kinetic Ensemble and a duet by California based choreographer, Christian Denice. The evening will also include an appearance by HCDC's resident choreographer, Robbie Moore in a new solo work by choreographer, Margot Gelber.
World premiere, Intersections, is a new work by guest choreographer, Joe Celej. The structure of the complete piece is inspired by Sol LeWitt's work, A Square Divided Horizontally and Vertically into Four Equal Parts, Each with a Different Direction of Alternating Parallel Bands of Lines (1982). Each section will live and move on the horizontal, vertical and diagonal planes as is demonstrated in LeWitt's work. The four sections of the piece will be designed so that they can be arranged in any order, and will be randomly done so prior to each performance. In this way, every subsequent viewing of the work potentially offers viewers a "new" work to experience. The mood of the work is existential in nature and focuses on the idea that our individuality is both isolating and a commonality that we all share.
Thai American Guest Choreographer, Keerati Jinakunwiphat, states that in collaborating with Kinetic Ensemble, "my initial instinct was to focus on sense memory in relation to music. Using this as a catalyst, I then, with the help of Bree Ahern, discovered and compiled different tracks that represent each of the four seasons. For many, music can boost memory, mood, and connect people through time and space. Each
season can come with its own joy, nostalgia, trauma, and emotional ties. Changes in weather or daylight can greatly affect our psyche and behaviors and this new work will embody the different mental states that each season can potentially ignite. In the process with the dancers, I am interested in discovering and understanding how each others' sensations and memories can vary even within the same season. We make room for different stories and perspectives and also discover what can remain consistent throughout all four seasons. The work will narrate and progress as the dancers process through each season and their individual, emotional journey together."
Terra Firma is a sponsored project of Fresh Arts, a non-profit arts service organization and is funded in part by the City of Houston through the Houston Arts Alliance, Dance Source Houston, National Endowment for the Arts and Texas Commission on the Arts. We would also like to thank Linda and Stephen Walsh for their support of this performance.
ABOUT THE GUEST ARTISTS:
Joe Celej holds a BFA in dance performance from SUNY Buffalo, where he was performing and creative arts honors scholar and supplemented his training with scholarships to Giordano Jazz Dance Chicago, The Edge, and the Performing Arts Center in Los Angeles. Joe's commercial credits include Levi Strauss and Company, Wal-Mart, and the City of Houston. As an independent artist, Joe has presented his choreography at numerous venues including the Reverb Dance Festival/APAP, the Dance Gallery, the Pink Ribbons Project, the Big Range Dance Festival, the Great Friends Dance festival, Zodiaque Dance Company, Extensions Dance Company, Dance Harlem, American Dance Guild, Vision of Sound, Dumbo Dance Festival, The Tank, Pushing Progress Showcase Series, Cool NY Dance Festival, and the Solar Powered Dance Series.
Keerati Jinakunwiphat, originally from Chicago, IL., is a Thai American dancer and choreographer. She received her BFA from the Conservatory of Dance at SUNY Purchase and was a recipient of the Adopt-A Dancer Scholarship. She has additionally studied at the Western Australian Academy of Performing Arts, San Francisco Conservatory of Dance, and Springboard Danse Montreal. She has worked with and performed works of artists such as Kyle Abraham, Nicole von Arx, Trisha Brown, Jasmine Ellis, Shannon Gillen, Andrea Miller, Kevin Wynn, and Doug Varone. Keerati began working with Abraham.In.Motion in 2016. She has additionally assisted Kyle Abraham in new commissioned work for New York City Ballet and Paul Taylor Dance Company. As a freelance choreographer, Keerati has presented her own choreographic works at the American Dance Guild Festival, Triskellion Arts, Dixon Place, Dance Gallery Festival, and the Joyce Theater. She has been commissioned to set and create works on the Evanston Dance Ensemble, the Martha Graham School, SUNY Purchase College Conservatory of Dance, and Kyle Abraham/A.I.M.
Founded in 2015, Kinetic Ensemble is a Houston-based ensemble gaining increasing recognition for its dynamic, collaboratively driven performances and masterfully curated musical programs. An artist-led ensemble of young professional string players, Kinetic is committed to showcasing diverse, under
represented, and newly composed classical music to communities in and beyond Houston through flexible chamber and orchestral ensemble formats. The ensemble has collaborated with numerous artistic organizations and institutions, including Musiqa, NobleMotion Dance, Houston Contemporary Dance, Archway Gallery, Flatland Gallery, Hoppa Project, Sam Houston State University, Houston Methodist Hospital, Houston Center for Contemporary Craft, High School for the Performing and Visual Arts Houston (HSPVA), Memorial High School — and more. A champion of new music by composers of our time, to date Kinetic has premiered over ten new works for string ensemble. www.kineticensemble.org
Originally from Houston, Margot Gelber began her training as a competitive gymnast and attended The High School for Performing and Visual Arts. She furthered her training under the direction of Yasuko Tokunaga and Cathy Young at The Boston Conservatory and graduated in 2013. Upon graduating, Gelber joined Ate9 Dance Company in Los Angeles, California. Her work has been commissioned by The Boston Conservatory, The High School for Performing and Visual Arts, and The Houston Metropolitan Dance Company. Additionally, Gelber's work has been featured in the The San Francisco Conservatory of Dance Summer Dance Series, The Boston Contemporary Dance Festival, The Austin Dance Festival, The Seaside Dance Festival, and Chop Shop Bodies of Work. In addition to participating in Elizabeth Streb's Go!Emerging Artist Program in 2014, Gelber was awarded the Houston Met Dance Emerging Choreographer and the, Bates Dance Festival Emerging Choreographer. In 2018, Gelber presented work in Poland at the Gdanski Festival Tanca. Most recently, Gelber had a World Premiere as part of the Boston Conservatory's Winter Works in 2020.
ABOUT HOUSTON CONTEMPORARY
Houston Contemporary aims to lead and innovate performing arts in Houston by drawing upon the director's long tradition of inclusiveness and diversity within all facets of the organization. HCDC sets itself apart by employing high caliber performing and choreographic artists from across the country. In setting high technical and artistic standards, HCDC is currently the only contemporary repertory company to provide Houston audiences with opportunities to view works created by some of America's most exciting dancemakers that speak to and are representative of the full spectrum of Houston's diverse populace, while supporting talented Texas based artists as well.
Marlana Doyle, is originally from Massachusetts and graduated from Point Park University in 2001 with a BA in Dance. Marlana is the former Artistic Director of Met Dance, where she held various positions for seventeen years. Under her direction, Marlana's vision and leadership catapulted the company to new levels of excellence and growth while holding tightly to the company's long tradition of diversity and versatility in its dancers, choreographers, collaborators, and content. Marlana is the President & CEO of the Institute of Contemporary Dance which houses Houston Contemporary professional concert dance company and HC2, a youth training company. Marlana is a member of Dance Source Houston, International Association of Blacks in Dance and Dance USA, spending 2009-2012 as an emerging leader at Dance USA. She was awarded the Dance USA Leadership Mentee Fellowship for the institute of training in 2012 and was a mentor for the same program in 2019. She served for three years as a Dance USA Board of Trustee member and served as the Artistic Director Council Chair. Marlana has also served in collaboration with the Houston Arts Alliance, Fresh Arts, Dance Source Houston and is also a part of the SPA's Educational Committee. As a performer, Marlana has danced and generated roles in a range of works by renowned choreographers and artists. Marlana is also a guest teacher and an award-winning choreographer for her many students in Houston and throughout the United States. She has choreographed for the City of Houston, Levi's and Walmart, Mercury Ensemble, Apollo Chamber Players, Houston Chamber Choir, Houston Symphony, TUTS, University of Houston, Sam Houston State University, Lamar University and University of St. Thomas.
For more information about Terra Firma and how to purchase tickets, please visit:
Houston Chronicle Article:
https://www.houstonchronicle.com/entertainment/arts-theater/article/Former-METdance-artistic-director-lau nches-14902641.php?utm_campaign=CMS+Sharing+Tools+%28Premium%29&utm_source=facebook.com& utm_medium=referral&fbclid=IwAR3I_QFA3PpJ0qixiuPx5e7fasYPObJ9F_E6uom_zhM6lq79GPPbLHGC5Q s 
Houstonia Article:
https://www.houstoniamag.com/articles/2019/10/25/marlana-doyle-metdance-houston-contemporary-dance -company 
Houston Contemporary YouTube Channel:
https://www.youtube.com/watch?time_continue=4&v=l_Sj952NI7g&feature=emb_logo
FOR CALENDAR LISTING:
Who: Houston Contemporary Dance Company
What: " Terra Firma"
When: November 20th, 20201
Where: Hobby Center for the Performing Arts at 7:30PM
*Tickets are on sale at www.houstoncontemporary.org
Why: To be an innovative non-profit repertory dance company transforming how Houston experiences dance as an art form that moves, unites, and inspires.
Contact: Marlana Doyle (Founder & Artistic Director) marlana@houstoncontemporary.org;
Terra Firma is a sponsored project of Fresh Arts, a non-profit arts service organization and is funded in part by the City of Houston through the Houston Arts Alliance, Dance Source Houston, National Endowment for the Arts and Texas Commission on the Arts. We would also like to thank Linda and Stephen Walsh for their support of this performance. \
###