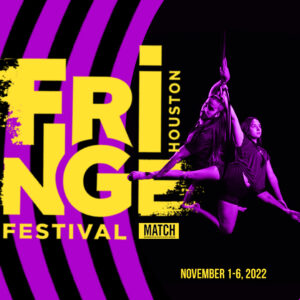 From African dance to a Marcus Pontello film screening, Houston's most eclectic performance art festival spans 6 days and has something for everyone.
HOUSTON (October 11, 2022) – Houston Fringe Festival, a program of the Pilot Dance Project, a 501(c)3 non-profit arts organization with the mission to empower and transform communities through innovative dance, theater and visual arts, will hold 6 days of performances this fall at Midtown Arts & Theater Center Houston. Known for hosting critically-acclaimed and world-premiere performances, the festival is returning to live audiences after 2 years away due to the COVID-19 pandemic. 
Houston Fringe Festival will run from November 1 to November 6, 2022. Nightly 7:30 p.m. performances are offered from Tuesday, November 1 to Friday, November 4, with performances from 4:30 p.m. to 9:00 p.m. on both Saturday, November 5 and Sunday, November 6. This year's artist line-up is full of cutting edge and experimental performances. Audiences can catch unique acts such as circus arts from Cai Circus, original songwriting and storytelling from award-winning artist Ryan Adam Wells, and the return of the festival's popular closing night showcase of independent artists, "Anything Goes." 
Among the festival's featured works is a screening of Marcus Pontello's "Friday I'm in Love: The Numbers Documentary." Pontello, an LGBT visual storyteller and clothing designer from Houston, tells the story of Numbers Nightclub. Viewers will get an inside look into the history of one of the longest running clubs in the country through the AIDS crisis, police brutality against the LGBT, the rise of hate crimes in the '90s, and the personal stories of club-goers and iconic musicians who ignited and sustained Numbers' legacy of musical history and acceptance. 
Nia's Daughter's Movement Collective will also be joining the roster, performing The Fairytale Project. This historically inspired tale of a young African American family reconnecting with their East Texas roots is fresh from its debut at Discovery Green this summer. Houstonians will have a second chance to see this production by dance artist and educator Stacey Adams. 
Tickets start at $15 per event. Those interested in purchasing tickets and learning more about the festival line-up can visit matchouston.org/presenter/houston-fringe-festival. 
To learn more about Houston Fringe Festival's 2022 Season, contact Lauren Miller at laurenbm929@gmail.com, (713) 263-4108 or visit @HoustonFringeFestival on Facebook or Instagram. 
ABOUT HOUSTON FRINGE FESTIVAL
The Houston Fringe Festival is a program of Pilot Dance Program, a 501(c)3 non-profit arts organization. Hosted annually, the festival hosts critically-acclaimed and world-premiere performances across dance, music, theater, visual arts, performance arts and more to audiences. The festival and its host organization are guided by Director, Choreographer and Dancer, Adam Castaneda. 
### 
Performance Schedule
Tuesday, November 1
7:30 pm: Ryan Adam Wells, "The 500 List, A One Man Show"
Wednesday, November 2 
7:30 pm: The Magpie Parliament Society, "Decision Trees"
Thursday, November 3
7:30 pm: Kristina Koutsoudas, Moroccan Dance Live
9:00 pm: Marcus Pontello, Friday I'm in Love: The Numbers Documentary
Friday, November 4 
7:30 pm: Corian Ellisor, Modern dance
9:00 pm: Kristina Pratts, Modern dance
Nia's Daughters Movement Collective, The Fairytale Project
Saturday, November 5
4:30 pm: Social Movement Contemporary Dance, "In Syndication" 
6:00 pm: Alex Wukman (spoken word)
7:30 pm: Cai Circus, The Collection 
9:00 pm: Bucky Rea/Invisible Lines, "Each New Journey: The Poetry of the Fabulous Billie Duncan"
Sunday, November 6
4:30 pm: Dance Afrikana, "Who Yo' People?"
6:00 pm: Lindsay Gary/Ushindi Niwetu, "Re/membering Bamboula" 
7:30 pm: Anything Goes – Closing Night Showcase
Featured artists: Houston Contemporary 2, The Pilot Dance Project with Ashley Horn, Anna Bauer, Roxanne Claire, Margo Stutts Toombs, Roberta Cortes, Brittani Broussard, Christie Gorman, and Stormie Holmes