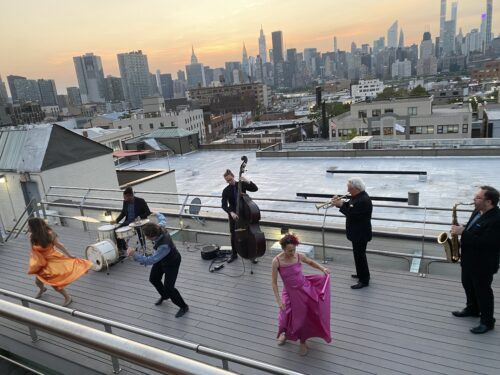 FOR IMMEDIATE RELEASE:
Contact: Michele Brangwen 832 659-5096
THE MICHELE BRANGWEN DANCE & MUSIC ENSEMBLE CONJURES JOY &
HEALING AS THEY RETURN TO LIVE PERFORMANCE AT THE MATCH
Sunday November 20, 2022 at 7 p.m.
$25 General Admission
$35 Patron Ticket
Masks are required for audience members
The Michele Brangwen Dance & Music Ensemble returns to live performance in Houston with a special concert designed to conjure joy and healing. The program will feature "Asa Nisi Masa," originally created as a film, reconfigured for live performance. The work has choreography and costumes by Michele Brangwen and music composed by Danielle Reich, Thomas Helton and Tim Hagans, with sections of movement and music created spontaneously in the moment.
"Asa Nisi Masa" takes its title from the childhood incantation spoken in Federico Fellini's film "8 1/2." The phrase Asa Nisi Masa conjures a beautiful memory for the main character in the film of a time filled with compassion and love.
Some people feel Fellini was sending a hidden message in the phrase Asa Nisi Masa, using an Italian form of pig Latin which adds a "sa" and a "si" to words in order to disguise them. If you take the root of each word in the phrase Asa Nisi Masa, the letters form the word Anima, which is the Italian word for soul.
Brangwen writes: "My intention in creating "Asa Nisi Masa" was to send good thoughts out to all spaces – the film version of the work ends with the artists removing their tunics and hanging them on a New York City rooftop so the wind could carry that sentiment everywhere. Performing the work on stage at the MATCH, "Asa Nisi Masa" functions like a dance and music incantation, conjuring comfort and joy and sending it out to a live audience.
The program will also include "Unending," a wild and jubilant purely abstract work with choreography
by Michele Brangwen, music by Tim Hagans, and movement and music created in the moment by all
performers.
Performers are dancers Lindsey McGill, Cristian Laverde König, and Michele Brangwen; Tim Hagans,
trumpet; Michael Eaton, saxophones; Thomas Helton, acoustic bass; and Sam Knight, drums.
The Michele Brangwen Dance & Music Ensemble is a multidisciplinary performing ensemble of contemporary dance and music. In 21 years, every performance has included live music and the musicians as integral parts of the visual stage imagery. We believe that the artist's role in society is to communicate, to challenge, to open a dialogue that can both unite us and inspire meaningful change. We function like a jazz band, and along with sections of choreographed movements and written music, we use improvisation that comes out of the form, concept, and emotional life of the work. The Michele Brangwen Dance & Music Ensemble is based in New York City & Houston, and has performed nationally and internationally. More info at www.brangwendance.org
Sunday, November 20, 2022 at 7 p.m.
MATCH Matchbox 2
3400 Main Street
Houston, TX 77002
Tickets:
Box Office Phone: 713-521-4533
Please note for the safety of our artists, audience and community, masks are required. In addition,
performers will make use of the entire theatre space during the performance.
www.brangwendance.org
A 30 Second November 20, 2000 Performance Preview:
https://www.youtube.com/watch?v=Vql5MQdDB3M
The film "Asa Nisi Masa" was an All About Jazz Video Of The Day in April 2022.
Watch the full film here: