Lori Yuill Presents Site-Site Specific Work, The Story of a Space
Here's a fact that you'll want to put in your back pocket: Houston rates first among the nation's 10 most populous cities in total acreage of parkland. I love a good Houston boasting point. Tranquillity Park in downtown Houston, however, goes woefully underutilized aside from past Houston International Festivals, the Occupy Houston demonstration, and its small crowd of lunch guests.  Our spacious urban park sits serenely inside the busy Walker and Rusk Streets, with the United States federal courts building on one side and City Hall on the other.  Its vacancy is exactly what spurred choreographer Lori Yuill to create a brand new, free, site-specific performance called The Story of a Space on March 26, 2016 at 1pm and 4pm.
Yuill explains, "I happened upon Tranquility Park one day when I was downtown to see a show and was fascinated by the architecture of the space.  I was also struck by how few people were in the park.  Having spent about a decade on the East Coast I was used to seeing spaces like this one sprawling with people.  So I became interested in how to attract people to the space."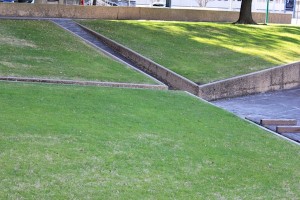 Tranquillity Park was created in 1979 as a tribute to the the Sea of Tranquility, where the first man landed on the moon during Apollo 11, ten years earlier.  Neil Armstrong transmitted the words, "Houston, Tranquillity Base here.  The Eagle has landed."  Homages to the lunar landing are sprinkled throughout the park and include a replica foot print of the first steps on the moon, water walkways meant to resemble the lunar surface, and towering stainless steel cylinders designed like Apollo's rocket boosters.
Yuill, known for her unpredictable and detailed movement maneuvering has made most of her work for stage and studio environments.  "It dawned on me about a week ago that this might be my first official site piece.  I hadn't been thinking about that because over the past few years I have been manipulating stage spaces in a way that makes them feel like site pieces to me."  A site-specific piece is, however, a very natural outgrowth of her interest in experimenting with how an audience interacts with and observes a dance.  
In site-specific choreography, the physical landscape informs a lot of what can and cannot happen in a dance, often providing new opportunities that a blank stage cannot offer.  Embracing this new challenge, Yuill is departing from her usual creative process.  "I am trying to work a little less formally on this piece.  I am more interested in imagery and embracing the improvisational nature of a site-specific piece and less interested in manipulating material than usual."  Yuill shares, "I am trying to add improvisational scores that are more open and pull from the internal and external environment."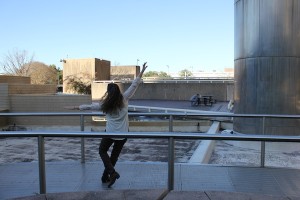 Houston dancers Abby Flowers, Alisa Mittin, Jessi Harper, and Yuill will perform in The Story of a Space.  Visual artist Daniela Antelo is designing costumes for the piece.  We can expect to see some of this improvisation incorporate tasks like "a traveling tableaux," a "hand gesture clinic, back stories, and the chameleon walk" throughout the park.   
Because site-specific work often breaks the fourth wall, audiences often wonder what their roles are performances.  No need to panic, Yuill explains, "I think more than anything, I would like to just encourage the audience to come with a sense of adventure and play."
Yuill draws inspiration from watching her dancers working on physical challenges. "I love the process, the learning, the experimentation, and the desire to create or discover something new."  On March 26, the premiere of A Story of a Space will offer new life in an often unpopulated city park.  Houston, the dancers have landed.