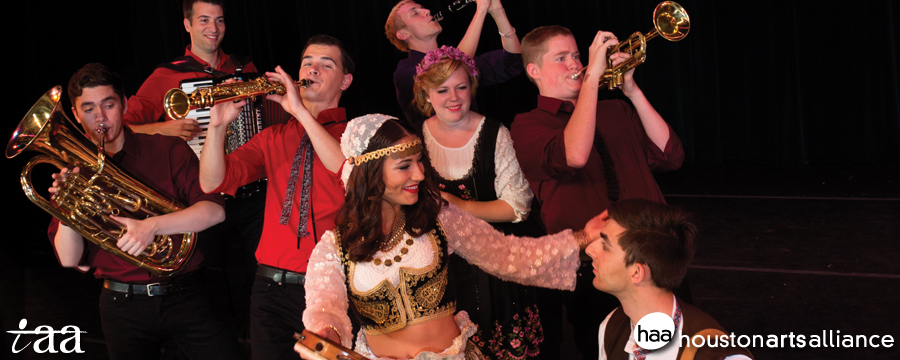 By Jessica MacFarlane
The Indo-American Association (IAA) is presenting a fabulous troupe of performers for Houston audiences of all ages. For one-night only on September 16, The Tamburitzans will perform their new commissioned production, The Gypsy Caravan, at the Cullen Theater. It's been fifteen years since Houston last saw a similar troupe performing an array of Gyspsy culture. As a restructured touring company of twenty dancers and ten musicians, The Tamburitzans aims to bring their usual flare dashed with educational exposure to authentic Gypsy performances.
The Gypsy Caravan is an evening performance featuring thirty Tamburitzans performers in seven dance suites and seven instrumental and vocal pieces. The seven dance suites unfold as a collective journey through the roots of Gypsy culture. Invoking the desert nomads of Rajasthan, dancers begin the show whirling onstage in elaborate costumes and jewelry. They change into looser dresses and perform more compact movements as they embody the Gypsies from Armenia. Next, dancers present a Bulgarian Gypsy number with bare-midriffs and pulsating hip movements. Romanian, Serbian, and Hungarian Gypsies are also featured in three suites with detailed partnering and bright, billowing costumes. The Gypsy Caravan ends with an electrifying grand finale featuring all of these unique suites from six vivacious countries.
The Tamburitzans–their former guise was The Duquesne University Tamburitzans–are an established organization that reflect the mixed cultures residing in America. Following a short run of touring shows in St. Paul, Minnesota and Austin, Texas, a group of fourteen young men took it upon themselves to present authentic folk music using the Tamburica, a long-necked stringed instrument used throughout Europe. In association with The Duquesne University–the largest private university in Pittsburgh–the troupe settled in Pennsylvania in 1937. They later incorporated female performers, various Gypsy song and dance numbers, and built a legacy for generations to follow. In 2014 the troupe officially started transitioning into the independent, non-profit organization seen today.
The IAA and this Gypsy troupe have plenty of community-driven goals in common. Every year the IAA curates its seasons with the intention of exposing Houstonians to performances from across the Indian subcontinent. IAA Executive Director Hari Dayal commented, "Each performance we book has origins in India and vast cultural significance." An integration of mixed ethnicities with distinct Indian roots is exactly what The Gypsy Caravan is about; after all the Gypsies of northern India have one of the most rich and complicated histories on the planet.
However, since the early twentieth-century romantic and artificial versions of Gypsy dance has circulated across performance venues in America. Modern dance visionary Ruth St. Denis dedicated her life to performing her own brand of world dance which invoked the mood of ethnic dance from across the globe. Her early performances, unfortunately, embodied the romanticized misrepresentation of ethnic heritages from her era, such as Gypsy dance. Ballet choreographer George Balanchine also presented an overly romanticized version of Gypsy culture with his flashy fantasy ballet Tzigane (1975) set to music by Maurice Ravel. For a while it seemed that American audiences were left with mere imitations of highly assorted artistic cultures on stage.
The negative connotations and stereotypes attached to people of Gypsy heritage have continued for centuries along with inaccurate performances. The New York Times notably published an opinion piece in 2012 by writer Cristiana Grigore titled "The Gypsy in Me" which detailed the trauma and stigma many children and adults with Gypsy heritage continue to face today. Performances like The Gypsy Caravan are incredibly informative and entertaining. "They're an educational troupe," Dayal says. "When they perform, audiences are exposed to a genuine performance, and people who've received a lot of misinformation about the Gypsy culture feel more aware and knowledgeable."
The Tamburitzans are unique in that they tour across the country, bringing the full-scope of Gypsy culture to audiences who are either part of this vast community or have had little-to-no exposure to authentic Gypsy performances. Artistic Director George "Butch" Kresovich–along with Executive Director Robert Vukic and Tour General Manager George Saolpek—has been spearheading authentic Gypsy culture through The Tamburitzans for over 30 years. For each production they passionately recruit costumers and coaches of Gypsy descent in order to support the community. "It's a slice of Gypsy life," says Dayal "A true meeting of minds that we're proud to promote."
Since an auspicious sold-out performance of a similar nature but by a different troupe at Jones Hall in 2001, Dayal and the IAA have been eager to commission another production featuring Gypsy song and dance. "What I hope the audience will experience with The Gypsy Caravan is a spectacle of song, dance, and music that'll help everyone admire and appreciate true Gypsy culture," says Dayal. Tickets for the one-night only performance of The Gypsy Caravan by The Tamburitzans can be purchased online through iaahouston.com.

The Gypsy Caravan
September 16, 2016 8pm
Cullen Theater at Wortham Center
Tickets ($35 – $105)
iaahouston.com