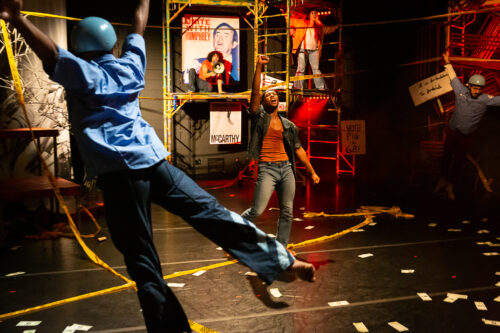 In 1968, the whole world was watching one of the most tumultuous years in American history unfold at home on television. Martin Luther King Jr. was assassinated in Memphis. Bobby Kennedy, still mourning his brother along with the country, was killed only a few months later. The nation's young adults mobilized in protest against our participation in the Vietnam war, racism, police brutality and gender inequality. Tensions rose.
Open Dance Project's latest immersive dance theater production 1968: The Whole World is Watching mines these events and more in an immersive dance theater production showing at MATCH for a second weekend May 18-20.
Invited to keep moving throughout the show, watchful participants (audience doesn't seem quite the right word in this case) are given time to acclimate within the black box multimedia set. Meanwhile, the dancers engage in a nod to the avant-garde dance collective Judson Dance Theater, chanting numbers 1 – 9 – 6 – 8 as they reposition their bodies. There's a pile of knobbed television sets and a wooden podium opposite a boxing ring. Construction scaffolding towers above a jumble of overturned red benches. The metal-rod sculpture of a horse reminiscent of Logan's memorial in Grant Park occupies one corner and the whole scene is punctuated with political signs and protest placards. High on the wall hangs a banner that reads, "Hello Democrats. Welcome to Chicago."
The August 1968 Democratic National Convention held in Chicago is the keystone around which Artistic Director Annie Arnoult builds a rich collage of movement, media and milestones. Archival audio, video and photographs projected throughout the space, provide context and moving testimony to the events of 1968. The empowered cast dances with confidence under closer scrutiny than usual as they move within inches of the eyes upon them. Delivering impactful performances, the ensemble also shout, recite, dramatize, proselytize and vocalize. For the viewers, it feels daring to relocate within the space but choosing one's moments to do so becomes part of the adventure.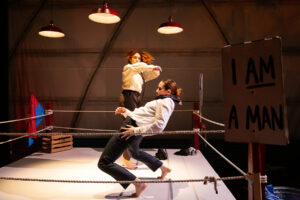 Most of the observers and crew are accustomed to viewing the 1960s in grayscale or sepia. Set designer Ryan McGettigan, lighting and projection designer Tiffany Schrepferman, costume designer Ashley Horn, sound designer Bryan Ealey and props master Lauren Davis have worked to expertly bring 1968 to life in full color. Campaign buttons and newspapers are placed directly into the hands of audience members to read or take with them. Details are given attention right down to the exact shade of police-helmet blue. Houston musician and composer Paul Beebe has crafted ear-deceiving original melodies with titles like Marilyn Monroe and Dark Stranger that you'll swear cartwheeled right out of the era.
Though political and cultural tensions are at the forefront of all that took place in the year 1968, Arnoult successfully excavates the humanity at its core. Inclusion of Kennedy's eulogy for MLK and the account of Juan Romero, the busboy who cradled a dying RFK in his arms are particularly affecting. An Open Dance Project performer swings a boxing glove in slow motion then lifts the same fist in solidarity. The dancers touch a shoulder, rest a head and sing, "A Hard Rain's A-Gonna Fall." Duos enact a brutal and bloody moment to resurrect a chant, "The whole world is watching."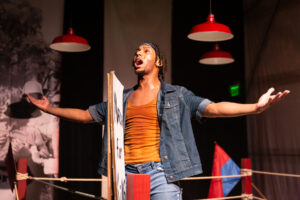 As the watchful participants surely reflect on parallels to the cultural and political discord we are living right now in the 2020s, this approach by Open Dance Project to dig up the past of 1968 feels healing. Perhaps it is the promise that if we remember our humanity, carry on, create and raise our voices, a change is indeed gonna come.
Open Dance Project's 1968 has one final weekend of performances, running through May 20 at MATCH. Tickets and more information are available at matchouston.org.