HOUSTON CONTEMPORARY DANCE COMPANY Presents
MOVING MYTHS
JUNE 3rd, 2023
1PM and 4PM
TICKETS $15-$25
HOBBY CENTER FOR THE PERFORMING ARTS
800 BAGBY HOUSTON, TX 77002
(713)-315-2525
RESTORE
JUNE 9TH, 2023
8:30PM PERFORMANCE FREE
MILLER OUTDOOR THEATRE
6000 HERMANN PARK DRIVE HOUSTON, TX 77030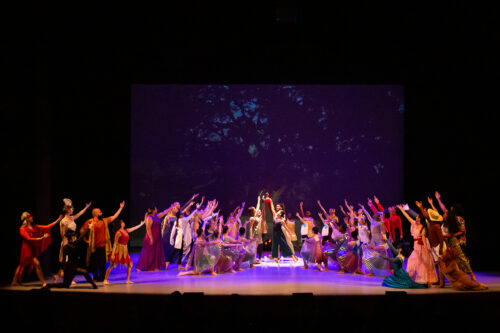 Come and experience a magical performance of Moving Myths presented by Houston Contemporary Dance Company and the Institute of Contemporary Dance on June 3rd, 2023 at 1PM and 4PM at Zilkha Hall at the Hobby Center for the Performing Arts. Written by playwright/novelist Elizabeth A. M. Keel, this one-hour fantastical journey follows four travelers as they share stories based on traditional myths from Chinese, Native American, Norwegian, and Ethiopian cultures. The performance utilizes an array of stimulating visual elements including costuming, props, and set pieces, and features sound and video design by BEND Productions. Moving Myths is designed for students of all ages and provides multicultural content to mirror HCDC's core values of inclusion and equity.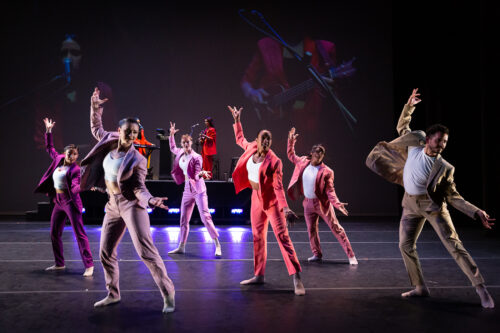 Moving Myths is funded in part by the City of Houston through the Houston Arts Alliance. . We would also like to thank the Houston area Lexus Dealer, United Airlines and Judy and Scott Nyquist for their support of this performance.Houston Contemporary Dance Company presents Restore, with a guest performance by our second company, Houston Contemporary 2. Restore features a premiere by Dallas based artist McKinley Willis and 4yous by acclaimed artist and chuthis. Artistic Director Peter Chu. The concert also includes works by NYC based artistic associate with Gibney Dance and former member of Nederlands Dans Theatre Alexander Anderson, South Chicago Dance Theatre Artistic Director Kia Smith, Dallas Black Dance Theatre member Carmen Cage and a new work from the Institute of Contemporary Dance Studio and Education Director and Founding Houston Contemporary Dance Company member, Genene Wallis McGrath. This event is at 8:30PM and is FREE in Celebration of Miller Outdoor Theatre's 100th Season!
Restore is sponsored in part by the Miller Theatre Advisory Board, Dance Source Houston, Larry Kegwin and the City of Houston through the Houston Arts Alliance.
---
ABOUT HOUSTON CONTEMPORARY
Houston Contemporary aims to lead and innovate performing arts in Houston by drawing upon the director's long tradition of inclusiveness and diversity within all facets of the organization. HCDC sets itself apart by employing high caliber performing and choreographic artists from across the country. In setting high technical and artistic standards, HCDC is currently the only contemporary repertory company to provide Houston audiences with opportunities to view works created by some of America's most exciting dancemakers that speak to and are representative of the full spectrum of Houston's diverse populace, while supporting talented Texas based artists as well.
Marlana Doyle, (Founding Artistic and Executive Director) is originally from Massachusetts and graduated from Point Park University in 2001 with a BA in Dance. Marlana is the former Artistic Director of Met Dance, where she held various positions for seventeen years. Under her direction, Marlana's vision and leadership catapulted the company to new levels of excellence and growth while holding tightly to the company's long tradition of diversity and versatility in its dancers, choreographers, collaborators, and content. Marlana is the President & CEO of the Institute of Contemporary Dance which houses Houston Contemporary professional concert dance company and HC2, a youth training company. Marlana is a member of Dance Source Houston, International Association of Blacks in Dance and Dance USA, spending 2009-2012 as an emerging leader at Dance USA. She was awarded the Dance USA Leadership Mentee Fellowship for the institute of training in 2012 and was a mentor for the same program in 2019. She served for three years as a Dance USA Board of Trustee member and served as the Artistic Director Council Chair. Marlana has also served in collaboration with the Houston Arts Alliance, Fresh Arts, Dance Source Houston and is also a part of the Performing Arts Houston's Educational Committee. As a performer, Marlana has danced and generated roles in a range of works by renowned choreographers and artists. Marlana is also a guest teacher and an award-winning choreographer for her many students in Houston and throughout the United States. She has choreographed for the City of Houston, Levi's and Walmart, Mercury Ensemble, Apollo Chamber Players, Houston Chamber Choir, Houston Symphony, TUTS, University of Houston, Sam Houston State University, Lamar University, RICE University and University of St. Thomas.
---
For more information about Houston Contemporary Dance Company see here:
Arts and Culture Texas Article:
http://artsandculturetx.com/segue-to-season-five-summer-doesnt-slow-for-marlana-doyle-or-her-dance-com panies/? clid=IwAR2M_FbVHYan3oHQ1gxSjG2lDFzXYQnUvKVz-GdKB2ODe4_ezxlx_d6eypo
Dance Source Houston Review:
Houston Chronicle Article:
https://www.houstonchronicle.com/entertainment/arts-theater/article/Former-METdance-artistic-director-lau nches-14902641.php?utm_campaign=CMS+Sharing+Tools+%28Premium%29&utm_source=facebook.com& utm_medium=referral& clid=IwAR3I_QFA3PpJ0qixiuPx5e7fasYPObJ9F_E6uom_zhM6lq79GPPbLHGC5Q s
Houstonia Article:
https://www.houstoniamag.com/articles/2019/10/25/marlana-doyle-metdance-houston-contemporary-dance -company
Houston Contemporary YouTube Channel: https://www.youtube.com/watch?time_continue=4&v=l_Sj952NI7g&feature=emb_logo