For Immediate Release, August 9th 2019
Musicians, singers and dancers present the essence and skill of India's Kathak and Spain's Flamenco in a celebration of art, culture and the human spirit.  Houston artists unite under the auspices of Dance Source Houston and the City of Houston/Houston Arts Alliance in an evening's concert on September 21, 7pm, Kaplan Theater, ERJCC, Houston.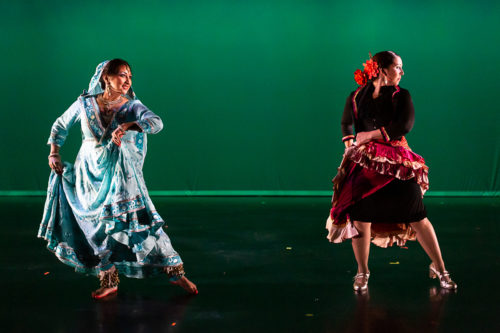 Kathak dancer and Dance Source Houston artist in residence Kalpana Subbarao and Flamenco dancer Edith Niño will perform solo pieces and interactive choreographies combining the rhythms produced by bare feet and bells in Kathak and heeled shoes in Flamenco.
Indian musical offerings feature Shyama Mishra, Hindustani vocal and Padhant, Abhishek Balakrishnan, Carnatic violin, Jason Zinn, Tabla, and Sangeeta Mondal, Harmonium.  Ladi, Gat Nikas, Parans, and folk songs characteristic of the story telling in Kathak are among the forms that will be presented.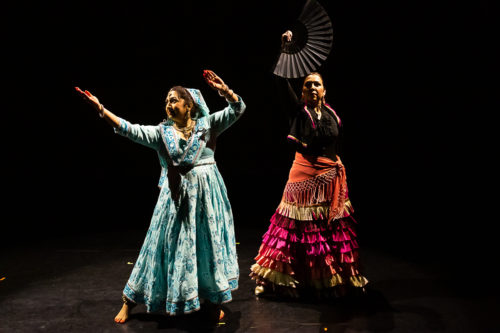 Solero Flamenco's Irma La Paloma, Cante and Jeremías García, Guitar will be featured in Flamenco Tangos, Soleá por Bulerías, Seguiriyas and Alegrías. Irma La Paloma's composition, "El Corazón Manda," will be performed with the traditional Kathak Tarana in a unique amalgamation of the genres.
It is theorized that in the early 15th century migrations from the Punjab region reached the south of Spain. Under the perils of oppression and expulsion, these transient people were eventually assimilated into Andalusian society. Their folklore, passed to generations through oral tradition, became part of the mixture of musical influences that contributed to the development of Flamenco.
Similarities in Kathak and Flamenco are palpable in "ragas" or melodic patterns, rhythms, vocal undulations, "escobillas" or footwork, turns or "vueltas", improvisation, and in the interaction between music, song and dance.  Both art forms evoke spirituality or "duende," when the artist lives the moment in full emotion.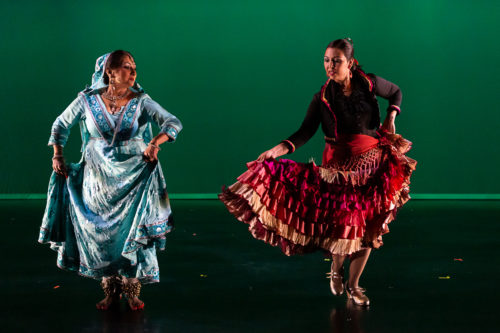 Artist Anoushka Shankar, daughter of the legendary Indian sitarist Ravi Shankar stated, "In Indian music, we call it 'spirituality,' and in Spanish music, it's 'passion." "It's really the same thing in both forms, that reaching at the deepest part of the human soul."  Los Angeles Times, April 2012. 
KATHAK – FLAMENCO, September 21, 2019, 7pm, Kaplan Theater, ERJCC, 5605 S. Braeswood Blvd., Houston, Texas. $25 General Admission. Online Ticket Purchase: kflive921.eventbrite.com