New festival celebrates Latinx choreographers and the intersection of contemporary dance and Latinx identity in a virtual format.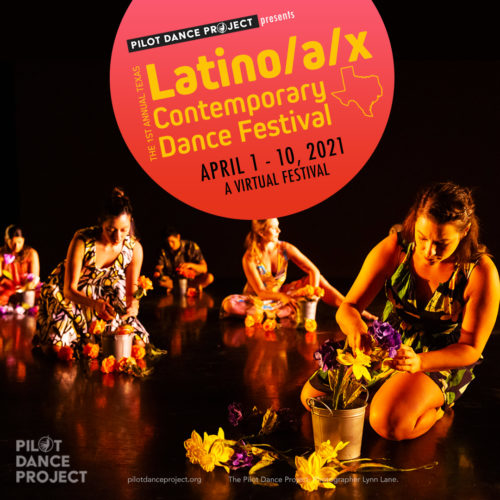 HOUSTON (March 18, 2021) – The Pilot Dance Project, a 501(c)3 non-profit arts organization with the mission to empower and transform communities through innovative dance, theater and visual arts, is proud to announce the launch of its newest initiative, a festival that uplifts and celebrates Latinx choreographers and identity. The 1st Annual Texas Latino/a/x Contemporary Dance Festival format will be completely virtual and produced as an evening-length concert that patrons can stream from their device through Midtown Arts & Theater Center Houston (MATCH) website.
Running from April 1 to April 10, 2021, The Texas Latino/a/x Contemporary Dance Festival will feature performances and new works by choreographers Roberta Cortes, as performed by Group Acorde, Adam Castaneda of The Pilot Dance Project, Paty Solorzano, Joel Aguilera, ALAS Dance Company and more. Created out of an identified need to provide Latinx choreographers a platform to showcase their distinct perspectives in dance, The Pilot Dance Project Director and choreographer Adam Castaneda has hopes that the festival will continue to grow and inspire artists and audiences alike for years to come.
"With so many of us being left without a creative outlet to express themselves during the pandemic, I wanted to simulate a performance experience that would capture audiences the way an in-person concert would," said Castaneda. "Not only does this give the artists and performers a chance to be back on the stage, but the evening-length concept also gives the audience an opportunity to feel emotionally connected and engaged with the show."
This year's inaugural festival will feature emotional performances such as "Self portrait with trenza" by Paty Lorena Solórzano, a piece that "exemplifies unspoken cultural transmission and transgenerational connection among women in the private sphere." Kristina Pratt, a native Houstonian and University of Houston alum, will perform a piece titled "Atedo." Built around the concept that people have a tether attached to them at all times, this performance explores the feeling using such tethers to make your life a beautiful story; choosing to not let those ties drag you down but using it to keep your heart and mind open.
Those interested in viewing the performance can visit The Pilot Dance Project Facebook page for additional information. Tickets and access to the streamed performance will be available for purchase through the MATCH website. To learn more about The 1st Annual Texas Latino/a/x Contemporary Dance Festival, contact Lauren Miller at laurenbm929@gmail.com, (713) 263-4108 or visit @pilotdanceproject on Facebook or Instagram.
ABOUT THE PILOT DANCE PROJECT
The Pilot Dance Project was incorporated as a non-profit organization in 2003 as FrenetiCore. The organization and its professional dance company were founded by two local performing artists with the goal of creating narrative-based multimedia dance theater productions unique to the Houston arts community. Under its previous direction, the company participated in numerous festivals, including the Wallpaper Dance Festival in Trieste, Italy, Big Range Dance Festival at Barnevelder Movement Complex, Texas Weekend of Contemporary Dance at the Miller Outdoor Theater, East End Cultural Arts Festival, Twelve Minutes Max at DiverseWorks, Houston Fringe Festival, New Orleans Fringe Festival, Bayou City Arts Festival, the Pilot Dance Festival in Fort Worth, Texas. The organization is currently guided by Director, Choreographer and Dancer, Adam Castaneda, who has served in this role since 2015.
###