FOR IMMEDIATE RELEASE
July 15, 2020
Contact: Andy Noble
Co-Artistic Director, NobleMotion Dance
Tel: 832-627-9664
E-mail: andy@noblemotiondance.com
NobleMotion Pivots to Live Online Premiere in
We All Fall Down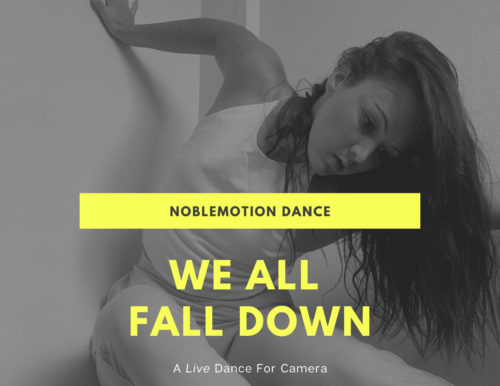 HOUSTON, TEXAS – July 15, 2020 – NobleMotion Dance pivots to Plan D of their annual Summer concert as they adapt and push for innovation in the world of online performances. We All Fall Down, a new 30-minute live dance for camera, will stream on YouTube August 7 & 8 at 7:00pm. Using Zoom, OBS, and AI technology, NobleMotion Dance will showcase 18 performers in socially distant remote locations exploring themes of isolation, boredom, anxiety, absurdity, and compassion. The dance is comprised of nine short sections each inhabiting familiar spaces during the COVID pandemic—our homes (including a playful drive around the block). The project title references the children's nursery rhyme "Ring Around The Rosie" and its possible origins to the bubonic plague.
"There are so many variables with the technology that can go wrong," states Co-Artistic Director Dionne Noble, "but we want to lean into the current challenges and see how we adapt." A fantastic team of technical wizards will help the Nobles navigate the learning curve. "I'm just so excited that we are finding a way to give so many dancers paid work right now," states Andy Noble. "We have started rehearsing and the dancers seem almost giddy to be back inside the creative process."
As always with NMD, collaboration is at the forefront of this project. The talented team of artists includes eighteen dance collaborators (listed below), composers Christopher Cerrone, Alex Davis, Michael Wall, and Travis Lake; media artists Jeremy Stewart, Jonathan Kinsey and Lori Guerin; light designer Bryan Ealey; and costume designer Barry Doss.
Performers include Wesley Cordova, Rachel Cox Culver, Joshua DeAlba, Brit Deveau, Julia Discenza, Rhodes Elliot, La'Rodney Freeman, Atticus Griffin, Shohei Iwahama, Colette Kerwick, Kalli Loudan, Lindsey McGill, Brit Wallis-McGrath, Genene Wallis-McGrath, Tyler Orcutt, Evelyn Toh Paoli, Lauren Serrano, and Joseph Stevens.