Media Contact:
Lindsay Peyton, Cadence Enterprise
281-636-1361
Lindsay@cadenceenterprise.com
Pas de Deux for Lovers of Dance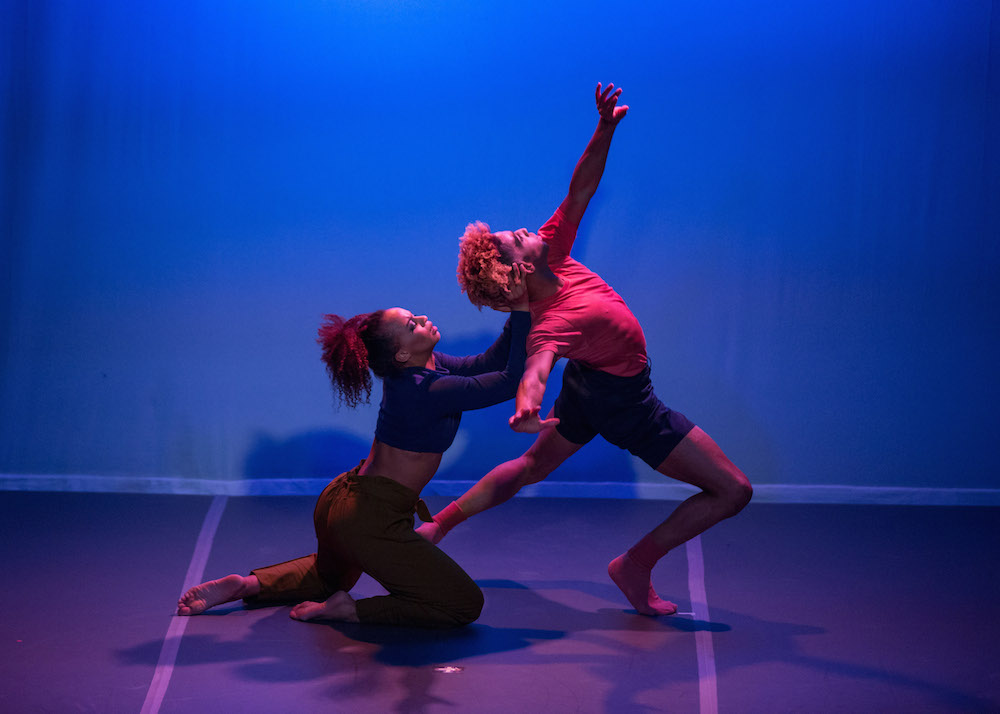 METdance season continues with fourth annual all-duet performance, "DUO"
Feb. 8, 9, 10
HOUSTON – Jan. 23, 2018 – Good things come in pairs this Valentine's Day, especially for lovers of dance.
For the fourth year in a row METdance presents "DUO," an all duet show scheduled each night at 8:00 p.m., Thursday, Feb. 8, Friday, Feb. 9 and Saturday, Feb. 10 at Rec Room, 100 Jackson Street #130C in Houston, 77002.
"DUO too," an additional performance by the METdance youth company MET too is slated for 4 p.m. on Saturday, Feb. 11. Tickets are $27 per person – or $46 for a couple.
Spend an intimate evening watching duets by top-notch Houston dancers, including premieres by Jane Weiner, Laura Harrell, Jennifer Mabus, Emily Schoen, Josh Manchulich, Sean Carmon and Los Angeles-based Christian Denice.
"These performances explore relationships through dance with sensitivity and an acute physicality," METdance artistic director Marlana Doyle said."This show of duets is the perfect way to celebrate Valentine's Day. Plus, the Rec Room is a small, intimate venue and offers a rare chance to enjoy dance up close."
Sean Aaron Carmon is a choreographer, originally from Beaumont, who has been a member of the Alvin Ailey American Dance Theater since 2011. His choreographies have been performed across the country and internationally and have been lauded as "everything and then some…" and "powerful" and "seriously flawless" by major national publications the include The New York Times, Newsweek, Dance Spirit and Dance Magazine. Mr. Carmon won The Joffrey Ballet's 2017 Winning Works award and created Suite Hearts for the Joffrey Ballet's Studio Company. Also in 2017, his work longstoryshort was commissioned by the Dance Gallery Festival NYC and was selected as the Audience Choice Award Winner out of 30 pieces created for the festival. He has also created works on the AAADT for multiple Ailey Dancers' Resource Fund benefit performances. Mr. Carmon teaches master classes and choreographs for festivals, companies, studios and universities across America and internationally.
Christian Denice is a choreographer, with professional dance experience with Odyssey Dance Theatre, River North Dance Chicago, Company E, Montgomery Ballet, BODYTRAFFIC, and BJM Danse in Montreal. Christian teaches and choreographs nationally and internationally, and is currently on faculty at the Joffrey Ballet Academy, Hubbard Street Dance Chicago HS Pro, and Lou Conte Dance Studio. He has created new works for Odyssey Dance Theatre, River North Dance Chicago in collaboration with Frank Chaves, LEVELdance Chicago, DanceWorks Chicago, Interlochen Center for the Arts, METdance's MET too, Los Angeles Contemporary Dance Company, Visceral Dance Chicago, Missouri Contemporary Ballet, Western Michigan University, and MADCO St. Louis. Christian is the 2015-2016 winner of the University of South Florida's Echo Choreographic Competition and the 2016 winner of the Joffrey Academy's Winning Works Choreographic competition. Christian was recently one of the guest choreographers for both DanceWorks Chicago's ChoreoLab and the Barton Movement's AXIS Connect in Los Angeles this summer.
Emily Schoen is a Wisconsin-born, New York City-based dancer and choreographer. As a choreographer, she has received the Gibney Dance boo-koo grant for emerging artist in NYC and an emerging artist residency by the Catskill Mountain Foundation. She was selected as Artist-In-Residence at Jamaica Center for the Arts and Learning for their Composer and Choreographer series, and a choreographer-in-residence for (M)mix at Marymount Manhattan College. She has set original works on Santa Barbara Dance Theater, Long Island Dance Projects, METdance in Houston, and students of Skidmore University, Mid-Pacific Institute in Hawaii, East Carolina University and the Hartt School in Connecticut. Her company, Schoen Movement Company, is a three-time invitee to Jacob's Pillow Inside/Out Festival and has presented original work at Joe's Pub DanceNOW, WestFest Top Floor, Greenspace, Steps on Broadway, and Gibney Dance. Dance Magazine chose Emily as one of their "Top 25 to Watch" in 2011.
Hailed as "bold" by the "New York Times," Jennifer Mabus has performed in New York City with Robert Battle, Amy Marshall, Heidi Latsky and Takehiro Ueyama and in Texas with Bruce Wood Dance, Noble Motion Dance and Dark Circles Contemporary Dance. She  is currently a core artist with the Transitory Sound and Movement Collective. She has served on the faculties of Texas Christian University, Booker T Washington HSPVA, Interlochen Arts Academy, Houston's HSPVA, and Sam Houston State University. Additionally, Jennifer has presented her work at the Dance Gallery Festival, Dumbo Dance Festival, and UT/Dallas, and she created work for the Miller Outdoor Theater and Zilka Hall/Hobby Center with the Foundation for Modern Music and the Windsync ensemble. She was a Rice University Dance Artist in Residence, a Noble Motion Dance "Next Step" artist, a Dance Source Houston A.I.R., and has choreographed on the Pilot Dance Project, Contemporary Ballet Dallas, and Muscle Memory Dance Theater
Choreographer Joshua Manculich has choreographed for Collage Dance Collective, DanceWorks Chicago, Dancing in the Parks, Eisenhower Dance, Grand Valley State University, Interlochen, Piel Morena Contemporary Dance, Point Park University, Thodos Dance Chicago, The Big Muddy Dance Company, and Western Michigan University.  In 2015, he was a recipient of the Princess Grace Award Choreography Fellowship and is on faculty at Sam Houston State University's Department of Dance.
Jane Weiner is founder and director of Hope Stone, Inc. She graduated from Bowling Green University with a degree in deaf/elementary education and a minor in dance and worked with Doug Elkins Dance Company for a decade of fine dancing and touring, before moving to Houston. She also founded and directs the Hope Project, an arts outreach program that uses master teachers in dance, theater and music to empower and educate youth. Her work has appeared in the Alley Theater, Houston Ballet II, Stages Repertory Theater, the Houston Children's Museum, as well as many high schools and universities. She has collaborated with the Houston Symphony, the Contemporary Arts Museum Houston and the Asia Society.
Laura Harrell earned her master's and bachelor's degree in dance from Sam Houston State University. She furthered her studies under Andy and Dionne Noble, Dr. Cindy Gratz, Dana Nicolay, Jennifer Pontius, Erin Reck, Jonathan Charles, Tiffany Nirider, Melissa Wyne and Kista Tucker. She served as a graduate teaching assistant in choreography and taught ballet, modern and jazz. She currently serves as dance faculty at Lone Star College. She has presented choreography at Sam Houston State Universty, Dance Gathering at the Barnevelder Movement/Arts Complex, the Houston Fringe Festival at the Frenetic Theater and Houston Met Studio.
Founded in 1995, METdance pursues a mission to educate and revitalize a passion for dance through world-class instruction and performance. The company has traveled across the U.S., impressing critics and audiences alike while performing works by some of the most influential and talented choreographers in dance.
METdance also has a strong community outreach program, including its educational "Swing, Jive, Pop" performances. The shows incorporate history, fashion, music and the arts, while the company dances through the eras of the 1930s Lindy Hop, bops into the 1950s, grooves into the 1970s and ends with the Hip Hop music of today.
The company's home base, the METdance Center, now serves as Houston's second-largest dance training space, offering comprehensive training in multiple disciplines to students of all experience levels, ages 3 and up.
Seating for Duo is limited. For tickets, and more information about the show, visit www.metdance.org/duo/
###
Photo courtesy of METdance. Photo credit Ben Doyle.
About METdance
Founded in 1995, METdance strives to educate and revitalize a passion for dance through formal instruction and performance. With professional and youth dance companies, as well as a strong community outreach program, METdance is a leader in the vitality and diversity of Houston's dance community. The METdance company has traveled across the U.S. to perform works by influential and talented choreographers. Helmed by founder and Executive Director Michelle Smith and Artistic Director Marlana Doyle, the company is the sister organization to the METdance Center, which opened the doors to a newly renovated facility in May 2013 in Houston's Midtown district. For more information, visit www.metdance.org.