Performing Arts Houston
Presents
Cloud Gate Dance Theatre of Taiwan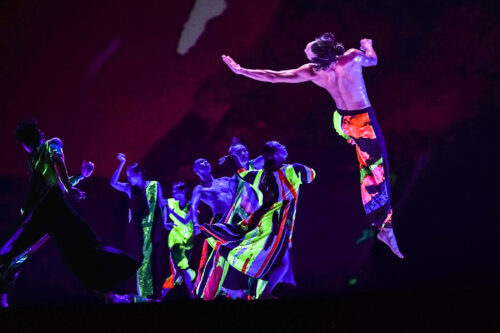 Cloud Gate begins their newest North American tour in Houston on October 1, featuring CHENG Tsung-lung's immersive 13 Tongues.
(Houston) – Performing Arts Houston, in partnership with Asia Society Texas, presents the first performance of Cloud Gate Dance Theatre of Taiwan's newest North American tour, Saturday, October 1 at the Wortham Center's Cullen Theater. This is Performing Arts Houston's first presentation of Cloud Gate since 2014.), The company will perform Cloud Gate Artist Director CHENG Tsung-lung's 13 Tongues, a work which transforms CHENG's childhood memories of the sights, sounds, and vitality of Bangka/Wanhua, Taipei's oldest district, into an immersive journey through centuries of human endeavor, behavior, and belief. Tickets are on sale to the public now and start at $39. More at performingartshouston.org.
As a child in the 1980s Cloud Gate Artistic Director CHENG Tsung-lung would contribute to the family business by helping his father sell slippers on the streets of Bangka/Wanhua, the oldest district of Taipei. Bangka was known for its vibrantly diverse and bustling street scene that embraced religious and secular life, rich and poor, work and play, legal and illegal activities. The young CHENG was transfixed by his mother's accounts of the legendary 1960s street artist and storyteller known as "Thirteen Tongues" who had adopted Bangka for his informal stage. It was said that "Thirteen Tongues" could conjure up all the Bangka characters—high and low born, sacred and profane, men and women—in the most vivid, dramatic, and fluently imaginative narratives. Thirty years on CHENG's fascination for "Thirteen Tongues" became his inspiration as he transformed his own childhood memories into dance.
Beginning and ending with the sound of a single hand bell, the music accompanying 13 Tongues ranges from Taiwanese folk songs to Taoist chant to electronica. The stage is awash with projections of brilliant colors, shapes and images and the dancers gather, interact, separate and re-gather in a thrilling representation of the clamor of street life. As the religious heritage of ancient Bangka fuses with the secular space it is today so time appears to dissolve. The spirit realm and the human realm also coalesce as the audience is taken on an immersive journey—via imagination and storytelling that recalls the art of "Thirteen Tongues"—through centuries of human endeavor, behavior, and belief.
Cloud Gate is the name of the oldest known form of dance in China. In 1973, choreographer LIN Hwai-min adopted this classical name and founded the first contemporary dance company in the greater Chinese-speaking community. In 2020, CHENG Tsung-lung succeeded LIN as the company's Artistic Director, bringing together his creative works with traditional roots and innovative perspectives from the digital and globalized world.
Cloud Gate dancers receive training in meditation; Qi Gong, an ancient breathing exercise; internal martial arts; modern dance; and ballet. Under the direction of CHENG, training has expanded to encompass other contemporary elements. Manifesting in choreographies, the company transforms ancient aesthetics into a thrilling and modern celebration of motion.
Cloud Gate has toured worldwide with frequent engagements at the Next Wave Festival in New York, the Sadler's Wells Theatre in London, the Moscow Chekhov International Theatre Festival in Russia, the Movimentos International Dance Festival, and the Internationales Tanzfest NRW, directed then by Pina Bausch in Germany.

Sponsors
This performance is sponsored in part by Asia Society Texas, Taiwan Academy of Houston, Ministry of Culture, Republic of China (Taiwan), and Society for the Performing Arts Foundation.
Westwood Trust Creative Chat featuring CHENG Tsung-lung
Those who would like the opportunity to learn more about the history and artistry of Cloud Gate Dance Theatre and the creation of 13 Tongues may attend a free discussion with Cloud Gate Dance Theatre of Taiwan's Artistic Director CHENG Tsung-lung. Presented at Houston Asia Society on Sunday, October 2 at 3 PM, the talk will feature a 45-minute moderated discussion, followed by a 15-mintue Q&A. This event is presented as part of Performing Arts Houston's Education & Community Engagement Westwood Trust Creative Chats Series.
About Performing Arts Houston
For over 55 years, Performing Arts Houston has connected audiences with exceptional artists through diverse performances and learning experiences throughout Houston communities and schools. We welcome all to ignite and cultivate passion for the performing arts and explore the vast landscape of artistic expression to discover new understanding about ourselves, create community, inspire dialogue, and enrich our world. More at performingartshouston.org.
About Asia Society Texas
Asia Society Texas believes in the strength and beauty of diverse perspectives and people. As an educational institution, we advance cultural exchange by celebrating the vibrant diversity of Asia, inspiring empathy, and fostering a better understanding of our interconnected world. Spanning the fields of arts, business, culture, education, and policy, our programming is rooted in the educational and cultural development of our community — trusting in the power of art, dialogue, and ideas to combat bias and build a more inclusive society.
# # #