YUVA 2022 – a unique emerging artist showcase
Houston, TX – The YUVA festival, Silambam Houston's unique platform for emerging artists, is back on September 10, 2022. Livestreamed from the Silambam Houston Cultural Arts Center with a limited live audience, YUVA 2022 brings together eight talented young Indian classical dancers from across the country who have collaborated over the last several months to create new work for the YUVA festival.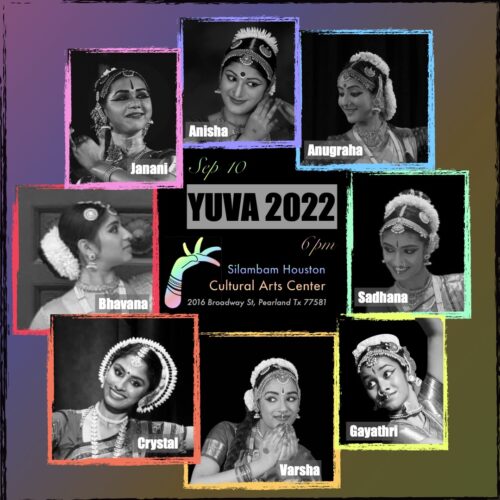 YUVA is a collaborative choreography and performance platform for young and talented Indian classical artists (dance and music), curated and presented by Silambam Houston. YUVA strives to catalyze collaboration and creativity among young upcoming artists in the Indian classical arts and to encourage them to 'find their artistic voice'. YUVA Artists, selected from among a pool of applicants, collaborate to create new artistic works for presentation at the YUVA festival.
This performance is made possible by grants the National Endowment for the Arts, the Texas Commission on the Arts, the City of Houston through Houston Arts Alliance, the BIPOC Arts Network and Fund, and Dance Source Houston.
More information on each of the artists, and a link to reserve tickets to in-person or livestream viewing, are available at silambamhouston.org/yuva. Tickets are pay-what-you-can, and all proceeds go to compensate the talented artists that are the creative backbone of YUVA.
About Silambam Houston:
Now in its 20th year, Silambam is Houston's premiere nonprofit Indian classical arts organization. Silambam's artistic programming is a unique blend of high-quality arts education, outreach, performance, and presentation that enriches communities through cross-cultural exchange. The organization recently constructed a brand-new performing arts center in Pearland, TX, for its community classes and arts programs. Designed to convert from classroom/studio space to a small-sized black-box theater, the Center is equipped with theatrical lighting, sound, and soft goods, as well as raised seating.
In addition to its programs in Pearland, Silambam also holds arts education programs in the Houston Heights area, and regularly presents both community outreach and performance programming at venues across Houston, including the Children's Museum, K-12 schools, libraries, the Midtown Arts and Theater Center Houston (which also houses its administrative office), and Miller Outdoor Theater.