PRESS RELEASE
TAP HAPPY
CONTACT: SARA DRAPER
832-995-9004
PRESS RELEASE
Tap Happy Celebrates a Decade of Teaching Tap Dance
The story of Tap Happy is one of a dancing entrepreneur. Two years following her "retirement" from teaching dance after a thirty-year career in the field (to start her non-profit modern dance company), Sara Draper began to miss teaching. She decided that, this time, she would create and seek only those teaching opportunities that especially spoke to her heart. Remembering how delightful and gratifying it had been over the decades to teach beginning level tap classes to adults, she pursued another such opportunity.
She found just that, collaborating with Roxanne Claire at one of her Claire School of Dance locations in the Houston Heights. At that location in the summer of 2008, Draper was able to gather eight adults together for an eight-week Introductory Tap class. From there, things grew, primarily by word of mouth, until that one class had grown into four different levels, Intro through Intermediate.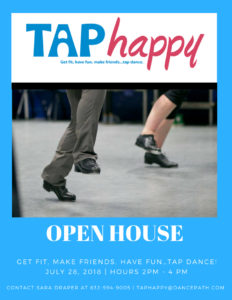 In 2010, Draper's long-time students helped her to name her business. She continues to rent the same studio space where it all began, and is now celebrating '10 Years of Tap Happy' with discounts, free classes, Tap Happy tee-shirts, and an Open House on July 28th.
Regarding Tap Happy's success, Draper says, "It's a boutique market. We say that we offer classes to adults ages twenty-one to ninety-one. That encourages a lot of mature adults who have always wanted to tap dance, but thought they had missed their chance. I have people who call me up and say, 'I'm seventy years old. Do you think I can do this?' I tell them yes, they come in, they have fun, and they start going up through the levels!"
She also mentions the importance of grown-ups having a place where they can take class together, since at many studios, adults are combined with teens or even younger children. Strictly enforcing the age minimum requirement of twenty-one fosters a friendly spirit that often leads to the bonding of an entire class. It is not unusual for an entire class group to go out together after class or even to meet for non-dance events on a weekend. Many friendships have been made there, and there is a true community spirit among the tap students at Tap Happy.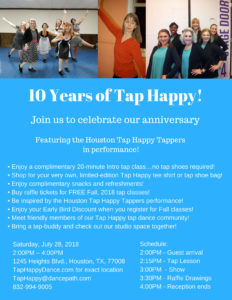 Tap Happy has done some experimenting over the years, as well. What has emerged from those experiments is this: there are four Tap Happy Certified Instructors in Houston; the business offers All-Level TapAerobics in addition to the four technique levels; the annual Merry Month of May Master Classes is a tradition; students get to perform for their peers at the Annual Holiday Party & Peer Performance event; Tap Happy now has the Houston Tap Happy Tappers to represent the school as the elite performers among its students. Additionally, community members attend "field trips" such as meeting for a tap dance concert in town from time to time.
Besides being Houston's only business devoted exclusively to adults who want to tap dance, and Houston's only studio to offer such a range of options for them, it received the "Best Adult Tap Dance Classes" Houston Press award for 2014, 2015, and 2016. It has received television coverage for that, as well as a 'cameo appearance' with Ted Oberg in one of his local news stories for ABC-13.
For people curious about Tap Happy, all are welcome to the family-friendly, free open house on Saturday, July 28th, 2:00PM-4:00PM. HTHT will perform, a free mini-class will be offered, and much more. For more information, visit TapHappyDance.com, email TapHappy@dancepath.com, or call 832-994-9005.
xxx
From a single Introductory tap course for adults in the summer of 2008, Tap Happy has grown into the hub of a tap dance community in Houston, offering five technique levels and TapAerobics, featuring skilled, encouraging faculty, and still growing! Tap Happy specializes in Broadway, chorus-line style tap dance.