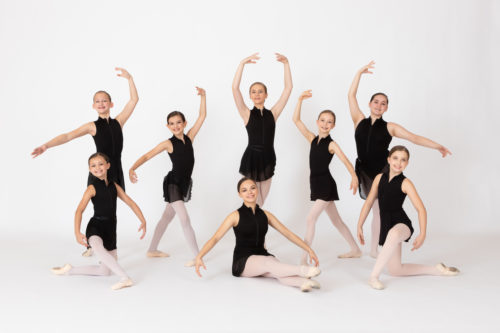 Spring Show Press Release
Texas Academy of Dance Arts' Youth Ballet Company presents its 3rd Annual Spring Showcase, a concert in three acts featuring TADA's YBC alongside our academy's littlest ballerinas. Performing on March 7th at 6PM at Tomball High School Auditorium, the production will feature several original works by Kalli Loudan and Josh Guillemot, excerpts from Giselle, and the Riisager Dances featuring all of our leveled ballet dancers performing the skills they have worked so hard to achieve this year.
This year's Spring Showcase will open with a full cast of dancers varying in age and skill as young as 6 years of age to 18 years of age. With choreography by Elise Elliott, this opening act is inspired by Harald Lander's classic ballet "Etudes" and performed to music by Knudåge Riisager. The Riisager Dances unfolds in a series of movements celebrating and exemplifying the training of each of TADA's ballet program grade levels. Featuring guest artist Drake Humphreys, formerly of Texas Ballet Theater and currently with Uptown Dance, this opening act is guaranteed to bring a smile to any audience member's face as our young boys partner their classmates for the first time.
The second act features a mixed repertoire that will take audiences through a journey of joy, awe, and just a dash of sadness. This act showcases the hard work of our Youth Ballet Company and Apprentice company members through contemporary and neo-classical group work as they premiere four original works by Kalli Loudan of NobleMotion Dance and Josh Guillemot of Houston Ballet. The act will also feature classical solo variations as performed by our dancers from ballets such as "Le Corsaire," "The Sleeping Beauty," and "Paquita". This act also features performances by our hard-working Royal Academy of Dance trainee as they perform two of the character variations of the RAD syllabus.
The final act pulls our audience into the fantasy world of the Romantic Era ballet "Giselle's" Scenes 1 and 2. Choreographed by YBC Director, Elise Elliott, and featuring two of YBC's strongest dancers as Giselle and Myrtha. Watch in enchantment as Giselle interacts with the hunters and the peasants and be enraptured by the technical accomplishments of Myrtha and her Wilis.
It will be an evening of dance you do not want to miss. Tickets are available now at dancetada.com/events.