The 2023 Houston Fringe Festival Returns for Two-Night Event
The festival celebrates 17 years with a retrospective film screening and performing arts showcase at Midtown Arts & Theater Center Houston (MATCH).
HOUSTON (August 18, 2023) – The Pilot Dance Project, a 501(c)3 non-profit arts organization with the mission to empower and transform communities through innovative dance and performing arts experiences, is proud to announce the seventeenth annual Houston Fringe Festival to be presented August 31 and September 1 at MATCH.
The Houston Fringe Festival opens on August 31 with a special twentieth anniversary screening of Houston filmmaker Jonathan Caouette's Tarnation. Part documentary, part narrative fiction, part home movie, and part acid trip. A psychedelic whirlwind of snapshots, Super-8 home movies, old answering machine messages, video diaries, early short films, snippets of '80s pop culture, and dramatic reenactments create an epic portrait of an American family travesty. The story begins in 2003 when Jonathan learns that his schizophrenic mother, Reneee, has overdosed on her lithium medication. He is catapulted back into his real and horrifying family legacy of rape, abandonment, promiscuity, drug addition, child abuse, and psychosis.
This groundbreaking film will be followed by a panel discussion led by Houston film advocates Stephanie St. Sanchez (Seniorita Cinemas) and Kristian Salinas (QFest). In addition, this screening is being used to raise funds for Jonathan's medical recovery. (More information on his GoFundMe campaign can be found here: https://gofund.me/ff019950)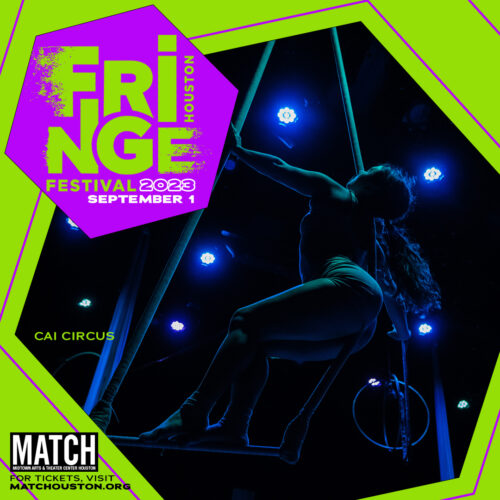 The festival's signature performing arts showcase mash-up, Anything Goes, comes to MATCHBOX TWO the following day on September 1, 2023, featuring both returning Fringe artists and first-time participants. From contemporary dance to original music to spoken word to comedy, this year's roster features an array of beloved Houston artists, including HOUSTON CONTEMPORARY DANCE COMPANY performing "Beer and Skittles" by celebrated choreographer Kia Smith. Last year's Audience Favorite award-winner, CAI CIRCUS, returns with two unique cirque acts featuring their dynamic and versatile performers. Perennial festival favorite MARGO STUTTS TOOMBS returns with "Urban Street Music," an autobiographical work that explores her erratic homelife, including a narc father who used confiscated drugs at home.
Several acclaimed dance artists will be presenting new work on this year's program, including LOREN HOLMES' "Black Love," a look at what it means for two young Black people to experience raw and genuine love. The duet will utilize dancers from different styles to express the full range of the narrative. Director of Dance Afrikana, DR. LINDSAY GARY will show "I don't speak French," which premiered as part of her Fresh Arts Spacetaking Residency. Developed while in Dakar, Senegal, the piece explores the colonial pressures she unexpectedly experienced in Africa as a member of the African Diaspora, and the internal conflicts they force her to face. Spoken word collective INVISIBLE LINES, a participant in the Houston Fringe Festival since its early years, returns with The Conqueror Worm: Poe describes life's pageantry, like Shakespeare, as a play. But in Poe's version humans are only the stage. The hero is the worm who eats us after death, the chorus are angels, and God is a mime. Invisible Lines will explore this in costume, dance, music, and carnival barking.
The rest of the Anything Goes line-up includes DORIANNE CASTILLO, THE MAGPIE PARLIAMENT SOCIETY, pre-professional dance company artistic edGe, KIMA, ESTEFANIA VALLE CRUZ, and THE BROOKDALE GALLERIA'S OFF OUR ROCKERS ENSEMBLE.
The full line-up of artists is below, and information regarding the performances will be available on The Pilot Dance Project website and social media pages. Tickets for the performances will be available for purchase through the MATCH website.
ABOUT THE PILOT DANCE PROJECT
The Pilot Dance Project was incorporated as a non-profit organization in 2003 as FrenetiCore. The organization and its professional dance company were founded by two local performing artists with the goal of creating narrative-based multimedia dance theater productions unique to the Houston arts community. Under its previous direction, the company participated in numerous festivals, including the Wallpaper Dance Festival in Trieste, Italy, Big Range Dance Festival at Barnevelder Movement Complex, Texas Weekend of Contemporary Dance at the Miller Outdoor Theater, East End Cultural Arts Festival, Twelve Minutes Max at DiverseWorks, Houston Fringe Festival, New Orleans Fringe Festival, Bayou City Arts Festival, the Pilot Dance Festival in Fort Worth, Texas. The organization is currently guided by Director, Choreographer and Dancer, Adam Castaneda, who has served in this role since 2015.
###