Contact: Maggie Lasher & Andy Karavitis
 832-341-1058
info@interchangehouston.com
Interchangehouston.com


THE INTERCHANGE, HOUSTON'S NEWEST PERFORMANCE & WORKSHOP SPACE ANNOUNCES GRAND OPENING AND OPEN HOUSE EVENT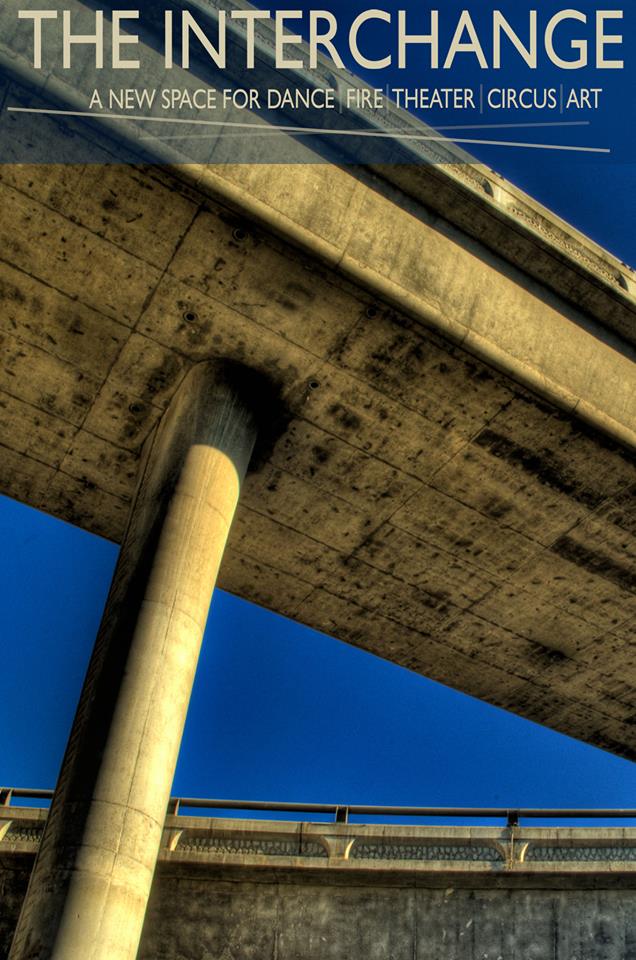 What: Open House for The Interchange, Houston's newest multidisciplinary performance and workshop space.
When: Saturday, October 21, 2017; 7:00-9:00pm
Where: 1815 Cleburne St, Houston, TX
Cost: $15 suggested donation

Announcing the opening of The Interchange, Houston's newest space for dance, theater, art, music, flow, and circus art performance. Led by a collective of local Houston performance artists, The Interchange offers a unique opportunity for Houston's art community to develop a space from the ground up.
Currently The Interchange is an empty 5,000 square foot warehouse in Midtown that is waiting to be developed into a performance space meeting the needs of independent artists and small dance and theater companies. The space is an empty shell that will be built out according to the needs of the collective and the community. It features performance space both indoors and out, which creates a lot of potential for unconventional artists to produce site specific work and use mediums like fire that are difficult to produce within the typical theater setting. There is also available onsite and street parking that is free of charge and easy to access.
Husband and wife team Maggie Lasher and Andy Karavitis are heading up the managerial side of the space, and are supported by the Interchange Collective, a group of multidisciplinary local artists who have a vested interest in developing the warehouse into an accessible and affordable space in which to present work. Maggie has been producing dance and fire performance with her company Holding Space for over a decade, and she is also the dance program coordinator at Houston Community College. Andy has served in theater production for many years, and he has played an important role in the production of fire shows.
Currently the collective has ten members (including Lasher and Karavitis) coming from a variety of artistic backgrounds. The inaugural collective features independent dance artists and teachers Ashley Horn Nott, Heather vonReichbauer, Jhon Stronks, and Lori Yuill, independent multidisciplinary artist Y.E. Torres, musician, teacher, and multidisciplinary artist William vonReichbauer, and circus/performance artists and entertainment producers Pasha Luminus and Anna Vlada of Silver Lynx Arts.
Says Lasher, "As both our city and performing art scene continue to grow and thrive, there is an ever-increasing need for affordable performance spaces in Houston. This need is particularly apparent for individuals and small-to-midsize companies presenting dance, theater, and movement arts. The Interchange is unique in that it is a chance for Houston artists to have a say in how the space develops, and allow the space to become a quality venue that supports the work of independent artists and small theater and dance companies. I also want to see a space that welcomes and supports multidisciplinary acts, and the growing flow and circus arts communities."
Curious about the new space? Interested in having a voice about developing a new performance space in Houston? Then please join us for an open house from 7-9 pm on Saturday, October 21. In addition to giving people a chance to see the space, the open house will feature dance, flow art, and music performances and guests will have the opportunity to try their hand at various flow toys and prop manipulation. As a fundraiser for the space we are asking for a $15 suggested donation, and any monetary donation comes with a complementary beverage.
Curious about the space and can't make the open house? Please contact Maggie or Andy at info@interchangehouston.com or 832-341-1058. You can also visit the website at interchangehouston.com.