Contact: Maggie Lasher & Andy Karavitis
832-341-1058
info@interchangehouston.com
Interchangehouston.com
THE INTERCHANGE, HOUSTON'S NEWEST PERFORMANCE & WORKSHOP SPACE PRESENTS DISPARATE EXCHANGES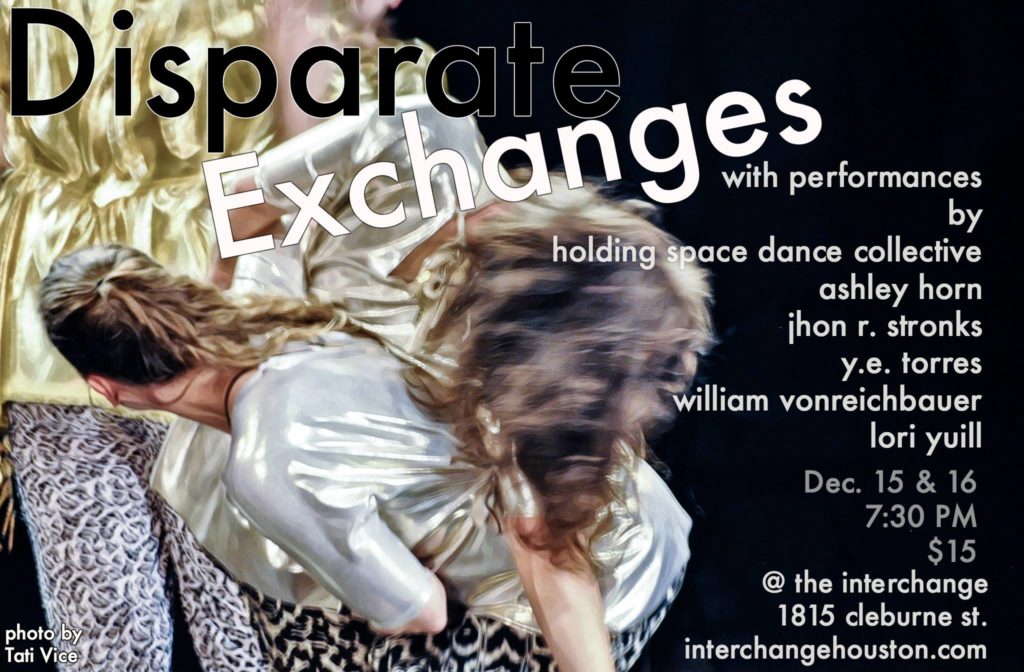 What: Disparate Exchanges, a performance and holiday soirée presented by the Interchange Collective.
When: December 15 and 16 at 7:30 PM
Where: 1815 Cleburne St, Houston, TX
Cost: $15 general admission, $10 kids, students, and seniors
The Interchange Collective is pleased to present their first collaborative performance and holiday soirée December 15 and 16. The Collective features a group of multidisciplinary local artists with a vested interest in developing The Interchange into an accessible and affordable space in which to present work. In "Disparate Exchanges" six members of the collective will present a variety of work in a festive, casual atmosphere featuring a donation bar and a chance to mingle with the artists. The Friday night performance will be followed by an open fire and flow jam giving audience members an opportunity to try out various non-fire flow props and witness some of the best Fire performers Houston has to offer in an improvisational setting.
Featured work will include:
Backstories, Galactic Hips, and the Clavicle- Daniela Antelo, Miranda Tadlock, jhon r. stronks, and Lori Yuill conjure a chaotic world that explores the intersections between the senses, memory, language and movement.  They tap into their reactive selves and let their inner children run free.  The audience will learn about the creative process, heirloom tomatoes, the clavicle, and revolting chickens.  But best of all there will be fresh baked cookies for all.
Contemporary Fusion Bellydancer Y. E. Torres will present a special illuminated performance to delight the senses.
Musicians and Performance Artists William vonReichbauer and Jhon Stronks will present a collaborative performance featuring some classic country tunes and plenty of dancing.
Choreographer and filmmaker Ashley Horn reboots два, a multimedia performance rooted in traditional Russian dance and jazzercize.
Holding Space Dance Collective will present their new holiday work "December", a dance for nine featuring a variety of flow props intermingled with contemporary dance.
Currently The Interchange is an empty 5,000 square foot warehouse in Midtown that is being developed into a performance space to meet the needs of independent artists and small dance and theater companies. The space is an empty shell that will be built out according to the needs of the collective and the community. It features performance space both indoors and out, which creates a lot of potential for unconventional artists to produce site specific work and use mediums like fire that are difficult to produce within the typical theater setting. There is also available onsite and street parking that is free of charge and easy to access.
For more information please visit interchangehouston.com or contact us at info@interchangehouston.