Contact:
Executive/Artistic Director: Adam Castaneda
adamluis.castaneda@gmail.com
(281) 979-4982
www.pilotdanceproject.org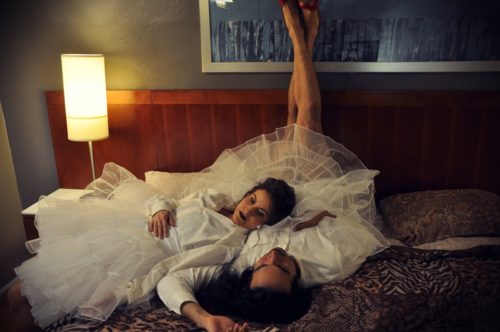 The Pilot Dance Project begins its 2019-2020 season with a new immersive dance work by cherished Houston choreographer Ashley Horn. This visually arresting production, supported by a Let Creativity Happen! Grant from the Houston Arts Alliance, will be presented September 21 at a mystery location that will be revealed two weeks prior to the performance. 
Dates: September 21
Time: 2pm, 3:30pm, 5pm, 6:30pm, 8pm
Location: Location TBA
Tickets: $15 presale, $20 at the door
For tickets and more information please visit www.pilotdanceproject.org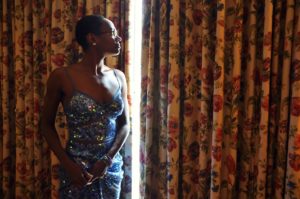 When history is written by a single group of people, the stories of the other remain untold or are confined to the margins of footnotes. History is told by men, women's stories are constructed by the male gaze, and masculinity is the unreliable narrator of the feminine. 
In The Long Stay, vignettes unfold in a series of motel rooms.  A bride, a goddess, a lady on the run, and other women wait in purgatory for their forgotten stories to be told. Choreographer Ashley Horn resurrects women from the Bible and antiquity and refashions their narratives on their own terms. Within these rooms, women tell the stories of women, their lost histories woven into shrines for the feminine divine. 
The audience travels from room to room, to bear witness to these stories that beg to be told. Without knowing it, the audience becomes the means to escape the purgatory of history. The women in Horn's work have a chance to be free – if only they can find a visitor who will listen.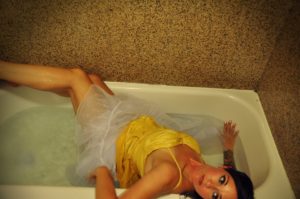 The Long Stay featured a cast of some of Houston's most beloved performers, including Allyssa Abacan, Julie Bata, Jacquelyne Boe, Adam Castan͂eda, Lindsay Cortner, Jade Devault, Ashley Horn, Eva Jin, Ty Lewis, Sarah Leung, Melissa Ludwig, Natasha Manley, Nicole McNeil, Tori Pierce, Kristina Prats, Jennifer Hart Salter, and Lori Yuill.
About the Choreographer:
Ashley Horn is a dancer, choreographer, filmmaker, costume designer, and artist from the Houston area.  he has shown choreography and films at ACDF, The University of Houston, Big Range Dance Festival, The Texas Weekend of Contemporary Dance, Third Coast Dance on Film Festival, The Houston Fringe Festival, and Dance Month at the ERJCC among other venues and events. She has created costumes for Frame Dance Productions, Open Dance Project, Sara Draper, Teresa Chapman, The Pilot Dance Project, Sol Y Luna Dance, and her own works. Ashley is a two-time recipient of  an individual artist grant from the Houston Arts Alliance for choreography. She has been the artist in residence at Hope Stone and Rice University and has been a guest choreographer for Rice University and Houston Community College in 2018. She previously set work on the Pilot Dance Project with Vesper (2017) and The Sky Was Wild With Sunshine (2018). Ashley is the Early Childhood Education Director at Hope Stone, Inc.
* * *
The Pilot Dance Project is a 501(c)3 non-profit arts organization with the mission to empower and transform communities through innovative dance, theater, and visual art. The organization is based out of the Midtown Arts & Theater Complex Houston, and produces work at venues throughout Houston's East End.