Silambam Houston
yuva@silambamhouston.org
713-635-9382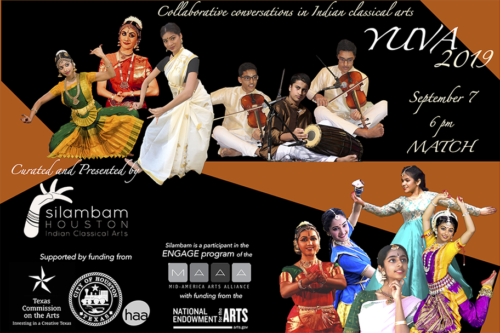 YUVA 2019
Collaborative Conversations through Indian Classical Arts
YUVA is a unique performance platform that serves to catalyze collaboration among talented new-generation Indian classical artists (dance and music), curated and presented by Silambam Houston. YUVA 2019 will take place on September 7, 2019 at 6 pm at the Midtown Arts and Theater Center Houston (MATCH). The twelve artists of the YUVA 2019 cohort represent dance (Bharatanatyam, Kathak, Odissi), music (Indian classical vocal, violin, percussion), and other (musical theater, spoken word) genres, and hail from San Francisco CA, Phoenix AZ, Naperville IL, and Dallas, Houston, and Galveston TX.
Collaborative conversations through classical Indian arts, created by twelve brilliant young artists from across the United States, form the core of YUVA 2019. Through Indian classical dance and music, the artists of the YUVA 2019 cohort explore varied themes and global influences, including mental health, the power of communication, an exploration of American musical theater, geographical landscapes described in classical Indian literature, storytelling through abstract movement, and an experimental fusion of western and Indian classical musical traditions.
These artists bring a unique perspective to artmaking through their experiences growing up in and/or living in the United States, with cultural and artistic grounding in Indian classical tradition. They are uniquely positioned to make cultural connections with Western audiences with creativity that is rooted in various Indian classical arts but yet goes well beyond the framework of these art forms to embrace global influences and inspirations. 
The artists of the YUVA 2019 Cohort include:
Anjana Ganesh, Houston, TX – Bharatanatyam, Akhil Gopakumar Nair, Houston, TX – Carnatic/Western violin, Athul Gopakumar Nair, Houston, TX – Carnatic/Western violin, Diksha Rath, Houston, TX – Odissi , Janani Ramachandran, Dallas, TX – Bharatanatyam , Prathiba Natesan, Dallas, TX – Bharatanatyam , Maheswar Ajaykumar, Houston, TX – Mridangam, Shreya Bandopadhyay, Dallas, TX – Kathak, Sutikshna Veeravalli, Naperville, IL – Bharatanatyam, Carnatic vocal, composition, Vaibhavi Mohan, Phoenix, AZ – Bharatanatyam, Carnatic vocal, musical theater Vaibhavi Kulkarni, San Francisco, CA – Kathak