Contact:
Executive/Artistic Director: Adam Castaneda
adam@freneticore.net
(832) 649-2096
www.freneticore.net
After thirteen years of providing the Houston community with media-based, narrative-driven dance theater, FrenetiCore Dance has been restructured into the Pilot Dance Project. This new collaborative company has an emphasis in providing independent choreographers with the resources to create original evening-length dance theater. The inaugural production in this format is Vesper, a new dance work by acclaimed choreographer/filmmaker/costume designer Ashley Horn.
Dates: March 17, 18, 24, and 25, 2017
Time: 8:00 PM
Location: The Pilot on Navigation, 5102 Navigation Blvd, Houston, TX 77011
Tickets: $16 presale, $20 at the door, $25 reserved
For tickets and more information please visit www.freneticore.net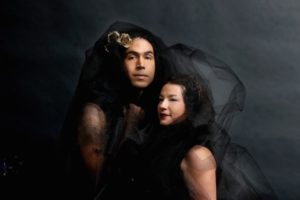 Vesper is an immersive performance rooted in ritual and tradition. Part supplication and part inspection, the evening unfolds through moments of cleansing, surrender, and questioning. Dancers construct meaning, purpose, and discernment through a series of tiny ceremonies. The evening begins with the audience invited to explore an onstage maze filled with intimate scenes of movement, nature, and light. Dancers perform personal rituals that the audience is invited to join before the maze is lifted into a canopy that the dancers will perform under for the remainder of the experience.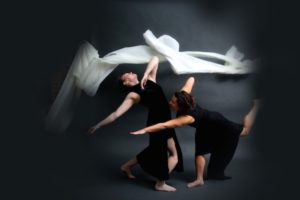 "I'm really excited that Ashley is directing this show at the Pilot on Navigation," says Executive/Artistic Director Adam Castaneda. "Her work has been described by many as whimsical and magical, but I also think there is a high degree of escapism in the worlds that she creates, which I think is hard to find in Modern dance. I think the audience will get to experience something thoughtful and contemplative, but also something that transcends the time and space we'll inhabit."
Cast:
Shanon Adame, Adam Castaneda, Dorianne Castillo-Rivera, Anna Claire Harris, Eva Jin, Cloe Leppard, Mollie Miller, Tori Pierce, and Kristina Prats
About the Choreographer:
Ashley Horn is a dancer, choreographer, filmmaker, costume designer, and artist from the Houston area. She has shown choreography and films at ACDF, the University of Houston, Big Range Dance Festival, the Texas Weekend of Contemporary Dance, Third Coast Dance on Film Festival, the Houston Fringe Festival, and Dance Month at the ERJCC among other venues and events. She has created costumes for FrenetiCore, Frame Dance Productions, Chapman Dance, Open Dance Project, Jacquelyne Boe, Hope Stone, and her own works. Ashley is a two-time recipient of an individual artist grant from the Houston Arts Alliance for choreography. In 2014, she was the Dancer in Residence at Rice University and a HopeWerks resident. Ashley was named one of the 100 Creatives of 2013 by the Houston Press and one of the top 10 Houston choreographers of 2014 by the Houston Press.
* * *
The Pilot Dance Project is a program of FrenetiCore, a 501(c)3 non-profit arts organization with the mission to empower and transform communities through innovative dance, theater, and visual art. The organization is based out of the Pilot on Navigation, a black box theater facility located in Houston's East End. The 2017 season includes new evening-length dance work by acclaimed Houston dance-makers jhon r. stronks, Jennifer Mabus, and Jaime Fruge.