Media contact:
Adam Castan͂eda
(281) 979-4982
adam@pilotdanceproject.org 
The Pilot Dance Project Presents
The Delicate Space
June 30 and July 1, 2023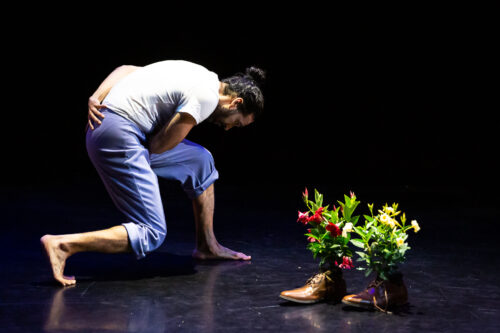 WHAT: This summer The Pilot Dance Project is proud to present its fifth evening-length production by acclaimed dance artist and designer, Ashley Horn, featuring guest choreography by Executive and Artistic Director Adam Castan͂eda. The Delicate Space follows Vesper (2017), The Sky Was Wild (2018), The Long Stay (2019), and Tether (2021) in offering the Houston arts community gorgeous, contemplative, hand-crafted Modern dance experiences.
The Delicate Space is a site-specific work that will take place at Adam Castan͂eda's childhood home. Set in the Near Northside, one of Houston's historical Latinx neighborhoods, the piece observes two individuals searching for the softness of human connection in an increasingly rigid and isolated world. In seeking forgiveness for their own imperfections, they discover the beauty of honesty, the steadfastness of simplicity, and the joy of being human. On their journey, they encounter a trio of otherworldly figures who seem to be able to traverse past, present, and future, personifying the couple's hopes, dreams, and regrets.
Contributing to the ethereal, intimate environment will be sculpture work by visual artist Tami Moschioni.
The Delicate Space is supported by a Groundwork Grant from Dance Source Houston and an Arts Create Grant from the Texas Commission on the Arts.
WHO: The Pilot Dance Project is a 501(c)3 non-profit arts organization under the Executive and Artistic Direction of Adam Castan͂eda. The Pilot Dance Project commissions new Modern dance works, and produces the Houston Fringe Festival, the Texas Latino/a/x Contemporary Dance Festival, and Queer Fringe Houston. Ashley Horn is a dancer, choreographer, filmmaker, costume designer, and artist from the Houston area.
The Delicate Space's lead roles will be danced by Adam Castan͂eda and Courtney Sherman-Allen. The triad ensemble will be danced by Cloe Leppard, Jaredd Martin, and Kristina Prats.
WHEN: June 30 @ 7:30pm and July 1 @ 7:30PM and 9PM
WHERE: Performances will be held at a private residence in Houston's Near Northside neighborhood. Upon ticket purchase, patrons will be sent an email with the location address, as well as instructions for attending the performance.
HOW: Those interested in purchasing tickets can do so at: www.pilotdanceproject.org