FOR IMMEDIATE RELEASE:
Event Title: Twisting Through Secrets
Date: March 11, 2023
Time: Community Workshops 5:00-6:30 PM, Performance begins at 7:00 PM
Cost: Free
Location: Blaffer Art Museum, 4173 Elgin St, Houston, TX 77004
Space is limited and reservations are required – secure your spot here.
There are secrets among us. Some are necessary, others are deadly.
We all have secrets – let's twist through them together.
Twisting Through Secrets features a provocative and unique variety of multimedia performers – each one taking inspiration from current Blaffer Art Museum exhibits: "The Secrecy of Water" by Leslie Martinez, and "We Are In Hell When We Hurt Each Other" by Jacolby Satterwhite.
Featuring:
Live music and dance theatre from S.O.U.L
Neo-futurist dance by Rivkah French with Margo Smolik
Spoken word poetry from Ayokunle Falomo
Contemporary dance fusion by Persi Mey with guests
Drag performance by Blackberri
Pre-performance Community Workshops
Post-performance Artist Talkback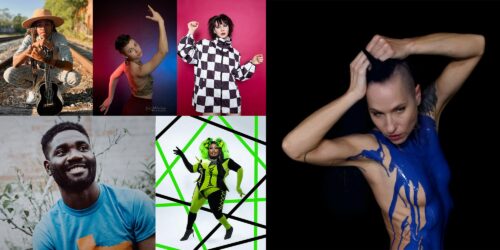 Event Details:
Saturday March 11, 2023
5:00-6:30 PM Community Meditation led by Rivkah French and Weightshare Workshop with Persi Mey. Visual artists are invited to bring art supplies and interpret the workshops with drawing or painting.
7:00 PM Performance in Blaffer Gallery
8:00 PM Post-performance Artist Talkback
These Free events require reservations – register and secure your tickets here.
Detailed Workshop Descriptions:
5:00 PM Opening Meditation with Rivkah French
Enjoy a 30 minute meditation on the exhibition and performance themes, guided by event curator Rivkah French.
5:30 PM Weightshare Workshop with Persi Mey
Explore the practice of moving together through queer positive, non-gender specific partnering. We will learn how to safely give and receive weight, maintain a point of contact, and build connection through movement. Beginner friendly and open to all – regardless of age or ability.
For visual artists: Please bring your drawing or painting supplies to the workshops and join in the creativity!
Detailed Performance Descriptions:
Rivkah French in collaboration with Margo Smolik will present a neo-futuristic dance duet merging movement and visual art – using paint, bodies, and space as their canvas.
Ayokunle Falomo will engage with spoken word to guide himself, and the audience with invited participation, through some of the questions the exhibitions raise – exploring how to live and love the unventured terrains of our lives
Persi Mey will present a trio dance narrative on the fleeting nature of relationships. This piece will be a dynamic blend of styles – contemporary, modern, martial arts and breaking.
In their ukulele and dance performance piece, S.O.U.L.A.S.P.H.E.R.E will give us peace of M.I.N.D with an experience that conveys the freedom living within our expression.
Blackberri will serve a sickening blend of drag glamour, drama, and camp – as only she can!
Event curation by: Rivkah French
Lighting design by: Hannah Jans
Sound provided by: Bill Warner
ABOUT RIVKAH FRENCH CHOREOGRAPHY:
Rivkah French is an award-winning queer contemporary choreographer and community leader based in Houston, Texas. French embodies freedom in movement by breaking dance, gender and societal norms–merging multiple dance styles, powerful themes, and innovative technologies.
Throughout their 25 year career, French has created 37 full-length dance multimedia performances, founded the non-profit FrenetiCore Dance, built the organization's black box theater, founded the Houston Fringe Festival, and taught movement to at-risk populations including homeless and incarcerated teens.
Rivkah is currently focused on providing creatively empowering experiences for the LGBTQ+ community, expanding the field of Queer Dance Theory, and building new movement techniques fusing global dance styles with contemporary Western dance. French's career exemplifies their belief in the profound power of art on individuals and society at large.
"Rivkah brings their passionate spirit to a razor's edge, then gently leans in…"
–Cressandra Thibodeaux, 14 Pews
Website: rivkahfrenchchoreography.carrd.co
Social Media: @rivkahfrenchchoreography
Twisting Through Secrets is made possible by the City of Houston through the Houston Arts Alliance, and The Cynthia Woods Mitchell Center for the Arts.