CONTACT:
Alex Pandiscio
713-686-0334
info@uptowndance.org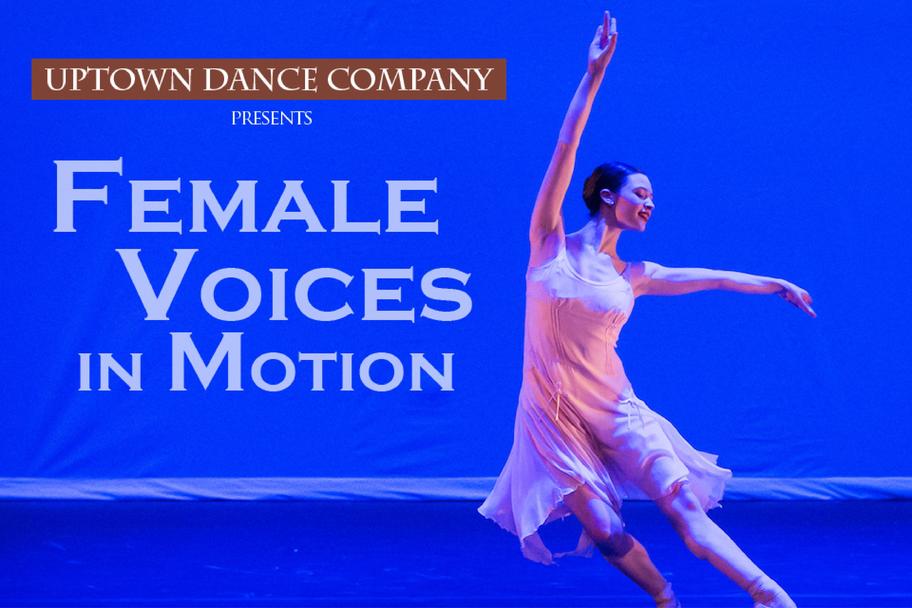 HOUSTON, TX – On Friday September 28th, 2018, Uptown Dance Company opens their 2018-2019 Season with Female Voices in Motion, an evening of three one-act contemporary dance works by celebrated local choreographers Jane Weiner, Krissy Richmond, and the company's Artistic Director, Beth Gulledge-Brown. Joining the company will be Principal Guest Artist Rupert Edwards III, a former Houston Ballet dancer, who has performed with the company frequently in the past. The two performances, Friday and Saturday evening at 7:30pm, take place at the MATCH.
Jane Weiner has created her first work for the company, entitled "Climate Orange". Dancers playfully interact with oranges, rock out to R.E.M., tell knock-knock jokes (sometimes in Chinese), and gracefully dance to a Bach Fugue! Weiner's signature quirky modern dance style is a joy for both dancers and audience.
"Crossroads" is Beth Gulledge-Brown's stunning new contemporary ballet showing off the classical lines of the company artists. Set to hauntingly beautiful music from Ezio Bosso's "Music for Weather Elements," the work explores how people relate with one another and the various forces that push them together and pull them apart.
Rounding out the evening is "Life is just a bowl of cherries," Krissy Richmond's second creation for the company. The work pays homage to the classic jazz dance made famous by masters such as Jack Cole, Luigi, and the incomparable Bob Fosse. Upbeat, energetic and evoking the golden age of classic jazz dance, the dancers get to share with the audience a style of dance not performed very often in Houston.
Uptown Dance Company is a non-profit 501(c)3 professional dance company based in Houston, TX, found in 1999. The Company fosters an appreciation of dance within the Houston community by offering family-friendly dance performances and educational opportunities. Uptown Dance Company produces exciting and innovative performances known for featuring versatile professional dancers with strong classical lines. The company provides high quality training opportunities for aspiring young dancers regardless of their financial means, and serves the greater community through outreach performances and masterclasses.
FACT SHEET:
CONTACT:
Alex Pandiscio
713-686-0334
info@uptowndance.org
WHAT: UPTOWN DANCE COMPANY PRESENTS FEMALE VOICES IN MOTION
WHEN: Friday, September 28th 2018, 7:30pm
Saturday, September 29th 2018, 7:30pm
WHERE: MATCH (Midtown Arts & Theater Center Houston)
3400 Main St, Houston, TX 77002
TICKETS: $30 General admission / $25 Senior/ $15 Student w/College I.D.
https://matchouston.org/events/2018/female-voices-motion