FOR IMMEDIATE RELEASE
June 30, 2021
Contact: Andy Noble
Co-Artistic Director, NobleMotion Dance
Tel: 832-627-9664
E-mail: andy@noblemotiondance.com
Website: www.noblemotiondance.com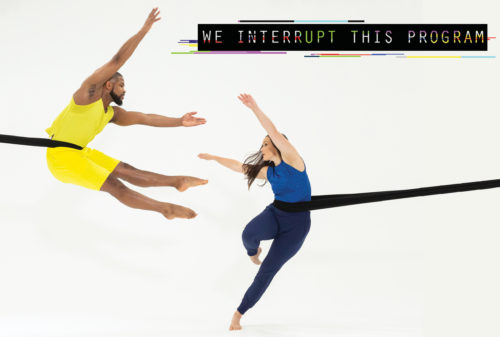 We Interrupt this Program to bring you NobleMotion Dance
HOUSTON, TEXAS – June 30, 2021 – We Interrupt this Program to bring you NobleMotion live and in-person with a playful new evening of dance theater at The MATCH, August 13-14 and 20-21 at 8:00 PM and matinees on Aug 14th & 21st at 4:00 PM. In this strange and wacky production, an illogical chain of events unfolds, making way for unexpected outcomes. Line dancing, human sling-shots, and NobleMotion's trademark physicality keep the audience guessing as dancers careen through the space. It's a comedy of non-sequiturs with heartfelt moments tangled in-between.
The audience falls through the dance not knowing where they will land. One moment dancers are doing home-improvements and the next they are enacting an opera. Complete with a wandering poet trying to make sense of it all, We Interrupt this Message basks in the melodramatic, self-referential, and tongue and cheek.
At its core, We Interrupt this Program is a serenade to artists and the crazy challenges we have all weathered this year. "It has been so healing to come back to the studio and create with other artists," states Andy Noble. "In many ways, we made this for the dancers. And my hope is that this incredible time we spent together will translate through the choreography and create a lovely experience for our audience."
The audience will be right on top of the action. "One of my favorite places to watch dance is in the studio," states Dionne Noble. "I can see the dancers' every nuance. We are really excited to be performing in an intimate black box space so the audience can really breath in the dance."
Tickets range between $15-30. Tickets can be purchased online at www.matchouston.org or by calling 713-521-4533.
DETAILS
We Interrupt this Program
The MATCH – Midtown Arts and Theater Center Houston
August 13-14 & 20-21 @ 8:00pm
August 14th and 21st @ 4:00 PM
Tickets: $30 Regular Admission, $15 Student.
Purchase online at www.matchouston.org or call 713.521.4533.
FOR HIGH RESOLUTION IMAGES
Contact: Andy Noble
andy@noblemotiondance.com
832-627-9664
###
About NobleMotion Dance NobleMotion Dance is a 501(c)(3) non-profit performing arts organization. In 2009, NobleMotion exploded onto the Houston dance scene and has since received critical acclaim for their "extraordinary athleticism" and "cutting edge" programming. NobleMotion Dance seeks to make work that is emotionally daring and honest; inspires discourse and understanding amongst diverse communities; and integrates dance, theatre and technology in unique ways. Artistic directors Andy Noble and Dionne Sparkman Noble are long time collaborators who have been entertaining audiences for twenty years. NobleMotion also offers education and outreach programs for all ages including master classes, open rehearsals and lecture/ demonstrations. For more information about NobleMotion Dance, please visit us at noblemotiondance.com.