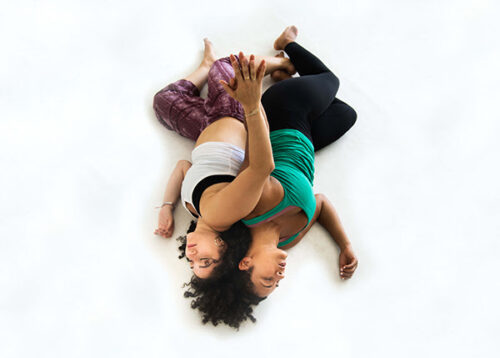 DIVERSEWORKS PRESENTS

Womb, a project of Body as a Crossroads

April 21 & 22, 2022 at MATCH 

(Houston, TX, March 7, 2022)–  DiverseWorks is proud to present Womb, a project of Body as a Crossroads, a brave and intimate new dance work spearheaded by Los Angeles-based dance-maker, Marina Magalhães, at the Midtown Arts and Theater Center Houston (MATCH) on April 21 and 22, 2022. Womb lives in the sacred meeting space of dualities, wherein it is possible to conjure spirit through flesh, find joy in grief, and create ritual out of rupture. The work was catalyzed by Magalhães's personal experience of miscarriage mid-global pandemic and incorporates the storytelling of her fellow creators and dance-makers, Bianca Medina and Tatiana Zamir. Together, they bring to life a timely evening of live performance which care-fully contends with cycles of death and rebirth.
 PERFORMANCE DETAILS
WHEN:
Thursday, April 21, 2022, 7 PM (CST), followed by a talkback
Friday, April 22, 2022, 7 PM (CST)
WHERE:
MATCH, Matchbox 2, 3400 Main Street, Houston, TX  77002
TICKETS:
diverseworks.org  $5-$25 (pay-what-you-wish)
DURATION:

Womb is the first activation of Magalhães's nationally award-winning project, Body as a Crossroads, which seeks to generate (re)membering practices of body, spirit, and land to mobilize the possibilities of dance-making as change-making.

Womb is created in collaboration with dance artists Bianca Medina (New York) and Tatiana Zamir (Los Angeles); visual artists Anthony Suber (Houston) and Francis Almendárez (Houston); lighting designer and technical director Maximilian Urruzmendi (San Francisco); costume designer Elida Berry-Donat (Los Angeles); sound designer Avila Eytan Do Espirito Santo (Los Angeles), and producer Xandra Eden (Houston). Each have extensive experience and a history of multidisciplinary collaboration. The performance is presented in tandem with the Overlapping Territories Symposium, which centers conversations and knowledge-building on the topics of indigeneity, settler-colonialism, and migration.

Marina Magalhães is a border-crosser, bridge-builder, and dance-maker from Brazil living in unceded Tongva land AKA Los Ángeles. Known for her uniquely moving performances and radically inclusive workshops, Magalhães invites movers of all kinds to find the connection between movement-making in the body and movement-building in our communities. Her choreography has been called, "stirring… hypnotic," by the LA Times and, "riveting… a physical and emotional feat," by South Africa's Creative Feel Magazine. Magalhães is a recipient of grants from Creative Capital, MAP Fund, and the Doris Duke Foundation, the California Arts Council's Artists in Communities Grant for four consecutive years, and the LA Weekly Theater Award for Best Choreography. She has shared her work at The Ford Amphitheater in Los Angeles, CounterPulse in San Francisco, Hamburger Bahnhof Museum in Berlin, The Wits Theatre in Johannesburg, Center for Theater of the Oppressed in Rio de Janeiro, and nightclubs and living rooms around the world. As a community-rooted artist, she has led many pedagogic initiatives dedicated to sharing dance as a tool for racial and healing justice movements–most notably, the Dancing Diaspora platform she ran from 2017-2021. As an academic-interventionist, she has taught at UCLA, UC Riverside, and is currently a Visiting Lecturer at Scripps College. Magalhães holds a B.A. from UCLA's Department of World Arts & Cultures/Dance an M.F.A. in Dance from University of the Arts.

RELATED PROGRAMS

Tuesday, April 12, 2022, 7 PM
Spirit in Motion: a performance activation
Redbud Gallery, 303 E 11th St., Houston, TX 77008
RSVP
Join Body as a Crossroads dance artists Marina Magalhães, Bianca Medina, and Tatiana Zamir as they activate an exhibition of sculpture by Anthony Suber (Willie & Shirley's Son at Redbud Gallery) through improvisational movement practices.

Friday & Saturday, April 22 & 23, 2022
Overlapping Territories Symposium
MATCH, 3400 Main Street, Houston, TX  77002
Register to participate
The OT Symposium is a program of the Overlapping Territories Knowledge-Building Research Lab. Organized by DiverseWorks Curator, Ashley DeHoyos, the symposium centers on the topics such as Indigeneity, settler-colonialism, and migration. Please check the website for the full schedule of speakers and events.

SUPPORT
Womb, a project of Body as a Crossroads is commissioned and presented by DiverseWorks and is made possible through project support from the Alice Kleberg Reynolds Foundation and a National Performance Network (NPN) Artist Engagement Fund, with funding from the Doris Duke Charitable Foundation, the Andrew W. Mellon Foundation, and the National Endowment for the Arts (a federal agency). For more information, visit www.npnweb.org.

Additional support is from the National Endowment for the Arts, Texas Commission on the Arts, the City of Houston through the Houston Arts Alliance, the Brown Foundation, Inc., the Cullen Trust for the Performing Arts, the George and Mary Josephine Hamman Foundation, Houston Endowment, the Wortham Foundation, the Andy Warhol Foundation for the Visual Arts, and DiverseWorks members and patrons. Thanks also to our community partner, Redbud Gallery.

Body as a Crossroads is made possible with support from Creative Capital, MAP Fund, and the Doris Duke Foundation Performing Artist Recovery Fund in the New York Community Trust. 



ABOUT DIVERSEWORKSDiverseWorks commissions, produces, and presents new and daring art in all its forms through innovative collaborations that honor each artist's vision without restraint. Founded by artists in 1982, DiverseWorks is nationally known for its ground-breaking programming; as a resource for the innovative and meaningful engagement of communities; and as a force that has shaped contemporary thought and practice in Houston and the nation. DiverseWorks has a long history of supporting the creation of new work, cross-disciplinary collaboration, and as a bridge between diverse sectors of the art community.DiverseWorks is committed to equitable compensation for artists and is W.A.G.E. Certified. More information at http://www.wageforwork.com/. 
DiverseWorks
3400 Main Street, Ste 292
Houston, TX 77002
(713) 223-8346
 
Facebook: www.facebook.org/diverseworks
Twitter: @DiverseWorks
Instagram: @DiverseWorks
Web: www.DiverseWorks.org