It's not unusual for Karen Stokes to take her time developing an evening-length work for her company Karen Stokes Dance (KSD). The director of the dance program at University of Houston as well as an established dance artist, Stokes often begins with shorter pieces or one-acts that expand to a long-form presentation over a period of two to three years.
Affected by interruptions and delays, as so much has been since the year 2020 ushered in a global pandemic, KSD will return after an unusually long hiatus to Midtown Arts Theatre Complex Houston (MATCH) this month with Mapping & Glaciers, the one-act version of which premiered when the company celebrated its 20-year anniversary in 2017.
"A lot of my pieces start with movement," Stokes says as she looks back five or six years to the origins of Mapping & Glaciers. 
Trying to avoid falling into choreographic habit, she says she began drawing lines on a piece of paper and encouraging her dancers to trace the lines with their bodies and in space as they worked to build movement. "I kept talking about these drawings as maps," she explains, "so I began visiting the library to explore all kinds of maps."
At the same time, there was also a great deal of conversation about the building of a wall at the U.S. border. "I started to think about the tribal boundaries we create as human beings," reflects Stokes, "determining who can come in and who can't. I usually don't do political work but there was an element of that that entered the work."
In addition to borders of human invention and the cartographic representation of our world, geomorphology was also on Stokes' mind as she considered the disappearing and changing boundaries of land and water due to climate change. This time, instead of the library, Stokes traveled all the way to Iceland to see and capture first-hand the concept she would ultimately physicalize.
"It's kind of a giant topic but it really started very simply," recalls Stokes. Little did the choreographer know as she looked toward other projects in 2018, took a sabbatical from teaching in 2019, and then planned to begin rehearsals in earnest for the expansion of Mapping & Glaciers in 2020, that things were about to get complicated.
Stokes' full attention turned to her work as an educator as she and her colleagues grappled with transforming the palpable experience of dance instruction into a virtually-delivered encounter. Then, even as vaccinations became available, the prospect of canceled rehearsals during multiple Covid-19 surges delayed her artistic project further. Eventually, so much time had passed amid so many changes, Stokes began thinking to herself, "Maybe I won't do this."
Two of her original cast and long-time company members, Brittany Bass and Bryan Bradley Peck, were available to rehearse and perform. Tragically, their fellow company member Vi Dieu was killed in a fishing accident in 2020. His loss was felt by many in the Houston dance community.
"We lost a person we considered our soul," says Stokes. "Everybody that ever worked with him saw him as sheer light. It is difficult coming back to this project and not having him in the room."
Resolving to see Mapping & Glaciers through, Stokes auditioned new dancers. The three new company members include Davis Stumberg, a seasoned performer and teacher who works with a number of Houston dance organizations; Michelle Reyes, a graduate of the UH dance program; and Bethany Logan, a relative newcomer to Houston by way of Ohio and New York City. 
In an ongoing experiment with projection, Stokes has recruited sought-after production designer Clint Allen, with whom she worked previously in 2018 on the multimedia project Gallery Construction, to integrate the video footage from her trip to Iceland and images of maps throughout the production.
"Projections give a layer of place that you would have to spend millions of dollars to get with a set design," says Stokes. "I'm also interested in how the images are distorted based on what surface they're projected."
In the case of Mapping & Glaciers, dancers will often be the surface upon which those images are projected. Houston choreographer, designer and costumer Ashley Horn Nott lends new creations to the three sections of the production's second act. She has crafted costumes that bring Stokes' vision for body-projection to fruition as she gradually transforms the dancers through multiple costume changes.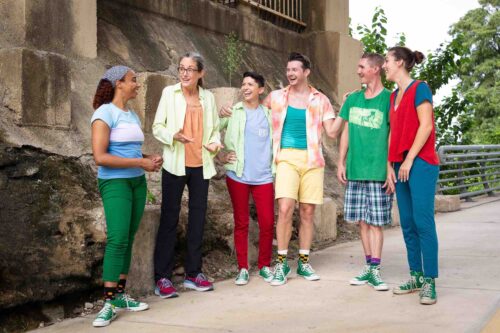 The work's Austin-based composer Sam Lipman has extensive film score credits, so the collaborative approach he took with Stokes was to score the dance she was creating. As a result, Stokes worked through Mapping & Glaciers while thinking of its sections in terms of minutes, quality and intention. "What's nice about working with a composer," she says, "is that they ask you questions that you don't ask of yourself." The result, according to Stokes, is magic. 
"Sam [Lipman] worked tightly with my ideas as a choreographer while adding depth, nuance, mystery, tension, and texture. It's a great score," she adds.
Stokes and Lipman will meet for the first time in person when Mapping & Glaciers opens in Houston. It's a circumstance that is perhaps now commonplace in a time when Teams and Zoom facilitate connection from a distance.
Stokes hopes that the video projected as audience members settle into their seats in Matchbox 1 will have the effect of stepping inside a melting glacier. What takes place within the space will be very human as Stokes and her dancers chart an arc toward the finale of Mapping & Glaciers labeled "Connect." 
"Though it could, I don't want this piece to end in an apocalyptic way," she affirms with hope that humanity can course-correct toward something better. "The way we get through what we're getting through is to understand how interconnected we all are. It's about the choices we make."
Mapping & Glaciers runs September 16-25 at MATCH. Tickets are available now at matchouston.org.