Media Contact:
Lindsay Peyton, Cadence Enterprise
281-636-1361
Lindsay@cadenceenterprise.com
This Valentine's Day, two heads are better than one –in contemporary dance masterpieces 
23rd METdance season continues with fifth annual all-duet performance, "DUO"
Performances, Feb. 7-9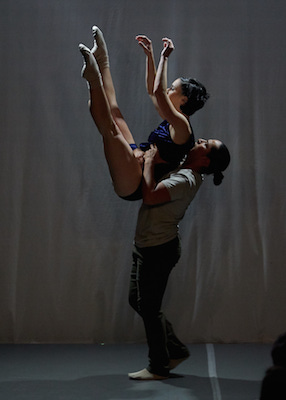 HOUSTON – Jan. 7, 2019 – Celebrate Valentine's Day with dance – and enjoy duets from the METdance repertoire.
For the fifth year in a row, the company presents "DUO," all dances for two. The show is scheduled each night at 8 p.m., Thursday, Feb. 7, Friday, Feb. 8 and Saturday, Feb. 9 at the Raven Tower, 310 North St. in Houston, 77009.
Tickets are $27 per person, $46 per couple and $100 for a VIP table. Discounts are available for tickets purchased online.
"DUO too," an additional performance by the METdance youth company MET too is slated for 4 p.m. on Saturday, Feb. 9. Tickets are $25 or $18 online.
All of the performances will explore relationships through dance in an intimate setting, just in time for the romantic holiday.
"This one hour show of duets is the perfect way to celebrate Valentine's Day," METdance artistic director Marlana Doyle said."We've been doing a DUO show for the past five years and we are looking forward to showcasing our performance in a new venue – the Raven Tower."
DUO assembles work from top-notch artists from across the U.S. – Eric Handman, Eoghan Dillon, Mariana Oliveira, Taylor Mitchell, Andrew Dawn Shelley andJoshua Manculich.
Eric Handman is a choreographer and serves associate professor at the University of Utah's department of modern dance. Prior to receiving his MFA from the University of Utah in 2003, he earned a bachelor's degree in English from Skidmore College. He was a member of New York Theatre Ballet, before becoming professional dancer in various New York–based contemporary dance companies such as Doug Varone and Dancers, Nicholas Leichter Dance and Joy Kellman and Company. He teaches domestically and internationally, and his choreography has been recognized, awarded and commissioned by various companies and departments across the U.S. His work has been shown at the Kennedy Center in Washington, D.C. and he has served on the board of directors of the Congress on Research in Dance. Handman is currently on the board of the American College Dance Association, a Fulbright Specialist and a member of the Entrepreneurial Faculty Scholars at the University of Utah.
Originally from Ireland, Eoghan Dillon moved to Canada at age 4 and began dancing at the age of 12. In 2012, he received a full scholarship to study at the Ailey School in New York City, where he studied under many prestigious professionals. He is currently a company member with Parsons Dance, an internationally renowned touring contemporary dance company. Under the direction of David Parsons, he has worked one-on-one with choreographers Robert Battle, Katarzyna Skarpetowska and Natalie Lomonte and has toured, taught, and choreographed all over the U.S. and Europe.
Mariana Oliveira, originally from Brazil, studied at the Royal Academy of Dance in London and was a trainee dancer at the National Dance Company of Wales. At 19, she was invited to perform with the Cuban Classical Ballet of Miami. In 2009, she founded The Union Project Dance Company. She has been commissioned to create new works for companies across the U.S. and is a recipient of the NYU Center for Ballet and the Arts Fellowship, as well the Kansas City University Choreographic Fellowship. Her works have also been presented at the Jacob's Pillow Dance Festival, and for two consecutive years, she has been a finalist of the McCallum Theatre Choreography Festival. She also taught at the Bolshoi Ballet School in Brazil for the dancers of the Youth Company.
Taylor Mitchell left his hometown of Baton Rouge, to study at the University of Arizona, where he received his BFA in Dance along with the "Creative Achievement Award" for choreographic works. The recent graduate is developing his unique artistry fusing a variety of movement vocabularies, focusing on the blend of jazz, modern, and contemporary styles and drawing inspiration from his life as well as world reknown choreographers including Debbie Allen, Larry Keigwin, Pattie Obey and Ann Reinkng. He has been fortunate to dance and have his work performed internationally. He is currently a company member of Thodos Dance Chicago
Andrea Dawn Shelley, born in Miami, received her classical ballet training predominately from Magdalena Maury and Magda G. Auñon. She studied dance at the University of South Florida and holds abachelor'sdegree in dance education from Florida International University.She began her professional career with Southern Ballet Theatre as a member of the corps de ballet and has since danced as a principal artist with Maximum Dance Company, Miami Contemporary Dance Company and Dominic Walsh Dance Theater, as well as a company member with State Street Ballet. She currentlydances as a principal artist and serves as co-founding directorof iMEE Dance Company.She has received numerous awards for her dancing and was a co-founding member of the Houston Dance Festival: HERE & NOW.As a choreographer, she has created original works for professional dance companies and festivals across the country. Shelley first began her relationship with Vitacca Dance Project in 2013.
Joshua Manculich.from Windber, Pennsylvania, graduated as valedictorian in 2005 and went on to pursue dance and psychology at Point Park University. While there, he received the Conservatory's Outstanding Graduate Award for his artistic involvement in the Pittsburgh community. He had the opportunity to perform works by Douglas Bentz, Jennifer Keller, Kiesha Lalama-White, Peter LeBreton Merz, Whitney Moncrief, Caroline Skjorshammer and Paul Sutherland. While in Chicago, he has danced three seasons with Thodos Dance Chicago, participated in Autumn Eckman's Dance Chance and was a founding performance member of Pursuit Productions, an up-and-coming dance theater force, under the direction of Ahmad Simmons and Kacie Smith.
Founded in 1995, METdance pursues a mission to educate and revitalize a passion for dance through world-class instruction and performance.
The company has traveled across the U.S., impressing critics and audiences alike while performing works by some of the most influential and talented choreographers in dance.
METdance also has a strong community outreach program, including its educational "Swing, Jive, Pop" performances. The shows incorporate history, fashion, music and the arts, while the company dances through the eras of the 1930s Lindy Hop, bops into the 1950s, grooves into the 1970s and ends with the Hip Hop music of today.
The company's home base, the METdance Center, now serves as Houston's second-largest dance training space, offering comprehensive training in multiple disciplines to students of all experience levels, ages 3 and up.
Seating for DUO is limited. For tickets, and more information about the show, visit www.metdance.org/duo/
For more information about METdance and its 23rdseason, visit www.metdance.org.
###
Photo courtesy of METdance. Photo credit Ben Doyle.
About METdance
Founded in 1995, METdance strives to educate and revitalize a passion for dance through formal instruction and performance. With professional and youth dance companies, as well as a strong community outreach program, METdance is a leader in the vitality and diversity of Houston's dance community. The METdance company has traveled across the U.S. to perform works by influential and talented choreographers. Helmed by founder and Executive Director Michelle Smith and Artistic Director Marlana Doyle, the company is the sister organization to the METdance Center, which opened the doors to a newly renovated facility in May 2013 in Houston's Midtown district. For more information, visit www.metdance.org.