MEDIA CONTACT:
Larisa Gawlik, 713.632.8105
lgawlik@spahouston.org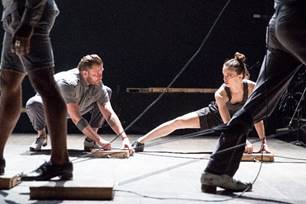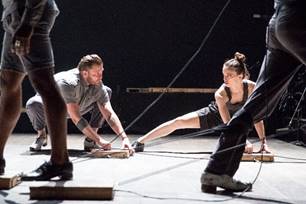 HOUSTON (January 9, 2018) – Houston's leading performing arts presenter, Society for the Performing Arts (SPA), will be presenting Dorrance Dance on Saturday, February 9, 2019 at 7:30 p.m. in Jones Hall for the Performing Arts.
Dorrance Dance is an award-winning tap dance company based out of New York City. The company's work aims to honor tap dance's uniquely beautiful history in a new, dynamic, and compelling context; not by stripping the form of its tradition, but by pushing it – rhythmically, technically, and conceptually. The company's inaugural performance garnered a Bessie Award for "blasting open our notions of tap" and the company continues its passionate commitment to expanding the audience of tap dance, America's original art form.
Founded in 2011 by artistic director and 2015 MacArthur Fellow, Michelle Dorrance, the company has received countless accolades, rave reviews, and performed for packed houses at venues including The Joyce Theater, Jacob's Pillow Dance Festival, New York City Center, Vail Dance Festival, The Kennedy Center, Lincoln Center Out of Doors, Carolina Performing Arts at UNC Chapel Hill, Works and Process at the Guggenheim, Cal Performances at UC Berkeley, among many others, including international venues.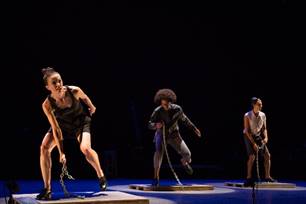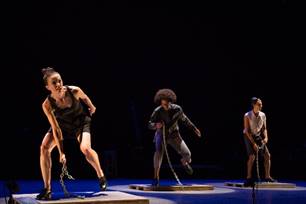 Michelle Dorrance and 2014 Bessie Award Winner, Nicholas Van Young, bring tap dance into the age of electronic music with their piece, ETM: Double Down. Performing on original tap "instruments" and percussive electronic tap boards designed and made by Young, the company creates a thrilling combination of movement and music, producing what Dorrance and Young call ETM (which stands for Electronic Tap Music).
Tickets to Dorrance Dance start at $35 and can be purchased online at www.spahouston.org, by phone at 713-227-4772 or at the courtyard level ticket office at Jones Hall located at 615 Louisiana St. Hours of operation: 9 a.m. – 5 p.m. Monday–Friday. For groups of 10 or more call 713-632-8113. Prices are subject to change.
About Society for the Performing Arts
Founded in 1966, Society for the Performing Arts (SPA) is the largest independent non-profit presenting organization in the Southwest. Since its inception, SPA has sponsored more than 1,000 performances of the world's finest music, dance and theater events, in adherence to the belief that the arts are fundamental to the overall enrichment and quality of life within a community. In addition to presenting artists, SPA seeks to provide a variety of learning experiences for adults and children through master classes, lectures and special student performances, as well as build relationships between the performing arts and other interests within the greater Houston area and throughout the state of Texas.
About Michelle Dorrance
Michelle Dorrance (Artistic Director/Choreographer/Dancer) is a New York City-based artist. Mentored by Gene Medler (North Carolina Youth Tap Ensemble), she was lucky to study under many of the last master hoofers. Career highlights include: STOMP, Derick Grant's Imagine Tap!, Jason Samuels Smith's Charlie's Angels/Chasing the Bird, Ayodele Casel's Diary of a Tap Dancer, Mable Lee's Dancing Ladies, and Darwin Deez. Company work includes Savion Glover's Ti Dii, Manhattan Tap, Barbara Duffy, JazzTap Ensemble, Rumba Tap, and solo work ranging from The Late Show with Stephen Colbert to commissions for the Martha Graham Dance Company and American Ballet Theatre. A 2018 Doris Duke Artist, 2017 Ford Foundation Art of Change Fellow, and 2015 MacArthur Fellow, Dorrance is humbled to have been acknowledged/supported by United States Artists, the Joyce Theater, New York City Center, the Alpert Awards, Jacob's Pillow, Princess Grace Foundation, The Field, American Tap Dance Foundation, and the Bessie Awards. Dorrance holds a BA from New York University and is a Capezio Athlete.
About Nicholas Van Young
Nicholas Van Young (Associate Artistic Director/Choreographer/Dancer) is a dancer, musician, choreographer, and a 2014 Bessie Award recipient. He began his professional career at age 16 under Acia Gray and Deidre Strand with Tapestry Dance Company in Austin, TX, eventually rising to principal dancer and resident choreographer. Since moving to New York, he has performed with Manhattan Tap, RumbaTap, Dorrance Dance, "Beat the Donkey," has toured as a drummer for Darwin Deez, and spent almost a decade performing with STOMP, where he performed the lead role and acted as rehearsal director. Nicholas tours both nationally and internationally teaching and performing at various Tap Festivals, and founded Sound Movement dance company and IFTRA, Institute for The Rhythmic Arts. He is thrilled to have found a home with Dorrance Dance, co-creating and developing ETM: Double Down, and the Guggenheim Rotunda Project, both collaborative efforts with Michelle Dorrance.
###