FOR IMMEDIATE RELEASE
CONTACT: Raul Orlando Edwards
EMAIL:rauloedwards@gmail.com
PHONE:713.524.3938 (o); 832.880.4065 (c)
ALEXIS ZANETY: Afro-Cuban Dance Master
October, 2019
Strictly Street Salsa, Flamart, Rice University Office of Multicultural Affairs, Gite Gallery, Dance Houston, Claire School of Dance and Foundation for Modern Music invite you to the Houston welcome of Master dancer, teacher and new Houston resident, Alexis Zanety. A former principal of the Ballet Nacional Contemporaneo de Cuba and one of today's most respected names in Afro-Cuban Dance Technique, Alexis brings his worldwide experience to the Houston community. With invitations to establish residence in New York to San Francisco to other cities, Alexis found that Houston was the best place for him to live. His impact has been almost immediate with master classes at universities, professional dance companies, festival and conferences. Hi exceptional reputation explains why four organizations (Rice University Arts of Tolerance, Foundation for Modern Music, Flamart and Strictly Street Salsa) have commissioned him to create works for the commemoration of the Trans-Atlantic Slave Trade in the United States that started in 1619; the latter, one of humanity's most cruel chapters. An outstanding artist, Alexis is also a teacher in a category only a few achieve.
His in-depth studies of dance, the human body, history, and other art forms, led him to create a unique and easy to follow technique, one which has yielded extraordinary results. Some of the students he has coached have earned principal dancing positions in companies such as San Francisco Ballet, Danza Acosta (Carlos Acosta's dance company), Ballet Folklorico Nacional de Cuba, Tropicana de Cuba, and other parts of the world. The method, Dibujo Circular de Movimiento (Circular Patterns of Movement), combines classical ballet, Afro-Cuban Modern Dance and folkloric Yoruba dance movement into one, 'Técnica Zanety' (Zanety Technique). In order for Houstonians to experience this high caliber of dance knowledge and instruction we have created three introductory events for the month of October, 2019 as follows: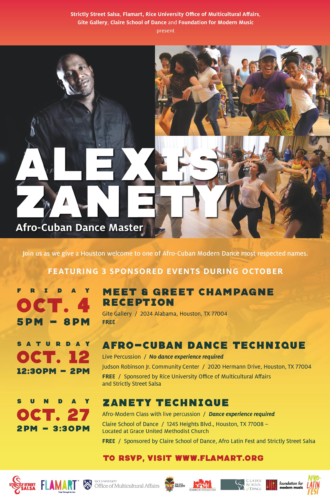 Friday, Oct 4:
Meet and Greet Champagne Reception. Gite Gallery (2024 Alabama, Houston, TX 77004) 5 – 8 PM FREE
Saturday, Oct 12:
Afro-Cuban Dance Technique (live percussion) – no dance experience required. Judson Robinson Jr. Community Center (2020 Hermann Dr, Houston, TX 77004) 12:30 – 2 PM. FREE – Sponsored by Rice University Office of Multicultural Affairs and Strictly Street Salsa
Sunday, Oct 27:
Zanety Technique (Afro Modern Class with live percussion) – dance experience required. Claire School of Dance (1245 Heights Blvd, Houston, TX 77008 – located at Grace United Methodist Church). 2 – 3:30 PM. FREE – Sponsored by Claire School of Dance, Afro Latin Fest and Strictly Street Salsa
ABOUT ALEXIS ZANETY
Contemporary choreographer and former first soloist for Cuba's national Contemporary Dance Company. He studied under Escuela Profesional de Instructores de Arte in Villa Clara, Cuba from 1983 to 1989 graduating with honors and receiving the coveted Diploma de Oro award (Gold Award) for best student. He began his artistic career right after graduation performing for several dance companies in Villa Clara, Cuba but primarily with Compañía del Teatro de la Caridad, one of the remaining colonial theatres in Cuba and a national monument. As a former first soloist for Compañía Nacional de Danza Contemporánea de Cuba from 1995 to 2002 he worked under the direction of several prominent contemporary choreographers such as Eduardo Rivero Walker in Zulkari, Narciso Medina in Metamorfosis, and LídiceNuñez in Trastornados. He also had the chance to premiere Folía by Jan Linkens and several other leading roles in festivals around the world in places such as Holland Dance Festival, Nervi Festival in Italy, and Aida Opera at the reopening of the theater La Fenice. He has also toured extensively throughout France, Germany, Italy, Portugal, Puerto Rico, Aruba and Martinique. In 1999 Alexis was commissioned by the National Ballet of Cuba to choreograph a neoclassical piece for the intermediate level students of the academy. During this time, he trained and mentored Taras Domitro who later received 1st place in Alicia Alonso's International Ballet Competition and is now a principal dancer for San Francisco Ballet. Alexis then relocated to Mexico in 2002 after being invited by Teatro Degollado in Guadalajara, Mexico to choreograph for Festival de Danza por la Vida. Once in Mexico, he was invited to perform the principal role of "Don Jose" in Carmen by choreographer Adriana Quinto in Festival Internacional Cervantino and invited to portray the leading role in Besame Mucho (2003). The latter produced by OCESA, a conglomerate of artistic productions in Latin America under the mass media company Televisa. Throughout his lengthy artistic career, Alexis' had an ongoing interest in choreography and pedagogy. Due to this, he looks for opportunities to combine the information he has learned from Afro-Cuban dance, neoclassical dance, and Caribbean rhythms and enjoys exploring movement to Son Cubano and Cuban Rumba. He merges these movement qualities along with classical ballet and Cuban modern dance in his own technique called Dibujo Circular de Movimiento (Circular Patterns of Movement). In 2015 he was commissioned by Compañía Nacional de Danza de Cuba to choreograph Retorno. In 2016 Centro Morelense de las Artes in Mexico also commissioned him to choreograph Sombras y Destinos en Imágenes en Desequilibrio, a multidisciplinary piece with actors, dancers, and musicians. Alexis relocated permanently to Houston, Texas in 2016. Since then he has been teaching independently in several cities in the US and has provided master classes at Cornish College of the Arts, University of Washington, University of Houston, Afro Latin Fest, and participated at the 2018 and 2019 International Association of Blacks in Dance Congress as a guest teacher. Future teaching and choreographic engagements include University of Oklahoma, Latin Week Houston, Carlos Luis Blanco Ramos (1st principal in Carlos Acosta's Dance Company), the 2020 Afro Latin Fest, and others.
TO RSVPTO ALL OR ANY OF THE EVENTS PLEASE VISIT: WWW.FLAMART.ORG
(RSVP highly recommended)
####