For More Information:
Eileen Ansel Conery
Eileen.conery@att.net
713-856-8780/832-816-8780
Houston Repertoire Ballet's 21st Annual Performance of the
Holiday Classic The Nutcracker
Live Music By the Cypress Philharmonic for Sell-Out Performances December 6, 7, & 8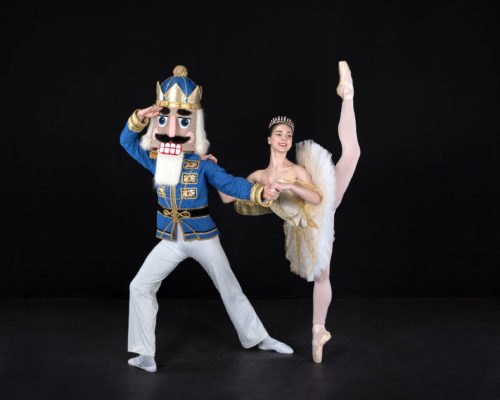 WHO:  Houston Repertoire Ballet (HRB), Houston's premier pre-professional ballet company, celebrates its 24th season, beginning with its 21st annual performance series of The Nutcracker, featuring professional guest artist Jared Matthews as the Cavalier, and Joseph Modlin as Herr Drosselmeyer, with the Cypress Philharmonic directed by Glynnes Lanthier.
WHAT: The Nutcracker's brilliant blend of beautiful costumes, lavish sets, and fresh choreography creates a magical storybook world enjoyed by children and adults alike. With a cast of more than 100 HRB dancers and area children, and musical performance by the Cypress Philharmonic, HRB's masterful production is the highlight of the holidays!
WHEN/WHERE:  Friday, December 6 at 7 pm – abbreviated Arts & Education performance is perfect for young children – tickets for this performance are only $15.
Saturday, December 7 at 2 pm & 7 pm
Sunday, December 8 at 1 pm & 4:30 pm
Tomball High School Theatre
30330 Quinn Road
Tomball, Texas 77375
TICKETS: Cost is $25 for adults, $20 for students & seniors.
For ticket information, call 281-940-HRB1 (4721) or visit www.hrbdance.org.
OUTREACH: HRB has received a generous grant from Texas Commission on the Arts, enabling HRB to expand its outreach mission to children currently attending two Title-1 schools. Students from each campus will participate, free of charge (including class attire, costumes, and other supplies), in one-hour ballet classes on Saturdays, and will receive dance instruction in the "Nutcracker Experience." These children will have the opportunity to participate as dancers in three HRB Nutcracker Arts & Education school performances, for an audience of their peers comprising more than 1,500 Tomball ISD third graders.
HRB dancers are committed to sharing the arts with the community. Community engagement events include costumed appearances at various nursing homes, group events, and at Arts & Education performances. HRB brings three matinee performances to Tomball ISD third grade students, fulfilling the arts component of their curriculum. To request an outreach event for your organization, call 281-940-HRB1 (4721).
GUEST BIOS:  
Jared Matthews – Assistant Artistic Director, Estonia National Ballet Jared Matthews, an HRB alumnus, was born in Houston and received his early ballet training with Ballet Center of Houston under the guidance of Victoria Vittum and Gilbert Rome. He was awarded a full scholarship to study at North Carolina School of the Arts summer program, as well as the School of American Ballet and American Ballet Theatre. While attending American Ballet Theatre's Summer Intensive Program in 2001 as a Coca Cola Scholarship winner, he was invited to join ABT's Studio Company. Mr. Matthews joined American Ballet Theatre (ABT) as an apprentice in 2002 and was appointed a Soloist in August 2007. Most recently, he joined Estonia National Ballet as assistant artistic director.
His repertoire while at ABT includes Franz in Coppélia; Lankendem in Le Corsaire; a Step-sister's Escort in Cinderella; Espada in Don Quixote; Lysander in The Dream; the Turning Boy in Études; Albrecht, Hilarion and the peasant pas de deux in Giselle; Gaston in Lady of the Camellias; Rakitin in A Month in the Country; Camille in The Merry Widow, and many others. During his time at the Houston Ballet, he created the leading roles in C. to C. (Close to Chuck), Glow-Stop, One of Three, and Thirteen Diversions. Mr. Matthews distinguished himself in several roles, including Solor in Stanton Welch's La Bayadère; Romeo and Mercutio in Romeo and Juliet; the male lead in Paquita; the Prince in Ben Stevenson's The Nutcracker; and Lysander in John Neumeier's A Midsummer Night's Dream. His repertoire highlights also include Albrecht and Hilarion in Giselle, Camille in The Merry Widow, Lensky in Onegin, as well as numerous other ballet classics.
As a guest artist, Mr. Matthews has appeared with the Royal Winnipeg Ballet and with both the Noriko Hara Ballet and the Kamakura Ballet Company in Japan. He has toured as a guest artist with Les Ballet GranDiva. He also has appeared in the 2008 Hopes and Prize Gala in Japan. In America, he has danced with Rochester City Ballet, Civic Ballet of Chicago, Houston Repertoire Ballet, New England Dance Ensemble, West Virginia Dance Festival and the 2007 and 2008 Chicago Dancing Festival. Mr. Matthews appeared on So You Think You Can Dance, performing the pas de deux from Don Quixote. Mr. Matthews has taught technique and partnering classes for the David Howard Foundation's A Month of Sundays program, West Virginia Dance Festival, at workshops in Yokohama, Japan and at local dance studios in the United States.
Mr. Matthews joined Houston Ballet as a first soloist in 2014. Mr. Matthews was promoted to the rank of principal dancer after a well-received performance as Lucentio in John Cranko's production of The Taming of the Shrew on Saturday, June 20, 2015. After retiring from the Houston Ballet at the end of the 2018/2019 season, he took on his latest role as assistant artistic director of Estonia National Ballet.
Joseph Modlin In 1993, Joseph Modlin, an Indiana native, began training in classical and modern dance performance at Ball State University and performed with Anderson Young Ballet Theatre, both under the direction of Ms. LouAnn Young. Joe moved to Houston in 1997, and began a performance and teaching career that has spanned 20 years, seven professional companies, and continues extending to flourish in the Houston community, as well as nationally. Joe has performed/worked with Hope Stone, Inc., Houston Repertoire Ballet, Chrysalis Dance Company, Houston Dance Theater, Allegro Ballet, Freneticore, and Woodlands Dance Company. He has been invited to work as a guest artist with independent choreographers and performance artists, such as Leslie Scates, Erin Reck, Amy Ell, Karen Stokes, Lindsey McGill, Toni Valle, and Sara Draper.
ABOUT HRB: The Houston Repertoire Ballet (HRB) is a non-profit 501(c)(3), founded by Victoria Vittum and Gilbert Rome, both nationally acclaimed teachers and choreographers who served as its co-artistic directors. Today, Ms. Vittum oversees training and programming with an equal eye to serving the needs of the community. Since 1995, HRB has contributed to the cultural fabric of Harris and Montgomery Counties by providing excellent dance training to the area's young ballet stars and dance educators of tomorrow, while also presenting high-quality productions at affordable prices. The Nutcracker in December, and the Celebration of Dance in April introduce area children and their families to the world of classical and contemporary ballet. HRB closes its season in May with the Choreography Project, a free-admission program initiated to discover, mentor, and give artistic voice to our choreographers of tomorrow. Today, HRB is considered the premier pre-professional ballet company in the Houston region, and is recognized for sharing its gifts with the community and beyond. Many of HRB's dancers advance to professional ballet companies throughout the country. HRB graduates have danced with New York City Ballet, American Ballet Theatre, Miami City Ballet, Pacific Northwest Ballet, Atlanta Ballet, Pittsburgh Ballet Theatre, Houston Ballet, and other prestigious companies.
MISSION: HRB's mission is dedicated to providing the finest classical ballet instruction, education, and performance experience to local gifted students, and preparing them for a professional career in the world of dance. HRB is committed to serving the suburban Houston region with high-quality theatre productions that educate, engage, and entertain residents of all ages and perpetuate their appreciation of dance as an art form.
Major funding provided by the City of Tomball and Texas Commission on the Arts.
Sponsored by Air Innovations LLC and Vintage Wellness.
# # #