For Immediate Release
December 7, 2021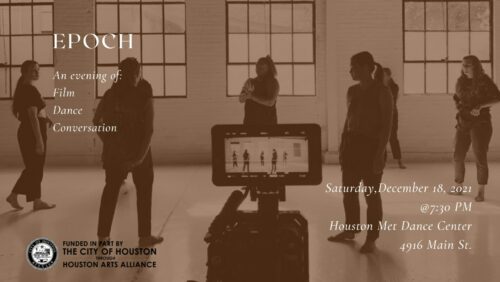 Brittany Bass Announces Epoch
An evening of Dance, Film and Conversation
Houston, Texas— December 7, 2021

Event Details
Epoch is a culminating presentation of my Dance pop up series: Epoch. This performance allowed me explore the common themes related to coming of age. I am looking at the search for identity, acceptance, growth and figuring out who my community is, and building that network of supportive people.
Using technology, specifically videography, has been a new and daunting element that I have chosen to incorporate into my artistic playground.
"They have come, in many ways, to define our lives. We interact with screens all day long, and our interactions with each other as well as ourselves have come to rely on those digital portals." (PILAR GERASIMO)
Through conversation at the performance, I hope those not as familiar with my work get to know who I am as an artist and person. This interaction is my way of inviting you on my journey towards the choices that I take as I further develop my artistic voice.
"Dance started as a communal experience and I would like to somehow create that same sense of community and accessibility with this performance. My goal is simply to share my art with all who are willing and wanting to embrace it."
I invite you to an intimate viewing of dance via film and live performance on Saturday, 12/18 at 7:30 pm. – Tickets – https://www.metdance.org/brittany-bass-independent-choroegrpaher
*This performance is Funded by Houston Arts alliance SACI grant.
Epoch Performance Schedule
All events listed in Central Time
Saturday, December 18, 7:30pm – featuring dance films: Social Islands, S.L.A.B and White Sands
This event will be held at The Houston Metropolitan Dance Center!
Social Islands, premiered as a dance for stage performance in February 2020 and was later adapted into a dance for film project October 2020.
Debuting films S.L.A.B. and White Sands are new dance films created with SET SVN production.
Located on 4916 Main St. Houston, Texas, 77002, The Houston Metropolitan Dance Center is a multi-functional dance organization that excels at instilling passion and excitement for dance in its students, training the talented youth of Houston and preparing them for careers in dance performance, and inspiring children through the art of dance. For the past 25 years, the Houston Metropolitan Dance Center has been dedicated to enriching the communities of Houston and being a leader in diversity and vitality of arts presentation and instruction.
The Houston Metropolitan Dance Center offers both children, youth, teen and adult classes where everyone can enjoy the artistic and physical benefits of dance in a vast range of genres and modalities regardless of age or experience level. The Houston Metropolitan Dance Center currently serves over 1,000 students per week while providing much needed space for many other local art organizations.
HoustonMetropolitanDanceCenter
Photos and Biography
Photos:
Promo Video:
About Brittany Bass
Brittany Nicole Bass has earned her Bachelor's degree in dance from the University of Houston. Currently, she is a Teaching Artist with Houston Ballet's Education and Community Engagement Department. She is on Faculty for the Houston MET Dance. She is the program associate for Dance Source Houston and has been a member of Karen Stokes Dance Company since Spring 2014.
Brittany's choreographed works have been featured in American College Dance Association, Houston's annual Barnstorm Dance Festival, Houston Choreographer X6 at ERJCC, Houston's 2019 Fringe Festival and Mind the Gap. In addition to this Brittany regularly gives back to the community she grew up in by sharing her knowledge of dance through classes, workshops and performance.
Follow Brittany on social media
Instagram: @brittanybass_
Facebook: facebook.com/brittany.n.bass.5
Website's s
For more information, press only:
Brittany Bass