PRESS RELEASE
For Immediate Release Media Contact: Susie Hairston
October 10, 2018. 832-722-0810
CITY DANCE PRESENTS: Urban Ballet, a full-length work inspired by the music of 2pac by Houston Arts Alliance Individual Artist Choreography Fellowship Grant recipient Sherese Campbell, Stephanie Sermas, Elijah Gibson, and emerging artist choreography grant winner Jaimee Vilela Navarrete. Performances: November 15th, 16th, and 17th, 2018 at 7:30 p.m.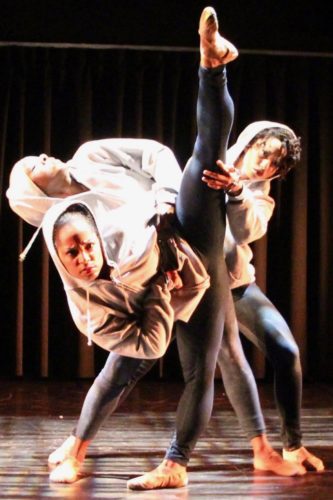 Violence erupts at a white nationalist march in Charlottesville, football players take a knee during the national anthem, unarmed black men are killed during traffic stops, and our justice system locks up disproportionate numbers of black Americans. Racial injustices that have been buried and racial tensions that have been ignored are coming to a head in today's America, and Urban Ballet takes a look at part of that experience from the perspective of the African Americans living it. Funded in part by Mayor Sylvester Turner's City Initiative Grant, and inspired by the music of 2pac, Sherese Campbell's Urban Ballet seeks to tell the story of black culture in America through jazz, hip-hop, modern, pointe and tap. City Dance Company and guest hip-hop artists create a fusion of styles complex enough to portray the issues. The dance is punctuated and enhanced by the spoken word poetry of Tiffany Scales, a.k.a. The Wordmatician, the DJing skills of KleanCutt of the Kracker Nutzz, and a video collage.
The dances depict the role of dance, music, sex, drugs, alcohol, violence, family, and personal struggle in the day-to-day life of under-served, over-looked black neighborhoods across the country. In lieu of a recognizable cast of characters, the production focuses on the local culture, thrusting this abstract idea into the role of the main character. What the audience sees is the story of a neighborhood and its people – the social gatherings, the relationships, the commerce – that could be anywhere in the country.
Urban Ballet shows what occurs when an entire nation turns its back on a single race, attempting to strip them of their cultural roots by asking them to assimilate to the majority. This is the story of the aftermath of a justice system that incarcerates an unrealistically high percentage of black males, leaving children without fathers, wives without husbands, and families forced to hustle and steal, just to survive in a society that labels them as "less than." Urban Ballet is an unapologetic display of what it is to be black in America.
Tickets are $25. They can be purchased in advance online at http://www.houstoncitydance.com/  or bought at the performance at City Dance Studio, 1307 West Clay, Houston, Texas 77019
For more information about the concert or the jazz, modern, ballet, and tap classes offered at City Dance, call 713-529-6100 or visit their website at www.houstoncitydance.com.
City Dance is a non-profit dance studio and performing arts organization catering to dancers from ages 3 to 83.