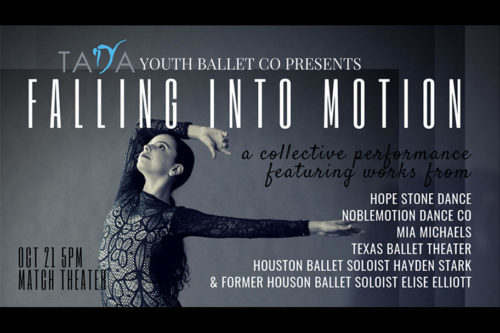 by Mirannda Lindberg-Clark
In just a few days' time, Texas Academy of Dance Arts invites Houston audiences to fall in love with dance all over again as the Youth Ballet Company makes is premiere performance at the MATCH theater in Houston on October 21st at 5PM. Falling Into Motion promises an evening of beauty, grace, and excitement as TADA's Youth Ballet Company performs alongside renown Texas artists such as NobleMotion Dance, HopeStone, Texas Ballet Theater, and guest musicians from the Houston Symphony and Houston Ballet.
Elise Elliott, the Youth Ballet Company's artistic director, brings to us an array of works including variations from the classical ballet, Sleeping Beauty, and new contemporary ballet works such as "75", "Cello Suite", and "Gliere". For years, Houston has watched Elliott perform as a soloist with the Houston Ballet. Now as a choreographer and director, Elliott will enchant and captivate her audience with her choreography. With exemplarary attention to detail, her manipulations of classical ballet forms and shapes create living poetry as her dancers move across the stage throughout the different pieces.
Set to the playful rhythmic structures, sinewy passions, and racing progressions of Bach's Goldberg variations as performed by pianist Tarana Taylor, "75" brings to the stage a collection of solos, duets, trios, and ensemble dancing. The choreography, dedicated to the 75th birthday celebration of Elliott's father, so richly exemplifies the music that the dancers almost seem to transform before your eyes into the melody of the piano. Sophisticated and musical, the piece paints a moving landscape of song and dance.
Elliott's "Cello Suite" also embodies the same artful mastery of musicality. A large ensemble piece, "Cello Suite" will enrapture its audience with is moving patterns as the dancers weave in and out of the space and each other. Elliott's usage of divertissement offers the eye a variety of places to look while still being able to soak in the full picture.
The performance showcases an ensemble of young talent by featuring not only the company's most experienced dancers but also its younger apprentice and junior company performers. One can never forget the importance of a strong corps de ballet as our youngest dancers shine through the playful choreography and musical textures of "Gliere." Accompanied by the talented Karen Wilkson and David Connor, on violin and double bass respectively, the dancers bring to life the folkloric stylings of Reinhold Gliere's Gavotte.
Also choreographing onto the Youth Ballet Company are Andre Silva and Hayden Stark. Silva's "Bongo Bong" is bright and quirky, full of refreshing movement ideas and playful expressionism while Stark's "Sprightly" is technical and energetic, reflective of the dancers themselves. The evening will also feature the world premiere of Emmy Award winning choreographer, Mia Michaels, as Texas Academy of Dance Arts presents "Rock Your Soul". Inspiring and uplifting, this piece will take the audience on a journey of finding strength, overcoming hardship, and embracing and inviting love into your heart to live life to the fullest.
Interlaced between the YBC's pieces, the performance will feature NobleMotion Dance's duet "Couplet" danced by Brittney Thetford Deveau and Seth McPhail, Hope Stone's "The Coolest News on Planet Earth" danced by La'Rodney Freeman and Kelsey Gibbs, and Texas Ballet Theater's pas de deux "Martinu Pieces, Second Movement" danced by Carolyn Judson and Alexander Kotelenets.
Tickets for Falling Into Motion are available at the MATCH Box Office. In addition to being the YBC's premiere performance, Texas Academy of Dance Arts is proud to announce that a portion of the proceeds from the performance will be donated to Texas Children's Hospital.
Texas Academy of Dance Arts
26803 Hanna Rd. Suite 501. Oak Ridge North. 77385
Phone: 832-663-5336