Media Contact: Susan Schmaeling Public Relations susan@saspr.com (713) 253-2799
FOR IMMEDIATE RELEASE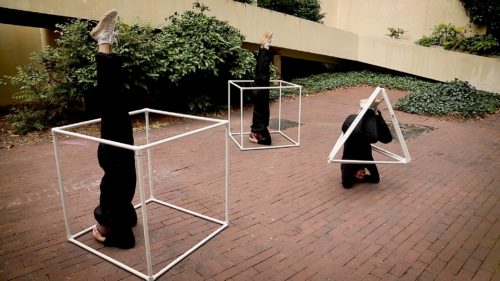 CORE DANCE PRESENTS MANIFOLDS AT MFAH IN APRIL
Houston, TX (March 2, 2020) Core Dance will premiere an outdoor performance of Manifolds, a new site- specific work by Rose Shields created in collaboration with the Core Dance Artists and visual artist Julia Hill. The free family-friendly performance will be held on Saturday, April 25, at 7pm on the grounds of The Museum of Fine Arts, Houston (MFAH) Cullen Sculpture Garden and The Brown Foundation Inc., Plaza, located at 900 Bissonnet Street, 77005. Manifolds explores the interconnectedness of human movement and the surrounding architecture in the space in which it is performed by the Core Dance artists. The work will be performed at the entrance of the sculpture garden near Joan Miro's "Bird" and the Isamu Noguchi wall which houses Frank Stella's "Decanter" and Linda Ridgway's "The Dance." This area allows the audience to have multiple perspectives of the performance and allows the dancers and viewers the opportunity to move around the wall.
For more information about the performance visit https://www.coredance.org/houston.html. 
For information about parking at the MFAH campus visit https://www.mfah.org/visit/parking/. 
This performance celebrates the 15th dance work which Core Dance has created to respond to an exhibition or installation through movement at MFAH. The Cullen Sculpture Garden showcases sculptures by 20th and 21st century artists amid a lush natural environment. The Brown Foundation, Inc. Plaza is a one-acre public greenspace which houses two sculptures, an architectural fountain, and connects the Cullen Sculpture Garden, the BBVA Roof Garden, and the Glassell School of Art. This expansive outdoor space surrounded by cutting edge museum architecture is a fitting site for Manifolds to be performed.
"I'm really interested in how reality appears and changes from person to person according to their unique perspectives," said Rose Shields, Core Dance Artist. "By distorting reality in Manifolds, I hope to spark in people the desire to be ever curious and to not be afraid to learn something new or old."
"Core Dance is committed to the creation and performance of new and original dance making," stated Sue Schroeder, Artistic Director, Core Dance. I'm proud that Rose is the fifth Core Dance Artist that we have commissioned to make a new work for the company."
###
About Core Dance For four decades, Core Dance has supported innovation, collaboration, artistic risk-taking and sustainable art making in dance. An award-winning contemporary dance organization with global reach, Core Dance creates, performs, and produces compelling original dance that ignites the creative spirit and actively encourages participation and conversation with the community. In 1980, Core Dance was co-founded in Houston, Texas by dancer and choreographer Sue Schroeder and her sister, Kathy Russell. Five years later, the organization added Atlanta, Georgia as a second home base, creating a platform for dance that is relevant in both cities and around the globe. Core Dance uses dance to educate, question and illuminate, and is internationally recognized for its artistically driven research practices, cross-cultural and multi- disciplinary collaborations, the humanity of the individual Dance Artists, and its rigorous physicality. (coredance.org)
Core Dance's season in Houston is funded in part by the O Fund for New Work, Gwinnett Industries, Inc., Pattillo Construction Corporation, the City of Houston through the Houston Arts Alliance, Texas Commission on the Arts, Dance Source Houston, Amazon Smile, Kroger Community Rewards, Bloomberg Philanthropies, and many generous individuals from our community.
# # #