March 2, 2020
1302 Houston Ave, #300 Houston, TX 77007
(713) 804-6646 houstoncontemporary.org 
FOR IMMEDIATE RELEASE
Contact: Alexandra Pernice, (412) 417-1906, alexandra@houstoncontemporary.org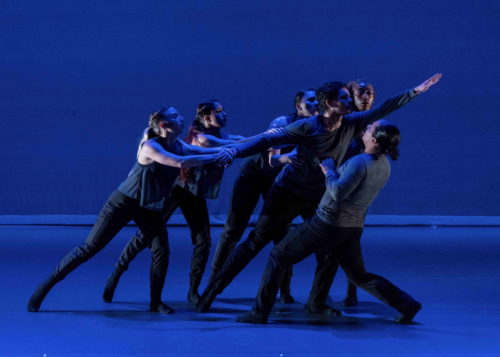 HOUSTON CONTEMPORARY DANCE COMPANY Presents "PROPEL" 
APRIL 4TH at 8 PM PRICE: $35.00
THE HOBBY CENTER FOR THE PERFORMING ARTS 800 Bagby St, Houston, TX 77002 (713) 315-2525
Houston, TX – Houston Contemporary Dance Company will be presenting a one night only event featuring two World Premieres from choreographers Joe Celej and Andrea Dawn Shelley. This evening will also showcase works from Christian Denice and Hannah Brictson from this first inaugural season's repertoire. Guest appearances include choreographer, jhon r. stronks with videographer Ben Doyle and L.A. Contemporary Dance from Los Angeles, CA. Houston Contemporary Dance Company's primary focus is to provide Houstonians with opportunities to view world class contemporary concert dance and engage with the artists involved which include dancers, choreographers and designers. "PROPEL" is a sponsored project of Fresh Arts, a non-profit arts service organization and is funded in part by the City of Houston through the Houston Arts Alliance. Come early and be enchanted by a Pre Show performance from our Second company, Houston Contemporary 2, from 7:30-7:45PM in the Zilkha Hall lobby before the show.
The first world premiere, Intersections, is a new work by guest choreographer, Joe Celej. The structure of the complete piece is inspired by Sol LeWitt's work, A Square Divided Horizontally and Vertically into Four Equal Parts, Each with a Different Direction of Alternating Parallel Bands of Lines (1982). Each section will live and move on the horizontal, vertical and diagonal planes as is demonstrated in LeWitt's work. The four sections of the piece will be designed so that they can be arranged in any order, and will be randomly done so prior to each performance. In this way, every subsequent viewing of the work potentially offers viewers a "new" work to experience. The mood of the work is existential in nature and focuses on the idea that our individuality is both isolating and a commonality that we all share.
Guest Choreographer, Andrea Dawn Shelley, has created the second world premiere featuring all four female company members of the Houston Contemporary Dance Company. Four down pools of light isolate each of the dancers confining their robust movement to their individual specials. While the lighting represents seclusion, all the dancers are present on stage united in a feeling of solidarity and community. Inspired by the book The Red Tent by Anita Diamant and Neapolitan music from Roberto De Simone's three act musical, La Gatta Cenerentola, this abstract work expresses the empowerment of women through an independent commonality.
A work that is inspired by the discovery of human connections through a constant stimulating and chaotic environment. Silent Thread, from Los Angeles based choreographer, Christian Denice, returns to the stage to open this performance. Strong and textured lighting isolates space for chaos, while dimmer lighting is used to express feelings of separation. As a natural introvert, Denice has the dancers' movement serve as an inside look into the layers of isolation, belonging, and finding a connection to something bigger than themselves.
Hanna Brictson's duet, Sick Day, which is inspired from a day she woke up indisputably unwell, yet still felt an intense pressure to go to work, will be making an encore performance in this program! Brictson uses comedy in her movement to give a playfulness to the characters. Channeling a "show must go on attitude", Brictson gives an inside look into how dancers push through their illnesses and injuries more than most. Dressed in flowy button down pajamas, two dancers take the stage in this fun and relatable duet.
Guest Artist, jhon r. stronks, presents a work inspired by a music video he witnessed videographer, Ben Doyle, shooting. While everyone one was transfixed by the footage that was captured on the monitor, he was transfixed by the duet that was unfolding between the camera man and the dancer. The interplay between the complementary acts of catching (camera) and releasing (dancing) lead to the evolution of a complex relationship, complete with behaviors unique to this intersection between dance and technology. stronks then began to imagine an application/reason for engaging in this intersectional space as a way to amplify the act and effort of dancing.
This work utilizes wireless video transmission that allows for the real time capture of the dancers movement. Using steadicam/gimbal technology, Ben Doyle is tasked with interacting and documenting the dancer and the dance in real time highlighting movement nuances that would normally be missed. The images are then magnified and projected in real time. LONG FIXED, STARE/SURVEY NO. 1/ #GAZE is an experiment, a flying leap into the realm of dance and technology wherein a game of cat and mouse is transformed into spectacle.
The program will also include a Guest Performance by the renowned L.A. Contemporary Dance Company featuring a work by choreographer and dancer, Genna Moroni. Using highly visceral and textured movement, Moroni's duet a space devoid of matter subverts recognizable tendencies in form by intermixing strength and vulnerability as it wrestles with the dichotomy of beauty and "ugliness." Raw, physical and unapologetic, this dance finds its expressive power in the unoccupied space of female relationships.
ABOUT THE ARTISTS:
Joe Celej holds a BFA in dance performance from SUNY Buffalo, where he was performing and creative arts honors scholar and supplemented his training with scholarships to Giordano Jazz Dance Chicago, The Edge, and the Performing Arts Center in Los Angeles. Joe's commercial credits include Levi Strauss and Company, Wal-Mart, and the City of Houston. As an independent artist, Joe has presented his choreography at numerous venues including the Reverb Dance Festival/APAP, the Dance Gallery, the Pink Ribbons Project, the Big Range Dance Festival, the Great Friends Dance festival, Zodiaque Dance Company, Extensions Dance Company, Dance Harlem, American Dance Guild, Vision of Sound, Dumbo Dance Festival, The Tank, Pushing Progress Showcase Series, Cool NY Dance Festival, and the Solar Powered Dance Series.
Andrea Dawn Shelley born in Miami, Florida, received her classical ballet training predominately from Magdalena Maury & Magda G. Auñon. She studied dance at the University of South Florida and holds a Bachelor of the Arts degree in Dance Education from Florida International University. Andrea began her professional career with Southern Ballet Theatre and has since danced as a principal artist with Maximum Dance Company, Miami Contemporary Dance Company, Dominic Walsh Dance Theater, State Street Ballet and iMEE. Ms. Shelley is currently the Co-Founding Director of iMEE Dance Company, est. 2009. As a choreographer, Shelley has created original works commissioned by professional dance companies and festivals such as: iMEE, Ballet Florida, Miami Contemporary Dance Company, Dominic Walsh Dance Theater, State Street Ballet, O Dance, Ad Deum Dance Company, The Dance Gallery Festival, palcoscenico danza, METdance, Island Moving Co., the black box INTERNATIONAL FESTIVAL THEATRE & DANCE, Festival Ballet Providence, Bellingham Repertory Dance, the 16th Annual Mid-Atlantic Choreographic Showcase and Houston Contemporary Dance Company. Her choreographic works have been presented throughout the United States and Europe: including California, Florida, Texas, New York, Rhode Island, Massachusetts, Washington, Virginia, Italy, Bulgaria and Mexico. She has participated in Residencies and created original works for dance programs such as: Sam Houston State University, Salve Regina University, Providence College and Western Kentucky University.
jhon r. stronks is often accused of presenting audiences with seemingly disobedient work that behaves according to its own sanity. jhon's passion for giving address to the gaps between what is perceived and what is present, lands the work somewhere between a cry for personal consciousness and a plea for social justice. stronks alternative dance making systems result is the creation of an open space for the dancing to inhabit, where the context is clear, the eye has choices, and the viewer gets to decide. www.thereinthesunlight.com, www.instagram.com/jhonnielove/, www.facebook.com/jhon.stronks 
The L.A. Contemporary Dance Company (LACDC) is a local leader in the Los Angeles performing arts community. We believe in the transformative power of an artistic experience, and seek to engage, educate, perform for, and connect with all people. We provide a platform for artists to express their unique voice and cultivate their vision in a safe and supportive space. This environment enables artists, students and audiences to experiment and grow together as we celebrate our diversity and provide equitable opportunities for people to move and be moved by dance. LACDC maintains the same pioneering spirit today that drove its founding in 2005 by a pair of young, female entrepreneurs in an arts management class at the University of Southern California. We create opportunities where they previously did not exist with produced and commissioned work. We do this to answer our own call to foster the unique talent of this city, to develop innovative repertory inspired by Los Angeles, and to celebrate the diverse group of artists, students and fans that we consider our family. We value dance as a critical part of L.A.'s cultural identity to be shared around the world. By working with dedicated company members and staff, we demonstrate leadership in our community through the production of professional performances and training programs, and share the gifts of our city on the road as ambassadors of L.A. 
ABOUT HOUSTON CONTEMPORARY Houston Contemporary aims to lead and innovate performing arts in Houston by drawing upon the director's long tradition of inclusiveness and diversity within all facets of the organization. HCDC sets itself apart by employing high caliber performing and choreographic artists from across the country. In setting high technical and artistic standards, HCDC is currently the only contemporary repertory company to provide Houston audiences with opportunities to view works created by some of America's most exciting dancemakers that speak to and are representative of the full spectrum of Houston's diverse populace, while supporting talented Texas based artists as well.
Marlana Doyle, Executive / Artistic Director and Founder, is originally from Massachusetts and graduated form Point Park University in 2001 with a BA in Dance. Marlana is the former Artistic Director of Met Dance, where she held various positions for seventeen years. Marlana's is the President & CEO of the Institute of Contemporary Dance Houston which houses the Houston Contemporary professional concert dance company and HC2, a youth training company. Marlana is a member of Dance Source Houston, Association of Performing Arts Presenters (APAP) and Dance USA, spending 2009-2012 as an emerging leader at both APAP and Dance USA. She was awarded the Dance USA Leadership Mentee Fellowship for the institute of training in 2012 and became a mentor for the same program in 2019. She also recently completed her three-year tenure as a Dance USA Board of Trustee member and Artistic Director Council Chair. Marlana has also served on many grant and organizational panels for the Houston Arts Alliance and Dance Source Houston. As a performer, Marlana has danced and generated roles in a range of works by renowned choreographers and artists. She is also a guest teacher and an award-winning choreographer for her students in Houston and throughout the United States. Marlana has choreographed for the City of Houston, Levi's and Walmart, Mercury Ensemble, Apollo Chamber Players, Houston Chamber Choir, Houston Symphony and for TUTS this Fall.
For more information about PROPEL and how to purchase tickets, please visit: https://www.houstoncontemporary.org/home#upcoming 
Houston Chronicle Article: https://www.houstonchronicle.com/entertainment/arts-theater/article/Former-METdance-artistic-director-la unches-14902641.php?utm_campaign=CMS+Sharing+Tools+%28Premium%29&utm_source=facebook.com&utm_medium=referral&fbclid=IwAR3I_QFA3PpJ0qixiuPx5e7fasYPObJ9F_E6uom_zhM6lq79GPPbL HGC5Qs 
Houstonia Article: https://www.houstoniamag.com/articles/2019/10/25/marlana-doyle-metdance-houston-contemporary-danc e-company 
Houston Contemporary You Tube Channel: https://www.youtube.com/watch?time_continue=4&v=l_Sj952NI7g&feature=emb_logo 
FOR CALENDAR LISTING: Who: Houston Contemporary Dance Company What: "PROPEL" a one night only event When: April 4th, 2020 at 8PM Where: Hobby Center for the Performing Arts. Why: To be an innovative non-profit repertory dance company transforming how Houston experiences dance as an art form that moves, unites, and inspires. Contact: Marlana Doyle (Founder & Artistic Director) marlana@houstoncontemporary.org; Alexandra Pernice (Marketing Director) alexandra@houstoncontemporary.org
Houston Contemporary Dance Company is fiscally sponsored by FreshArts and is funded in part by the City of Houston through Houston Arts Alliance.
###