Next weekend, February 15 – 17, at the Midtown Arts and Theater Center Houston (MATCH), Core Dance brings two compelling works to the city, including the stunning Two Room Apartment by Israeli powerhouse duo Niv Sheinfeld and Oren Laor. The company's continued contributions to the Houston community are not only affectionately appreciated, but essential. Core Dance is one of only a handful of entities that foster a national and, lately, international dance dialogue that results in quite compelling programming.
"We have come to know over the history of Core what our true authentic self is," explains Artistic Director Sue Schroeder. "And that's building relationships and examining our relation to others." One connection which is proving fruitful in multiple ways is the company's commitment to the dance of Israel.
American Playground, which will be paired with Apartment, is one of the offspring of this marriage. The piece originally appeared in Houston in an earlier form at the Miller Outdoor Theatre in 2016. I was lucky enough to experience this fun and vivacious piece that tackles identity and the shifting landscape of American pop culture without the slightest bit of heavy-handed irony. The colorful athletic gear was one of my favorite costume choices of any company that fall, and I loved the sharp pops of individuality among the dancers as they each not only danced, but truly lived their solos.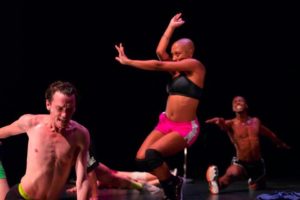 The piece is back in an expanded and fleshier form. "It's about an hour now, and I think it's probably deepened," says Schroeder. "We grew the cast by two people, so there are more bodies in space. It's clearer, more poignant, and continues to explore themes of the individual." As creators, Sheinfeld and Laor spend a good deal of time honing the performance of each dancer and drawing out his/her best qualities for the stage. Their process is a natural fit for the company, and the work Schroeder seeks out for her company.
"They're both authentic human beings, which I love working with," says Schroeder. "Niv comes from a dance background, and Oren comes from theater. Between the two you get dance theater, which I also love. I'm always looking for new experiences for the dance artists of Core, to continue to push their work style, their work methods, and offer new ideas."
Houston audiences will also get to experience Two Room Apartment for the first time, which was awarded Best Performance of the Year by the Israeli Dance Critics' Circle in 2013. The piece is very much about the duo's personal and creative relationship, but they are using a preexisting work by an elder choreographer as a working base. "They've gotten permission to remake the work, and it's becoming a very interesting thing that people are doing," explains Schroeder. "They are reconstructing works, but not in the way we would. The old piece actually informs a new work. Niv and Oren have reconsidered the work in their own idea, and truly the work speaks to them as partners in life and partners in work."
I'm excited for this pairing of Niv and Oren's work because aesthetically it's not quite like anything being produced stateside. I remember Core's Dances of Israel engagement at the Miller vividly. The dances were raw, physically permeable, and quite firmly set in the now. When I watch dance, I often get a sense of reflection, of the choreographer set in a creative state of examination of things that have already happened. The work from Israel, however, possessed of urgency that was exhilarating and emotionally captivating to watch. Schroeder has a theory to explain this fascinating element to Israeli contemporary dance.
"My own inference is that this quality comes from a sense of you just never know what's going to happen," she says. "You can be on a bus, and then from here to there, there will be an evacuation. So the work is about right now and our connection to what's happening because we don't know what's to come."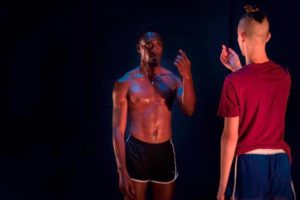 Producing work takes time, as she notes that American Playground was a project two years in the making. Moving forward, Schroeder says Core Dance will continue to develop its relationships with the artists of Israel. "On the Miller program, there were a number of artists that we had grown to love, and we now have a concentrated density and energy center in Israel."
And with Core continuing to actively present in Houston, local audiences will be able to share in that dynamic store of creative energy and prolific dance output.
For tickets and more information about Core, visit coredance.org.