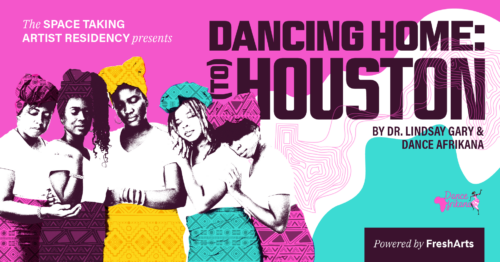 Dr. Lindsay Gary, founder and artistic and executive director of Dance Afrikana, started her company with the simple objective of protecting the work of her fellow dancers. "We were not being advocated for," she says, recalling her early years as a backup dancer for Afrobeats and Afro-Caribbean music acts. "There were situations where we weren't getting paid, and we weren't being valued." The formation of her company entity helped mitigate those problems, but as Gary developed as an administrator, so did her interests in choreography and programming. 
"Dance Afrikana came organically with my own personal growth," says Gary, who has been dancing since elementary school. She minored in dance at the University of Houston, and performed with Impande Ye Africa, Pretty Cultured, and Urban Souls' second company. "As I learned, I wanted to share more."
Gary is now one of three beneficiaries of the Fresh Arts' Space Taking Artist Residency, and finds herself in the middle of her project's two-week series of programming. Dancing Home: (to) Houston is a part of a larger project she calls Dancing Home. In this ongoing roster of performances, community gatherings, panels, readings, and exhibitions, Gary is mining the history of a region through a personal lens. "Dancing Home is a way to connect the different locations that I share community with," she says. "I was born and raised in Third Ward, and outside of [six months in Philadelphia], I've been in Third Ward."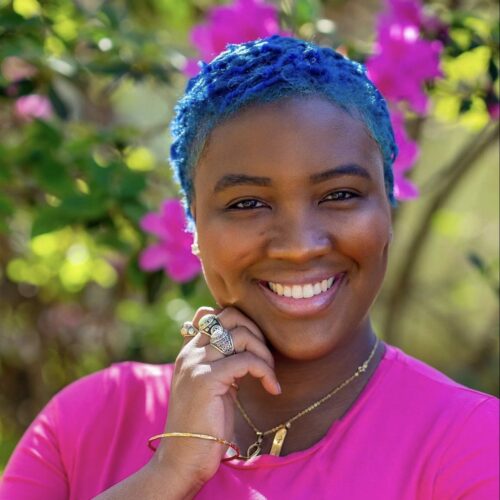 "I grew up with a strong connection to being an African person," says Gary. "I have a quadruple identity. I have an understanding of myself as a Black person, an African person, a Creole person, and a person of the African diaspora. I had this broad pan-African experience, which was cultivated by my parents and grandparents." Gary is pulled to the Gulf Coast region at large as her family has been in Louisiana since the 1800s, and views the area as a direct link back to Africa. This trifecta of geographic locations – Southeast Texas, Louisiana, and Africa – are connected through Gary's research via dance and can be experienced at several events in the coming days at MECA (1900 Kane Street, 77007).
One of the remaining events in the line-up is the July 14 live recording of the Dance, Afrikana Dance! Podcast featuring interviews with local Black dance artists Brittany Bass, Loren Holmes, and Tempest McLendon. Gary started her podcast this year with the aim to create another way to document and talk about dance. The three choreographers are all members of the Houston Black Dance Collective, another initiative Gary has spearheaded in recent years.
"We wanted to highlight their work and what they are doing," says Gary. "What is your process? What are your influences? I'm really big on sharing, which I think we all need in this capitalistic society that we live in. I'm trying to eliminate the idea of competition in this community."
The idea of a non-competitive creative landscape is in itself a radical idea, especially when one considers that most artists in the city are competing for the same pool of resources. "There are so many layers of accessibility that need to be addressed," says Gary, while also noting that organizations such as the BIPOC Arts Network & Fund, Dance Source Houston, and the Houston Arts Alliance are making efforts to make inroads into often neglected communities. Some of Dance Afrikana's long-term goals would be to map out a regranting program for Black artists, and to create a studio space with an affordable hourly rate.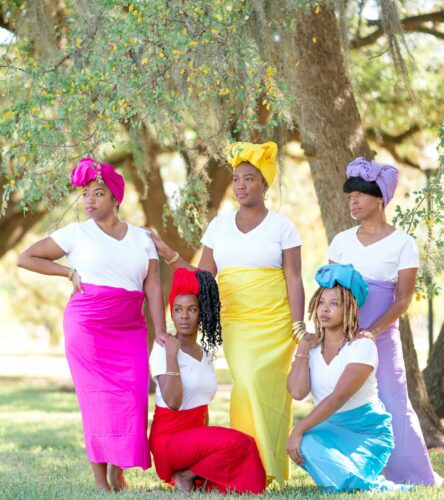 Programming continues on July 15 with the Black Dance in Oral History Collection honoring the late Sally Bowie Daniels, a predecessor of Kuumba House, an instructor of the famed Debbie Allen, and owner of the first studio Gary and her sister danced at as young girls in Third Ward. Community members are invited to bring their oral dance stories and artifacts. The collection will culminate in a forthcoming book and exhibition, and is a part of another residency Gary will commence in the fall sponsored by CERCL, Rice University, and the Gregory School Research Center.
July 19 will see Kuumba for Elders for community members fifty-five and older. Instruction will include West African dance and Kemetic yoga. This follows last week's Kuumba in July, a class series taught by local Black artists in a variety of dance forms.
The July 22 closing reception and performance of her residency will include the premiere of her new work, "I don't speak french." The work is inspired by an internal struggle she experienced when doing research for her dissertation last year in Senegal for three months. "It was funny because people expected me to speak French," she says. "I'm in Africa, and I understand there is a colonial history, but if I wanted to speak French, I would have gone to France. So I'm expected to connect with something that I didn't want to connect with in a place where I was seeking connection." Her new work explores this tension, including the surprise realization that learning French came easier to her than Senegal's ancestral languages of Wolof and Mandinka.
The work of Dance Afrikana is much needed. In our conversation, Dr. Gary referenced Kuumba House, an organization that was a major progenitor of African performing arts in the region that disbanded in 2010. There hasn't been an organization of its scale and scope to take its place. While grateful for this residency opportunity, Gary knowingly asks, "what happens when there is no residency?"
Donations can be made at www.danceafrikana.com, and are encouraged to extend the ongoing research of Dancing Home. "We need the support," says Gary. "Especially since we want to keep the thing going."