Contact:
Mollie Haven Miller
Executive Director
Dance Source Houston
713.224.3262
mollie@dancesourcehouston.org
Dance Source Houston Presents Mind The Gap XXV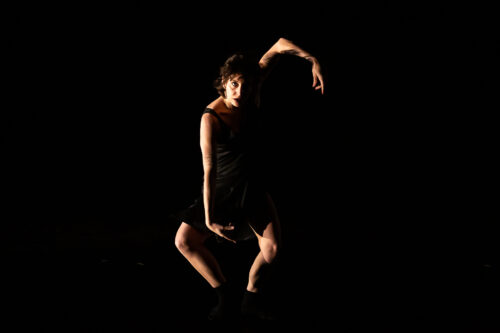 HOUSTON, TX July 17, 2023 – Dance Source Houston (DSH) will kick off the organization's 19th season with the 25th edition of Mind The Gap, an evening of works by local dancemakers, on Tuesday, August 1 at 7:30pm at Midtown Arts & Theater Center Houston (MATCH). The program will include works by DSH members Joy Crissmon, Marina Miller, Violet Moon, Dannielle Shaw, and Ama Kavya Udugamasooriya. The evening will feature a range of dance forms, including aerial, contemporary, modern, and Sri Lankan, created and performed by dance artists based across the Greater Houston area.
The co-production style format of Mind The Gap offers dancemakers the opportunity to share their work with audiences alongside fellow artists on a shared program supported by Dance Source Houston. Participating artists receive assistance in production planning and audience development skills without taking on the full burden of self-production so they can direct their energy and focus toward the works presented onstage.
Mind The Gap was created in partnership with MATCH to support independent choreographers and small dance companies presenting their work. The program offers participants high production value, low administrative burden, and shared ticket income. Begun in January 2017, Mind The Gap has provided a performance platform for more than 110 local dancemakers to date, providing opportunities for dancemakers and connecting audiences with new dance experiences.
Tickets to the performance are available now at matchouston.org on a pay-what-you-can sliding scale for both in-person an livestream viewing, starting at $15, with all choreographers receiving a percentage of total ticket sales. 
Learn More About The Dancemakers & Their Works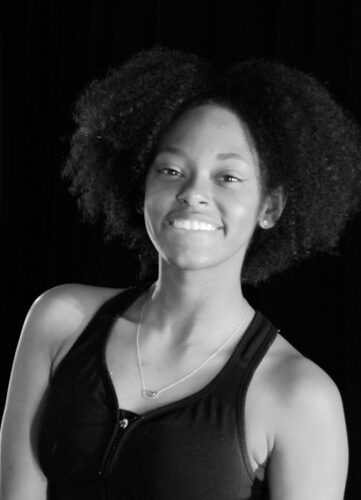 Joy Crissmon is a recent university scholar graduate of Stephen F. Austin State University. During her time at SFASU she earned a degree in Dance, with a focus in performance and choreography, as well as a degree in Theatre, with a focus in acting and directing. Her dance style is a fusion of modern, ballet and contemporary. Her work mirrors acquired life lessons and experiences she's persevered through in her personal life; her collegiate choreographic works include "From Eve to Dawn," "Searching Among Scattered Seeds" and "Shut up and play."
"Threshing is a work in progress" follows the process of shedding a previous stage in life in order to reach a new and vibrant one. This piece explores the discomfort and unease that comes with stepping into a new season of life.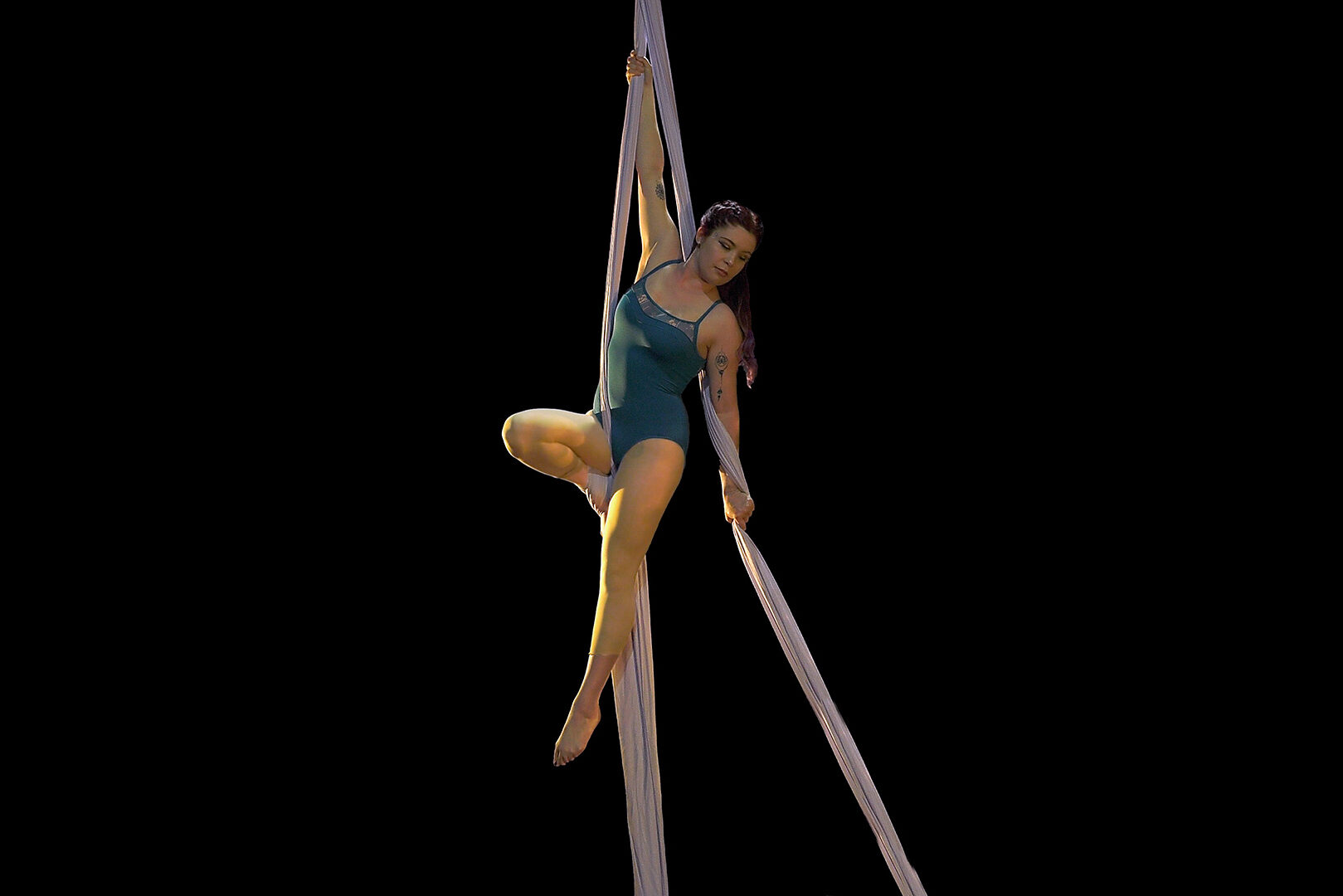 Professional aerial and modern dancer Marina Miller has been dancing from a very young age. Marina went on to pursue a BFA in Dance at Sam Houston State University. Marina had been trained in Ballet, Modern, Jazz, tap, and hip hop. Currently, she is teaching youth aerial classes at Cai Circus and Birons Youth Sports Center. She also studied at Dragon Fly Aerials Center in Colorado to obtain her aerial teaching certificate. In addition to teaching she is performing aerial entertainment acts at local venues in Houston. She has attended many dance and circus trainings such as the Houston Metropolitan Dance School and NECCA Circus Center.
"Trigon" is a performance combining dance and aerial arts demonstrating that any site can be a stage! I wanted to experiment with taking traditional dance into the air.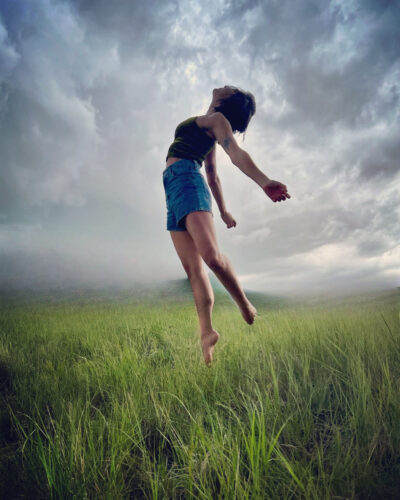 Violet Moon is a choreographer, dancer, and artist. They toured as an apprentice with Revolve Dance Company before being invited to perform select works by ARCOS Dance Company and Hubbard Street Dance Chicago. Violet later collaborated and performed as a soloist in several pieces by Dorrell Martin, Mike Esperanza, and Mario Zambrano as a founding member of LÉON Contemporary Dance Company. Since, Violet has taught dance movement therapy at the Monarch Institute, choreographed pre-professional pieces, and presently performs as a freelance artist. Violet is also in the process of co-creating safe environments for healing and revolution through artistic expression.
"The Risk" is a contemporary solo moving through stakes of choosing to live. It's a path of exploring balance— how do we maintain safety, boundaries, and our limits while continuing to expose our hearts to this cruel world of magnificent love?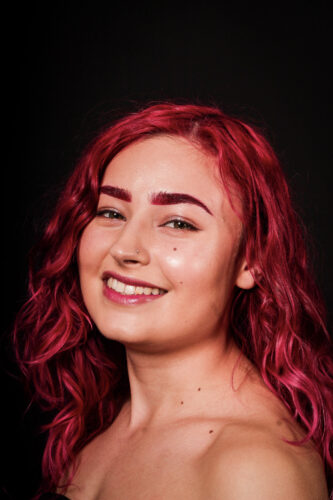 Dannielle Shaw is a working choreographer, performer, filmmaker, and visual artist based in Houston, Texas. She has performed in works by Maya Orchin, Francisco Graciano, Andy Noble, and Drew Lewis. Shaw originally began dance at the age of twelve at Kennedy Dance Theater, where she trained under Milena Leben, Kyra Davis, and Jennifer Holbert. Dannielle is currently a graduating senior in the dance department at Sam Houston State University, where she has released several films and stage works. Her main focuses in choreography include the exploration of movement qualities and expression as well as improvisational techniques.
"Head Hung Heavy" focuses on common things that hold us back, or make us feel as though we can't experience moments in life to the fullest. It highlights the difference in these experiences, showing that while these moments are commonly shared, they look and feel different for each individual.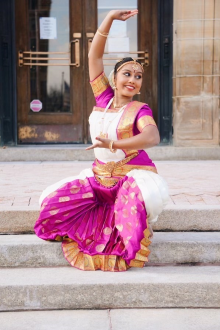 Ama Kavya Udugamasooriya is a US-born dancer with professional dance training and 15 years of experience in Sri Lankan and Indian dance classical forms. Ama started dancing at a very young age by passionately imitating Sri Lankan traditional dance videos frequently played at her home. She first entered Kuchipudi Kalakshestra in Dallas, Texas at the age of 5, learning this highly regarded Indian dance form. After six years of learning Kuchipudi, Ama began learning Sri Lankan Kandyan dance at Ritani Dance Academy. Then, Ama joined SalaRu Sri Lankan Cultural Organization in 2017 and continued her Kandyan dance training. Ama graduated in Sri Lankan Traditional Dances in 2021, parallel to her school career in her senior year. Ama then affiliated with the world-renowned Ravibandu Vidyapathi Dance Academy in Sri Lanka and continues to engage in dance training and practices. Ama also continues her dance practices at her College at Texas A&M, College Station, Texas, by joining the highly acclaimed classical Indian dance group TAMU Sahithya.
"Classical Rhythms of Sri Lankan Heritage" is a blend of expressing two very traditional forms of Sri Lankan folk rhythms – Kandyan Dance and Drums. This presentation expresses a plethora of kandyan dance moves that symbolize those unique rhythms performed to the music of the drums.
---

About Dance Source Houston
Dance Source Houston is a 501(c)(3) nonprofit organization dedicated to empowering the diverse individuals and organizations working in the field of dance throughout the Greater Houston region by means of advocacy, inclusive community engagement and support services. Founded in 2005, Dance Source Houston is a resource for all things dance in the Greater Houston area and provides programs and services to address the evolving needs of the local dance community. Dance Source Houston is funded in part through support from The City of Houston through the Houston Arts Alliance, the Cullen Trust for the Performing Arts, the Heimbinder Family Foundation, Houston Endowment, the National Endowment for the Arts, and Texas Commission on the Arts. www.dancesourcehouston.org
###