FOR IMMEDIATE RELEASE
MEDIA CONTACT:
Jacalyn Lawton
Public Relations Manager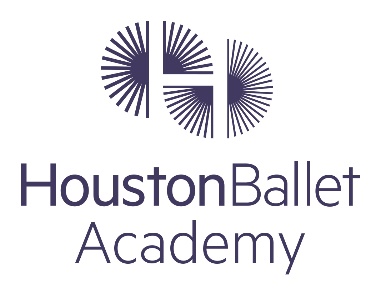 HOUSTON BALLET ACADEMY HOLDS OPEN AUDITIONS FOR KIDS ROLES IN THE NUTCRACKER
HOUSTON, TEXAS [August 15, 2019] – Houston Ballet Academy will hold open auditions for the children's roles in Stanton Welch's 2019 production of The Nutcracker. This exciting opportunity allows young dancers to be part of one of the city's grandest holiday traditions while working alongside talented professional dancers and instructors.
"Stanton has a vision of inclusivity, and this is a chance for dancers in our community to be a part of that vision," says Beth Everitt, Houston Ballet Academy Lower School Principal and Children's Ballet Master.
Everitt is responsible for making sure each child brings his or her character to life on stage. She organized the first public audition for Welch's version last year. Of the 48 children who auditioned, 27 joined the Houston Ballet Academy students to play hundreds of roles in The Nutcracker.
"It is truly heartwarming to watch these children come on stage and play their own special part in these performances," says Everitt.
The open audition will be held at the Houston Ballet Center For Dance from 10:30 a.m.- 12:00 p.m. on Sunday, August 25, 2019. The Houston Ballet Academy seeks female and male dancers ages 7-14 to fill a variety of roles. To learn more about Houston Ballet Academy's open audition for The Nutcracker or to register, please visit bit.ly/2TcnIu2.
ABOUT HOUSTON BALLET ACADEMY
Since its founding in 1955, Houston Ballet Academy has provided the highest quality ballet training. The Academy's outstanding faculty includes teachers who have performed with Houston Ballet and other prestigious companies throughout the world. The Academy also includes Houston Ballet II, the second company of Houston Ballet comprised of an array of ballet students from around the world. Houston Ballet Academy teaches more than one thousand students every year, and over 50 percent of the current company trained in the Academy.
For more information on Houston Ballet Academy, visit houstonballet.org.
###