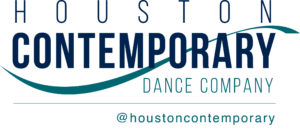 September 24th, 2020
1302 Houston Ave, #300
Houston, TX 77007
(713) 804-6646
houstoncontemporary.org
FOR IMMEDIATE RELEASE
Contact: Marlana Doyle, (713) 804-6646 ext 3, marlana@houstoncontemporary.org
HOUSTON CONTEMPORARY DANCE COMPANY Presents
"COALESCE"
NOVEMBER 13TH, 14TH, 20TH and 21ST
7PM AND 9:30PM PERFORMANCE FOR EACH DATE LISTED
LIMITED IN PERSON AUDIENCE AT A DISTANCE
TICKETS: $20
INSTITUTE OF CONTEMPORARY DANCE
1302 HOUSTON AVE Houston, TX 77007
(713) 804-6646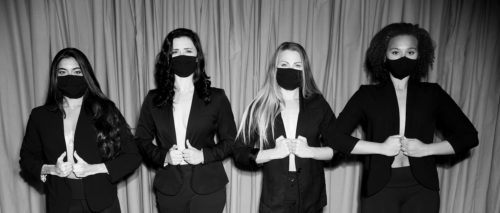 Houston, TX – Houston Contemporary Dance Company will be presenting four performances in two weekends with a limited audience at a safe distance, at the Institute of Contemporary Dance to kick off the company's second season. Each performance will accommodate a small number of guests to experience two World Premieres from choreographers Andrea Dawn Shelley and Robbie Moore. This evening will also showcase a short film from Lauren Berthelot. Houston Contemporary Dance Company's primary focus is to provide Houstonians with opportunities to view world class contemporary concert dance and engage with the artists involved, include dancers, choreographers and designers. "Coalesce" is a sponsored project of Fresh Arts, a non-profit arts service organization and is funded in part by the City of Houston through the Houston Arts Alliance. We would also like to thank the Larry Keigwin Charitable Fund and Scott and Judy Nyquist for their support of this performance.
Guest Choreographer Andrea Dawn Shelley has created a world premiere featuring our three female company members of the Houston Contemporary Dance Company and Guest Artist, Regan Hutsell. Four down pools of light isolate each of the dancers confining their robust movement to their individual specials. While the lighting represents seclusion, all the dancers are present in the space united in a feeling of solidarity and community. Inspired by the book The Red Tent by Anita Diamant and Neapolitan music from Roberto De Simone's three act musical, La Gatta Cenerentola, this abstract work expresses the empowerment of women through an independent commonality.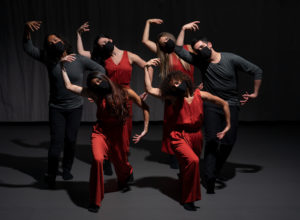 The second world premiere, I remember…, is a socially dis-danced work created for the 5 company members and Guest Artist, Sinclair Davis by Guest Choreographer, Robbie Moore. As individuals forming one group conscience, they recount memories, draw on difficult feelings and convey experiences from the unparalleled year 2020. The piece also features a short film sharing the same title as imagined by Lauren Berthelot. The creation process began at the end of August and will conclude with these performances.
ABOUT THE ARTISTS:
Andrea Dawn Shelley born in Miami, Florida, received her classical ballet training predominately from Magdalena Maury & Magda G. Auñon. She studied dance at the University of South Florida and holds a Bachelor of the Arts degree in Dance Education from Florida International University. Andrea began her professional career with Southern Ballet Theatre and has since danced as a principal artist with Maximum Dance Company, Miami Contemporary Dance Company, Dominic Walsh Dance Theater, State Street Ballet and iMEE. Ms. Shelley is currently the Co-Founding Director of iMEE Dance Company, est. 2009. As a choreographer, Shelley has created original works commissioned by professional dance companies and festivals such as: iMEE, Ballet Florida, Miami Contemporary Dance Company, Dominic Walsh Dance Theater, State Street Ballet, O Dance, Ad Deum Dance Company, The Dance Gallery Festival, palcoscenico danza, METdance, Island Moving Co., the black box INTERNATIONAL FESTIVAL THEATRE & DANCE, Festival Ballet Providence, Bellingham Repertory Dance, the 16th Annual Mid-Atlantic Choreographic Showcase and Houston Contemporary Dance Company. Her choreographic works have been presented throughout the United States and Europe: including California, Florida, Texas, New York, Rhode Island, Massachusetts, Washington, Virginia, Italy, Bulgaria and Mexico. She has participated in Residencies and created original works for dance programs such as: Sam Houston State University, Salve Regina University, Providence College and Western Kentucky University.
Robbie Moore was born in 1991 in Los Angeles, California. He grew up dancing from age six in the Houston area, where he attended the High School for the Performing and Visual Arts. He was recognized as a Presidential Scholar in the Arts in 2010. After earning an undergraduate degree from the Juilliard School, Robbie worked professionally out of New York and Los Angeles in dance, opera, and film productions. It was during this time that he began practicing alongside world-renowned dynamic anatomist Irene Dowd, with the objective to learn, model, archive, and teach her body of work. Robbie toured internationally with L.A. Dance Project, under the direction of Benjamin Millepied, from 2015. He arrived in Belgium in 2017 and has since collaborated on three major opera productions: Satyagraha, Pelléas et Mélisande, and Alceste for Eastman – Sidi Larbi Cherkaoui. While living in Antwerp, Robbie trained under Anna Rubau to become a certified True-Pilates instructor. In his time overseas, he joined Opera Ballet Vlaanderen (formerly Royal Ballet of Flanders) as guest artist and eventually as a demi-soloist. While there, Robbie performed in works by Cherkaoui, Damien Jalet, Trisha Brown, Alexander Ekman, Johan Inner, and Alan Lucien Øyen. He makes his own choreographic work as well. Through Met Dance, he was commissioned to make two pieces, This Expression of Surprise (2012) and MURMUR (2018). Robbie currently resides in Houston.
Lauren Berthelot grew up dancing in the Houston area, where she attended The High School for the Performing and Visual Arts. She went on to join the Conservatory of Dance at SUNY Purchase. After studying in the conservatory at Purchase for two years, she made the decision to pursue an education in the visual arts. Lauren was accepted to the School of Visual Arts in NYC where she received a BFA in Photography & Video. After graduating in 2017, she stayed in NYC for another two years working in galleries and as a freelance photographer/videographer. In 2019, Lauren returned home to Houston where she currently lives and works.
ABOUT HOUSTON CONTEMPORARY
Houston Contemporary aims to lead and innovate performing arts in Houston by drawing upon the director's long tradition of inclusiveness and diversity within all facets of the organization. HCDC sets itself apart by employing high caliber performing and choreographic artists from across the country. In setting high technical and artistic standards, HCDC is currently the only contemporary repertory company to provide Houston audiences with opportunities to view works created by some of America's most exciting dancemakers that speak to and are representative of the full spectrum of Houston's diverse populace, while supporting talented Texas based artists as well.
Marlana Doyle, Artistic and Executive Director, is originally from Massachusetts and graduated from Point Park University in 2001 with a BA in Dance. Marlana is the former Artistic Director of Met Dance, where she held various positions for seventeen years. Under her direction, Marlana's vision and leadership catapulted the company to new levels of excellence and growth while holding tightly to the company's long tradition of diversity and versatility in its dancers, choreographers, collaborators, and content. Marlana is the President & CEO of the Institute of Contemporary Dance Houston which houses Houston Contemporary professional concert dance company and HC2, a youth training company. Marlana is a member of Dance Source Houston, Association of Performing Arts Presenters (APAP) and Dance USA, spending 2009-2012 as an emerging leader at both APAP and Dance USA. She was awarded the Dance USA Leadership Mentee Fellowship for the institute of training in 2012 and was a mentor for the same program in 2019. She also recently completed her three-year tenure as a Dance USA Board of Trustee member and Artistic Director Council Chair. Marlana has also served in collaboration with the Houston Arts Alliance, Fresh Arts, Dance Source Houston and is also a part of the SPA's Educational Committee. As a performer, Marlana has danced and generated roles in a range of works by renowned choreographers and artists. Marlana is also a guest teacher and an award-winning choreographer for her students in Houston and throughout the United States. She has choreographed for the City of Houston, Levi's and Walmart, Mercury Ensemble, Apollo Chamber Players, Houston Chamber Choir, Houston Symphony, TUTS, University of Houston, Sam Houston State University and Lamar University.
For more information about Coalesce and how to purchase tickets, please visit:
Houston Chronicle Article:
https://www.houstonchronicle.com/entertainment/arts-theater/article/Former-METdance-artistic-director-launches-14902641.php?utm_campaign=CMS+Sharing+Tools+%28Premium%29&utm_source=facebook.com&utm_medium=referral&fbclid=IwAR3I_QFA3PpJ0qixiuPx5e7fasYPObJ9F_E6uom_zhM6lq79GPPbLHGC5Qs
Houstonia Article:
https://www.houstoniamag.com/articles/2019/10/25/marlana-doyle-metdance-houston-contemporary-dance-company
Houston Contemporary YouTube Channel:
https://www.youtube.com/watch?time_continue=4&v=l_Sj952NI7g&feature=emb_logo
FOR CALENDAR LISTING:
Who: Houston Contemporary Dance Company
What: "Coalesce" a intimate socially distanced event
When: November 13th, 14th, 20, 21st at 7PM and 9:30PM
Where: Institute of Contemporary Dance
*Tickets will be on sale by October 15th, 2020 at www.houstoncontemporary.org
Why: To be an innovative non-profit repertory dance company transforming how Houston experiences dance as an art form that moves, unites, and inspires.
Contact: Marlana Doyle (Founder & Artistic Director) marlana@houstoncontemporary.org;
Houston Contemporary Dance Company is fiscally sponsored by FreshArts and is funded in part by the City of Houston through Houston Arts Alliance. We would also like to thank the Larry Keigwin Charitable Fund for their support of this performance.
###