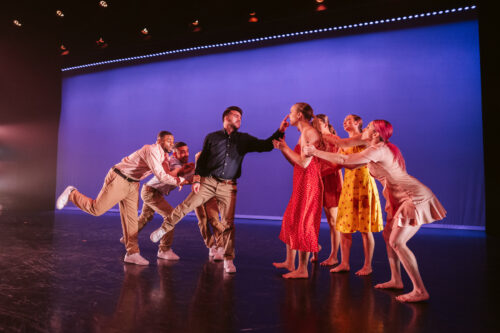 Joel Aguilera is a choreographer who has been gradually making his mark in Houston over the past few seasons. His work has appeared in several high-profile showcases, including Dance Source Houston's Barnstorm Dance Fest, Dance Houston's Annual Celebration of Dance, and Dance Source Houston's Mind the Gap series. I recognized Aguilera's rising star a few years ago; he was one of the first choreographers I approached for a dance work when I founded the Texas Latino/a/x Contemporary Dance Festival in 2020.
Aguilera and his charismatic troupe of young dancers, Mezclada Dance Company, premiered their first evening-length concert this past weekend at the MATCH. The Thursday, January 12 opening night was close to a full house, and the MATCH's ticketing website indicated the Friday performance was sold out. Let's just get right to the verdict: All of the Above was not only a commercial success, but an artistic triumph for this producer/director upstart.
Fusing hip-hop with contemporary dance is an old hat trick by now, and some artists do this better than others. Aguilera is far better than most others. His work is a seamless confluence of his b-boy beginnings, Modern dance training at the University of Houston, and his current pursuit of an MFA from the University of Wisconsin-Milwaukee.
Aguilera's blend, or mezclada, is his own take on the trend by adding the additional component of Latin-inspired music, rhythms, and performance aesthetic. This is seen in full vivid detail in the show's opening piece, also titled "Mezclada." He makes great use of tableau and tempo changes to highlight the fluidity of his intricate floor work. There's lots of smooth partnering; sensual, yet, technical dancing; and rich, billowy movement that complements the breaking rather than disrupt it.
I enjoyed watching how Aguilera's work makes perfect sense, even when his dancers are working in different vocabularies. The women perform "Azul," a pristine contemporary piece that maintains the weight and grounded quality of the hip-hop works by accenting the clean shapes of the body with sudden breaks of the spine. When the men are up with "Rasa," their heaviness is propelled upward with beautiful, original lifts that most Modern choreographers would be envious of. Both pieces work side-by-side and illustrate how Aguilera is able to deftly move between styles.
Whether he understands this or not, what makes Aguilera a formidable artist is that he understands his own history while forging his own path. Aguilera is a former principal dancer of Kathy Wood's Fly Dance Company. Wood is the mother of celebrated dance-maker Jennifer Wood of Suchu Dance fame. Both women built their names on understanding the minute nuances of comedy and the theatrical possibilities of everyday human circumstances. Aguilera creates his own cheeky vignette in "Almendra" that lets his dancers ham it up in a boy-meets-girl hijinks.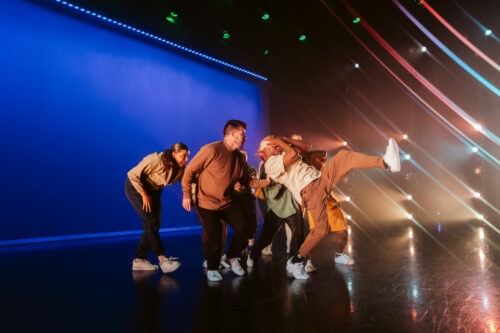 In a similar way, he illustrates his love of hip-hop with a cypher circle in the second act and guest artists North Beast Crew in the first. The kid b-boys of North Beast Crew were a hit, by the way, not just because they were so adorable, but because they were so good. What Aguilera does in these two instances is to frame the importance of hip-hop as a tool for building community and family units for those who need them.
The "Finale" number is a stunning ensemble piece costumed in black. The piece is filled with lovely movement phrases and more of Aguilera's gliding floor work and his penchant for what might be called Latin character dance. His dancers move gamely through it all, and is in fine form dancer for dancer.
Aguilera's performance is a standout as the innovator behind the choreography, and Kenny Louis has enough electric energy to power all of the MATCH in case of a power outage. Among the women, Julia Cipriani and Elyssa Vega dance with attention to detail and much artistic, womanly flourish. The entire cast, though, was strong and a joy to watch. I imagine much of their exuberance came not only from dancing the material, but dancing with one another.
All of the Above did not only earn high marks in content, but also in overall production. The dances were wonderfully colored by Edgar Guajardo's lighting design, and everything from the step-and-repeat in the lobby to the pre-show music to the company's mid-show promotional video felt professional and polished.
I will wager that Mezcalada's debut concert will mark a significant moment in Houston's dance history. I have been in this community since 2010, and I have seen companies come and go, and fewer still have sprouted to take their places. What takes artists years to do in terms of community engagement and audience-building, Aguilera has done in lighting speed. For the directors not in attendance, I admonish them to take note: a young gun has entered the room, and he has already taken a seat at our table.