FOR IMMEDIATE RELEASE
October 11, 2017
CONTACT: Karen Stokes
832-794-5825
Karen@karenstokesdance.org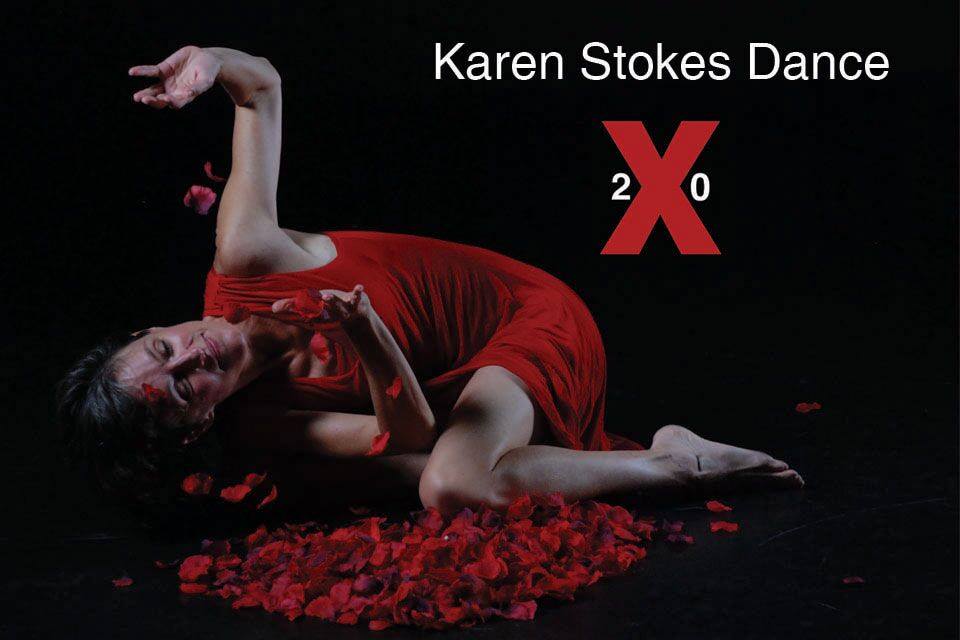 Karen Stokes Dance presents X20 at Midtown Arts and Theatre Center Houston
November 10-11, 2017
HOUSTON, TX: Karen Stokes Dance celebrates 20+ years of original performances in "X20" on November 10- 11, 2017 at 8pm at the Midtown Arts and Theatre Center Houston (MATCH). "X20″is an evening of live performance & film, looking backwards at the works of Karen Stokes over the last 20 years, while moving forward with the premiere of "Mapping & Glaciers." The celebratory performance includes former company members from Houston and beyond joining current members on stage in a joyful celebration of past, present, and future. "We are at the center of an X, our feet firmly planted in the earth, our arms reaching to an unknown future," Stokes says.
Act I of "X20" will take a look backwards in time through performances that include guest appearances by KSD alums Teresa Chapman and Leslie Scates, performing an excerpt from the first work Karen Stokes presented in Houston, "One Winter One Single Day." Toni Leago Valle brings back her signature performance of "Cowleader" from the evening length show "Hometown." Current members of KSD will perform "Raw Silk," a quirky quintet inspired by the rich music of Bill Ryan, a long-term collaborator of Karen Stokes. KSD welcomes over fifteen alum company members onstage in a celebratory tribute to our history, honoring the contributions of all the KSD performers over the 20 years. Returning alum company members include Catalina Alexandra, Yahudi Castaneda, Teresa Chapman, Lauren Cohen, Jessica Cortez, Jenny Dodson, Julie Fox, Thomas Henderson, Joe Modlin, Jessica Nieto, Erica Okoronkwo, Damian Robichaux, Sophia Torres, Leslie Scates, jhon r. stronks, Mechelle Tunstall, and Misty Wagers.
Act II of "X20" features the premiere of "Mapping & Glaciers." The new work investigates concepts of boundaries and territories that are altered through nature, environment, and man-made decisions.
In honor of Karen Stokes Dance's 20th Season, Karen Stokes will discuss the development of her original dance work over the last 20 years during "Review-Preview: X20" on November 6, 2017 at 7:00pm at the MATCH, 3400 Main St, Houston, TX 77002. "Review-Preview: X20" will feature video and discussion of past works from KSD's extensive repertoire. "Review-Preview: X20" is free & open to the public.
Karen Stokes Dance presents "X20" on November 10-11, 2017 at 8pm at the MATCH, 3400 Main St, Houston, TX., 77002. Tickets are $20 Student-Senior / $25 General / $35 Supporter. For tickets, visit https://matchouston.org/events/x20. For more information on Karen Stokes Dance, visit www.karenstokesdance.org or contact Company Manger, Toni Valle at 713/409-2838 or toni@karenstokesdance.org.
Karen Stokes has been choreographing original dance theater since 1988. Stokes has created nine evening length productions in addition to over 35 repertory (short program) works. Her work has emphasized movement invention, strong rhythmic connections, text, original music and vocals, and concepts of community. In the last five years, Stokes has branched out into creating video projection as an integrated part of her live theatrical productions. Stokes also has created several dance for camera projects, some of which are available online at www.karenstokesdance.org. Stokes has investigated site performance, creating six site works since 2014. Stokes works strongly within setting a time and place, whether imaginary or real. In 1997, Stokes co-founded Travesty Dance Group in Ohio with colleagues Kimberly Karpanty & Rebecca Malcolm- Naib. In 2011, the Travesty Dance Group (under the direction of Stokes) became Karen Stokes Dance. Stokes resides in Houston with her husband and her cat, and is a Professor in the Dance Program at the University of Houston.
Karen Stokes Dance is funded in part by grants from Houston Endowment, the Hamman Foundation, and the City of Houston through Houston Arts Alliance.
###