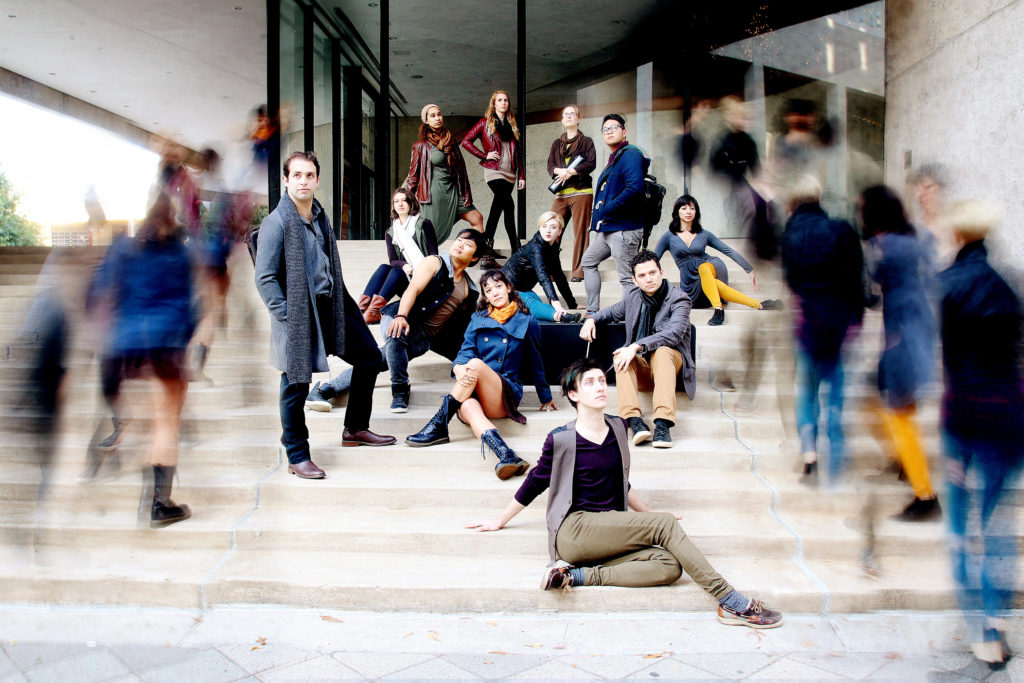 Memory is a tricky thing to grapple with. While memory is key to understanding the past, it's not infallible and without suspicion. If no two memories recreate a single event in the exact same way, then how is the accuracy of memory measured? Or does accuracy even matter when so much of this human time capsule involves such vacillating variables as emotion?  
AURA Contemporary Ensemble and Psophonia Dance Company tackle this complicated subject matter though the heady valence of traumatic recollections in Memory Web, a collaboration that premieres March 9-11 at MATCH. This is the third creative partnership between the two groups, but the first on such a large scale.
For the past three years or so, Sophia Torres, artistic director of Psophonia, has had a keen interest in working with live music, but not just on a superficial level. She wants the musicians to be a part of the physical landscape of the performance, which is no small feat. Moving in a coordinated manner is plenty hard enough, but playing an instrument while moving is quite a different matter. But Rob Smith, the director of AURA, has been a ready collaborator.
"A musician's instrument is their livelihood, so I have to keep that in the back of my mind," says Torres. "The work also has to feel safe for them, and so I have to keep my eyes open to what they need, what will work and what won't work. Rob is looking for them to play the music well and I have to find what's going to help accomplish that."
The execution of musicians and dancers in harmony onstage is sure to be arresting, but equally intriguing is the premise. "I don't think the show is about any one particular event," says Smith. "It's a bunch of different things. We look at one happening, and present it from different vantage points. My hope for the show is that everyone is going to have a slightly different experience."
Smith also describes the show as "more of a narrative work, but it's not a narrative." The overarching story isn't linear, and the audience will be moved back and forth between past, present, and future. The intent of the creators isn't to make a complex human experience abstract, but to make it as accessible as possible to allow for as many different reactions as possible.
In speaking with Torres and Smith, there does seem to be a certain specificity in regards to the material that they are creating together.  The gun violence of the past eighteen months seems to be of special concern. "All these traumatic things have happened in schools, churches, dance clubs, these places that are supposed to feel safe," says Torres. "They're connected. These are not just random things that happen, because they keep resurfacing."
As Torres points out, it's often in the aftermath of such events that the best of humanity shines through. It takes a sudden jolt from the banality of everyday life to get people to show compassion towards one another, and for kindness to come to the forefront. "When a shift happens that jars us, all of a sudden that's when we become human," she says. Part of the exploration of Memory Web is to find ways to be sensitive and conscious of the world around us without dire circumstances involved.
There is the literal, biomechanical process of memory, but there is also the larger framework of what memory can offer into the human experience. This investigation is what Torres hopes the audience is inclined to ponder. "I'm hoping that people will see that we're looking for empathy," she says. "Even when a small group has done something that hurt others, they have put pain into the world rather than kindness, then they must have also experienced this in some way. Pain stems from pain."
The development of the movement and the score went hand-in-hand. "We laid out what the concept of the show was," explains Smith. "And then we split that up in a variety of sections. Then it was my task to fit those scenes with the instrumentalists that we had." AURA specializes in presenting contemporary music, with the majority of their choices coming from the past twenty years. "Many times it all comes from the past decade," says Smith. "There's so much beautiful music, exciting music, angry music, and technical music that's being written now."
The program includes a world premiere, HyeKyung Lee's "Distant Memories." Also included on the bill is work by Matthew Van Brink, Emily Doolittle, Belinda Reynolds, and Frederic Rzewski. "The music takes you on a dramatic curve," says Smith. "The Rzewski piece is really the most involved, and the musicians can be extremely involved in the choreography. Even though it's for a small number of musicians, you still need a conductor. Rzewski gives you a melody and some instructions. In the second half of the work, he basically says to do whatever you want."
Torres came to the music halfway through the process, at first focusing on images and written experiences in response to trauma. The Rzewski work, in particular, felt like an open interpretation. The added element of live music has really allowed her dancers the ability to live in the performance.
"It's magical," says Torres. "There's this sense of unpredictability, and it allows you to be much more expressive. You have to be more thoughtful about what you're doing."
Magic seems like the perfect ingredient to make art. And memories.
Memory Web premieres at the MATCH, March 9 – 11 at 8 p.m. For tickets and more information, visit https://matchouston.org/events/memory-web. This project is supported by the Moores School of Music and the Innovations Grant Program of the Cynthia Woods Mitchell Pavilion Center for the Arts at the University of Houston.
Adam Castaneda is a dancer, writer, and arts administrator. He is the Executive/Artistic Director of FrenetiCore, and performs with Suchu Dance, the Pilot Dance Project, Bones and Memory Dance, and Holding Space Dance Collective.