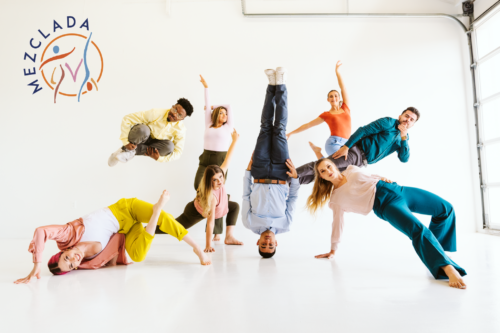 The spirit of Houston, TX is in Mezclada Dance Company. Personality, confidence, warmth, and style draws you in and makes you feel welcomed by this ensemble of artists. Donned in colorful costumes, it's as if they're welcoming you to the party, and you're about to have a really good time. "The diversity within our city is what makes it such an amazing place to live or visit, and we want to tailor our work to entertain anyone and everyone in it," says Founder and Artistic Director Joel Aguilera.
Mezclada's first self-presented show, titled All of the Above, runs January 12 and 13 at the Midtown Arts & Theater Center Houston (MATCH). The evening-length program interweaves cultures and celebrates diversity to a soundtrack of Latin jazz music. "All of the music that is chosen in the program offers a rollercoaster of energy," Aguilera says. "Rather than creating a narrative of our own, we create choreography that visualizes the energy that the music gives off. We often highlight both the melodic and percussive aspects of the musical selection."
Aguilera's movement aesthetic explores shape, color, texture, and dynamics in a way that only the son of a painter could. Aguilera, a native Houstonian, was first exposed to the arts by his father, Rodrigo Aguilera, who would "blast Latin jazz and salsa music while painting" in their home. Couple that with a dance background in breaking and hip hop as well as a collaborative relationship with an eclectic cast of movers and you have the framework for Mezclada's All of the Above. 
"You'll find dancers who specialize in modern, jazz, hip hop, breaking, house, tap, and contemporary. You'll find a range of ethnicity, gender, and backgrounds. You'll find dancers in the breaking competitive circuit on their road to the Olympics, public school teachers, college students, and artists," explains Aguilera. Somehow with these varying viewpoints, Mezclada has found a way to celebrate their differences, stay open and creative in their process, and cook up a flavor that is all their own. In their space, fusion is a vehicle for collaborative innovation.
Along with Aguilera, the program showcases the company's Assistant Director Lizzy Woodson, Project Coordinator Jeffery Louis, and six core dancers. Joining them will be Houston-based guest artists including the North Beast Crew. "Clashing can be expected when working with dance styles that contrast so much in style and technique. However, we believe that, with a bridge like Latin jazz music, we were offered a playground that welcomed movement [dynamics both hard] and soft." The other bridge is Aguilera himself who acts as visionary, arriving to rehearsal with mental images or "paintings" he sees while listening to music. From there, the collaboration with his dancers is instrumental in the development of details and movement diversity.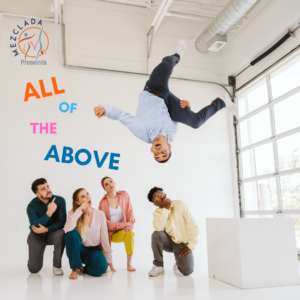 The program's title All of the Above is rather overt in its meaning. Mezclada isn't interested in singular techniques or presenting the type of concert dance audiences are used to seeing. The answer to the question "who is this show for?" will be printed on the glossy program in the audience's hands—All of the Above. The show is for everyone to connect to and enjoy. The answer to the question "who is Mezclada?" is also answered by the show's title. They are a collection of individuals, as diverse as the city of Houston, with their individual stories to tell. Leading by example, the company aims to amplify stories and voices that are underrepresented in a way that cultivates education and greater appreciation. "[The] majority of the art forms and cultures we implemented [in All of the Above] come from underrepresented cultures and races," says Aguilera. "We hope to inspire other artists and non-artists to proudly represent themselves in settings that are not traditionally for them."
With enthusiasm, Mezclada proudly breaks the misconceptions of who concert dance is made by and who it is made for. The dancers manifest a performance quality that seems to put an arm around you and say with a smile "let us show you how special this music is, how effervescent this dance is." For some viewers this will be an exploration of cultures unknown and for some it will be the feeling of returning home.
Either way, everyone is welcome to the party.
Mezclada performs "All of the Above" at MATCH on Thursday, January 12 and Friday, January 13 at 7:30pm. This project is funded by Houston Arts Alliance, Dance Source Houston, and BANF. Tickets can be purchased at matchouston.org.