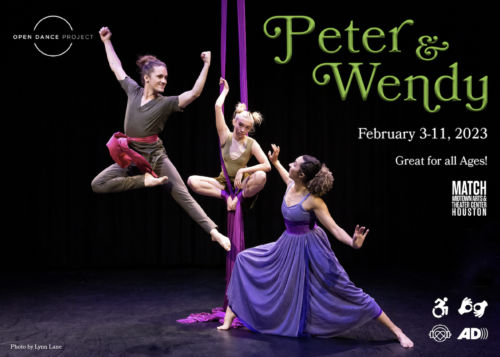 Open Dance Project restages 2018 production of Peter & Wendy featuring the music of local favorites -Two Star Symphony.
Great for all ages!
(HOUSTON, Texas, December 19, 2022) — Open Dance Project's Peter & Wendy takes a fresh look at this children's favorite through the company's signature athleticism, daring physicality, and theatrical whimsy. Featuring the music of Two Star Symphony and paying tribute to J.M. Barrie's beloved story, performances on aerial silks and trapeze by Peter and Tink provide a magical approach to the story. A multigenerational cast of dancers and aerialists, featuring the ODP professional company and ODP2 (pre-professional dancers ages 14-18), sets the ingenuity and imagination of children at the heart of this performance for family audiences.
Each Open Dance Project season includes a world premiere adaptation of a beloved children's tale for family audiences. ODP's The Lion, the Witch, and the Wardrobe (2017) , Peter & Wendy (2018), Alice (2019), The Wonderful Wizard of Oz (2020/2021), and Wonka! (2022) and the upcoming restaging of Peter & Wendy offer accessible entry points for young audiences to experience the magic of dance theater through the lens of a familiar narrative that celebrates the creativity and imagination of a young protagonist. These performances feature aerial silks, acrobatics, humor, and moments of audience interaction to engage and invite our young audience members into the joy of the theatrical experience. ODP2, our youth ensemble, composed of dance artists ages 14 – 18 perform alongside our professional company, giving our young audience members a demonstration of the creative potential of young people through their own participation. This year, Open Dance Project will offer a Sensory Friendly performance, audio description for one performance with an optional pre-performance touch-tour and American Sign Language for one production – see details below.
For questions about accessibility, or for accommodations requests, please contact Robin Anderson, ODP Managing Director at robin@opendanceproject or 832-962-8982 by February 1, 2023.
Press Review Tickets, photos, interviews and access to in person or virtual open rehearsals available by request. Please contact Robin Anderson, robin@opendanceproject.org
###
WHEN:
Fri, Feb. 3, 7pm
Sat, Feb. 4, 1 pm – Sensory Friendly Performance
Sat, Feb. 4, 4 pm
Sun, Feb. 5, 1 pm – Audio Description
(with optional – Pre-Show Touch Tour – 11:45-12:15 pm)
Sun, Feb. 5, 4pm
Fri. Feb. 10, 7 pm – Pay What You Can
Sat, Feb. 11, 1 pm – American Sign Language Interpretation
Sat, Feb. 11, 4 pm
WHERE: MATCH, 3400 Main Street, Houston, TX 77002
TICKETS: matchouston.org, $25-$35 and (Feb. 10th at 7 pm – Pay What You Can)
Production Team:
Annie Arnoult (Choreographer), Robin Anderson (Producer), Tiffany Schrepferman (Lighting Design), Lauren Davis (Scenic & Prop Design), Ashley Horn Nott (Costume Design), and Lynn Lane (Photography) and BEND Productions (Livestream Videography)
CAST: Joshua De Alba, Sonia Engman, Ani Bartelt, Ruby Cullen, Imani Diaz-Anderson, Gabriella Gonzalez, Atticus Griffin, Madelyn Manlove, Taylor McAnulty, Ruby McFarland, Lizzy McGoldrick, Ash Nettles, Cameo Reneé, Gregory Richard, Savannah Richard, Joseph Stevens, Ian Turner, Jaime Garcia Vergara, Calvin Webb, Katherine Webb, Brenden Winkfield & Mary Ellen Winston
Open Dance Project is a contemporary dance-theater company, under the direction of Annie Arnoult, whose ensemble-driven work transforms literary, historical, and community-based source material into highly stylized performance experiences. Through a collision of dance and theater, live performance and new media, urban grit and magical realism, Open Dance Project breaks down conventional barriers between artist and audience to make dance more accessible and meaningful for both. Open Dance Project is on the Texas Commission on the Arts Touring Artists Roster and is funded in part by the City of Houston through Houston Arts Alliance. The company brings high-quality interdisciplinary arts education and arts integration to Houston school children through its extensive education and community engagement program and partners with Young Audiences of Houston and Arts Connect Houston to work towards arts equity in Houston schools.
Facebook: www.facebook.com/opendanceproject
Twitter: @opendanceproj
Instagram: @opendanceproject
Supported by: